Video: Doc Rivers Stops Game to Give Touching Tribute to Dirk Nowitzki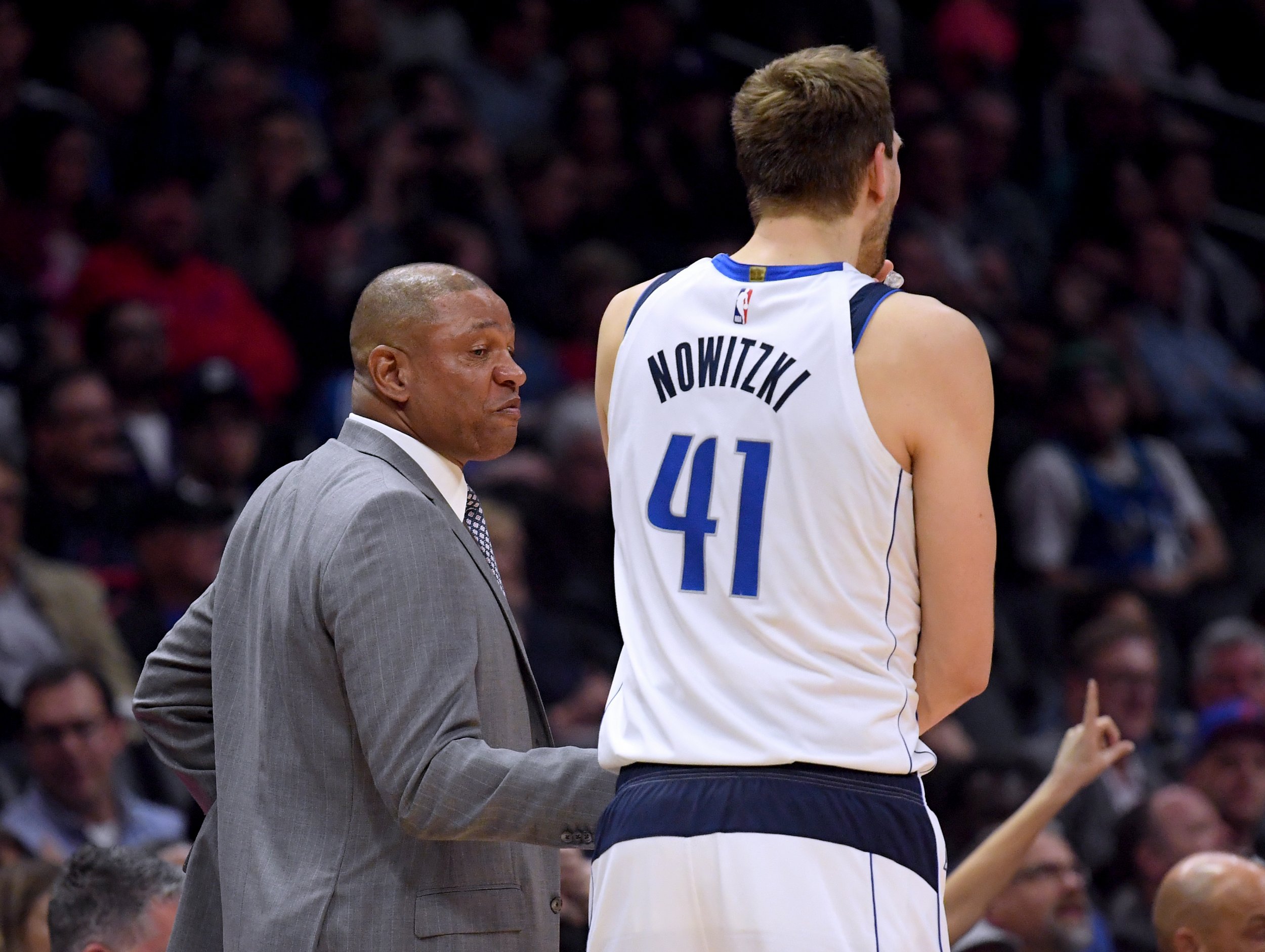 Dirk Nowitzki will not forget his final game at the Staples Center in a hurry, after Los Angeles Clippers head coach Doc Rivers paid an impromptu tribute to the retiring German.
On Monday night, with his team leading by nine points on Monday night and 9.4 seconds left in the game, Rivers surprisingly called a timeout. He then made his way to the scorer's table, picked up the public address announcer's microphone and paid tribute to Nowitzki, whose 21-season career in the NBA will in all likelihood come to an end in April.
With the Dallas Mavericks icon playing what was almost certainly his last game in the arena, Rivers urged the fans to show their appreciation for one of the bona fide icons of the modern-day NBA.
"Let's go! Let's go! Let's go!" Rivers shouted as he whipped the crowd up in a frenzy.
"One of the greatest of all time, Dirk Nowitzki!"
In his customary understated fashion, Nowitzki smiled and gave Rivers a thumbs-up, before waving to the crowd.
Rivers and Clippers players joined the crowd in applauding the German and gave him a standing ovation.
Rivers did not pay a similar tribute to Dwyane Wade when the Miami Heat took on the Clippers earlier this season. Like Nowitzki, Wade's stellar NBA career will end this season and Rivers admitted regretting not giving the Heat's star an adequate sendoff.
"That was just, we had a lead and I had a timeout," Rivers was quoted as saying by ESPN. "Honestly, I didn't plan it. I just felt like he deserved that.
"You know what's funny, was it Miami? I thought we didn't give [Dwyane] Wade, like it was a close game and I think they won the game and Wade played like he should play five more years ... so I wasn't going to let that happen again. I just did it."
Nowitzki admitted he had not immediately realized what Rivers had in mind when he called the timeout, but he was touched by the gesture.
"It was sweet. I'm really appreciative," he said.
"At first, I was like, 'Why is Doc calling a timeout? What's he doing with [9.4] seconds left? What's he up to?' Then he grabbed the mic. I didn't really understand much, but that was really humbling. That was an emotional moment."
Unfortunately for Nowitzki, his final visit to the arena in Los Angeles ended in a loss, as the Mavericks fell to a 121-112 defeat. The 14-time All-Star finished with 12 points and five rebounds in a season-high 26 minutes on the court.
Despite the loss, however, the 2011 NBA champion still had time to reach a significant milestone, as he became only the fourth player in league history to play 1,500 games in his career.
Only Robert Parish, Kareem Abdul-Jabbar and John Stockton rank ahead of the German.
"I got the game ball," he told the Associated Press. "Coming in 20 years ago, my first year struggling like that, I never thought I'm getting to 1,500 NBA games. It's been a great rollercoaster career with a lot of ups and downs."