Dockless Electric Scooters Are A New Miami Hurricane Hazard
In the age of dockless electric scooters, Florida has one more precaution to take during hurricane season: Picking up loose scooters to avoid them becoming projectiles. And Miami—home to a large proportion of scooters—is taking that measure seriously in the face of imminent Hurricane Dorian.
The city of Miami has ordered all rental services to get the scooters off the streets by Friday, so those conveyances don't fly through the air when Hurricane Dorian arrives over the Labor Day weekend, according to Ken Russell, a city commissioner.
The mayor's office didn't immediately respond to a request by Newsweek for additional information.
Bird, Lime, Lyft, Spin and Uber all promised their scooters would be secured, Bloomberg reported on Thursday.
The vehicles have yielded backlash in cities across the United States as people have complained about the scooters impeding sidewalks or generally polluting streetscapes. In Miami, the electric scooters became available last spring, with the launch of a pilot program Miami officials approved last fall, after the city had kicked out the scooter companies in June 2018, The Miami Herald reported in April. The companies were kicked out because they violated Florida statutes, and the companies did not appeal the city's decision. They opted instead to work with officials to create a mutually acceptable program.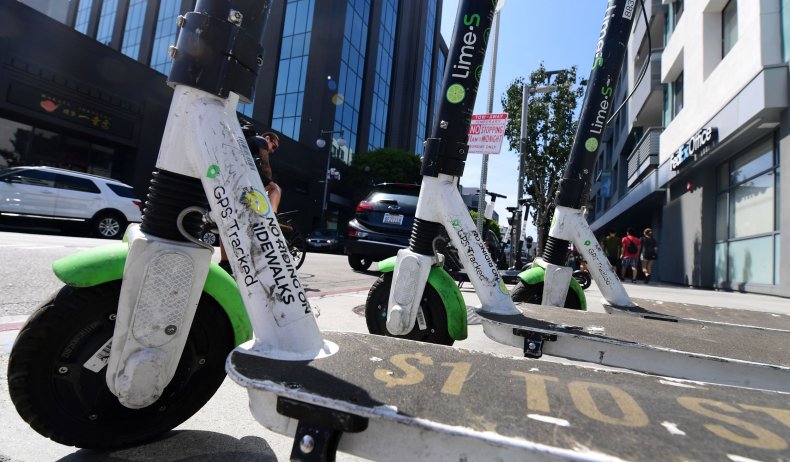 Russell, who tweeted about the scooters on Thursday, spearheaded the program, which other city commissioners opposed because of safety concerns, according to The Miami Herald. The city approved a pilot program restricted to Russell's District 2 and allowing six companies—Bird, Bolt, Uber-owned Jump, Lime, Lyft and Spin—to install up to 50 scooters each in the first two weeks and up to 100 scooters after two weeks. The program mandated that companies could beef up their fleet by 25 percent monthly if usage rates indicated enough demand.
District 2 includes Coconut Grove, Brickell, Downtown Miami, Edgewater and Morningside.
Hurricane Dorian is expected to sweep through South Florida over Labor Day weekend. Leaders from Miami, Miami Beach and Miami-Dade County held press conferences earlier this week advising residents to have a plan and be ready to follow it if the forecast worsens for the areas. As of Friday, the National Hurricane Center predicted Hurricane Dorian will likely strengthen to a Category 4 before making landfall in Florida.
In addition to making sure the scooters are out of the way and that construction debris is battened down, officials have sent out crews clean drains, as reports suggested on Friday that Dorian could hit during one of the season's highest tides of the year, king tide, and flood Miami.