Doctor Calls Phillip Adams' CTE 'Severe,' Case Similar to Aaron Hernandez's, Before Killing
Former NFL player Phillip Adams had "severe" Stage II chronic traumatic encephalopathy (CTE) when he killed six people in the spring of 2021, according to a doctor from Boston University's CTE Center during a Tuesday press conference.
Adams, who was a defensive back, is accused of shooting six people before killing himself on April 7. He is the only suspect for the fatal shooting of a well-known doctor, Robert Lesslie; the doctor's wife; and two of their grandchildren. Two HVAC workers at the doctor's home were also fatally shot during the incident.
"Severe frontal lobe pathology might have contributed to Adams' behavioral abnormalities, in addition to physical, psychiatric and psychosocial factors," Dr. Ann McKee, director of the university's CTE Center, said Tuesday.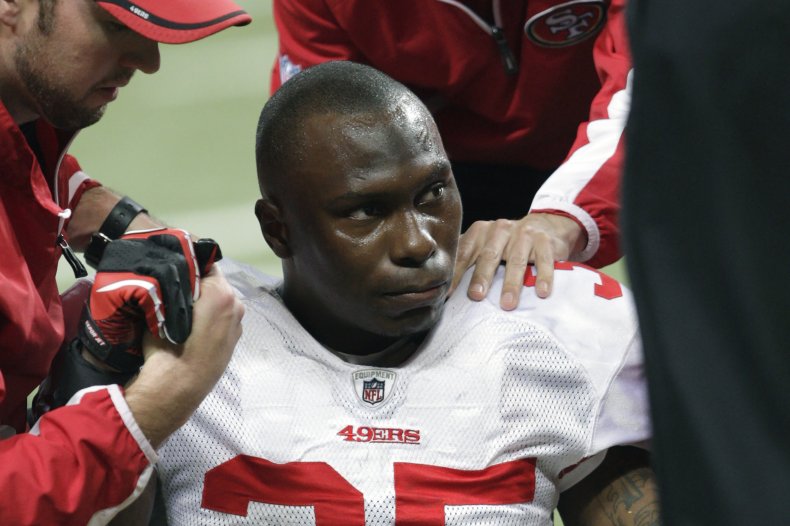 Adams' family had given officials their approval for the university to do a CTE study on his brain. CTE is a disease that affects the brain, and repetitive head trauma is thought to be responsible for bringing it on in some people.
During the press conference to announce Boston University's findings, McKee said, "Theoretically, the combination of poor impulse control, paranoia, poor decision-making, emotional volatility, rage and violent tendencies caused by frontal lobe damage could converge to lower an individual's threshold for homicidal acts. Yet such behaviors are usually multifactorial."
Much research has been conducted in recent years on CTE in athletes, especially those who play football. Aaron Hernandez, a star player for the New England Patriots who was convicted of murder in 2015, was found to suffer from CTE. Hernandez committed suicide while in prison in 2017.
Hernandez's brain was also donated to Boston University to be studied. McKee said in 2017 that Hernandez suffered from CTE to a degree Boston University researchers had never seen in a person of Hernandez's age.
McKee said more than 315 former NFL players have received posthumous diagnoses of CTE. In CTE studies, most of the players who died in their 20s and 30s had Stage II of the disease. Hernandez was found to have Stage III.
Adams' "predominantly frontal lobe CTE pathology, which resulted in atrophy, or shrinkage, of the brain, was similar in severity to Aaron Hernandez," according to McKee.
Alonzo Adams, Phillip's father, said after the shooting that he believed football played a part in his son's mental issues.
"I can say he's a good kid," Alonzo Adams told NBC affiliate WCNC-TV. "I think the football messed him up."
Adams was 32 during the time of the shooting. He was drafted by the San Francisco 49ers in 2010. During his time in the NFL, he also played for the New England Patriots, Oakland Raiders, Seattle Seahawks, New York Jets and Atlanta Falcons. He did not play after his final season with the Falcons, in 2015.
Update 12/14/21, 11:50 a.m. ET: This story has been updated to include more comments from Dr. Ann McKee's press conference.