Doctor in Coronavirus-Stricken Italy Details What's Happening in His Hospital: 'Every Ventilator Becomes Like Gold'
Dr. Daniele Macchini, an Italian physician working to treat COVID-19 patients in Italy, has outlined the reality of the coronavirus outbreak in his hospital in a widely circulated Facebook post.
The post by Macchini, an intensive care unit physician in Bergamo, near Milan, was published by the local Italian newspaper L'Eco Di Bergamo. It was then translated into English by epidemiologist and researcher Dr. Silvia Stringhini, from Geneva University's Institute of Global Health, and posted on Twitter.
"I will therefore try to convey to people far from our reality what we are living in Bergamo in these days of COVID-19 pandemic. I understand the need not to create panic, but when the message of the danger of what is happening does not reach people I shudder," Macchini wrote.
"Every ventilator becomes like gold: those in operating theaters that have now suspended their non-urgent activity become intensive care places that did not exist before," the doctor explained.
"The staff is exhausted. I saw the tiredness on faces that didn't know what it was despite the already exhausting workloads they had. I saw a solidarity of all of us, who never failed to go to our internist colleagues to ask, 'What can I do for you now?'" he wrote.
Macchini noted that some physicians have become infected and also have relatives who have contracted the coronavirus. He warned readers to avoid public gathering places, such as gyms, theaters and museums, and pointed out that the virus is particularly risky when contracted by the elderly.
"We just try to make ourselves useful. You should do the same: we influence the life and death of a few dozen people," he wrote.
Italy is facing the worst outbreak of COVID-19, the disease caused by the coronavirus, outside of China, where the virus was first discovered. The European nation has over 9,000 confirmed cases, and more than 460 people have died in the country as of Tuesday morning.
On Monday night, Italy's government took the extraordinary step of restricting public movement and events nationwide in an effort to curb the virus' spread. The country's prime minister, Giuseppe Conte, said people would be allowed to travel only for work or in the case of emergencies. He also said all public events were banned for the time being.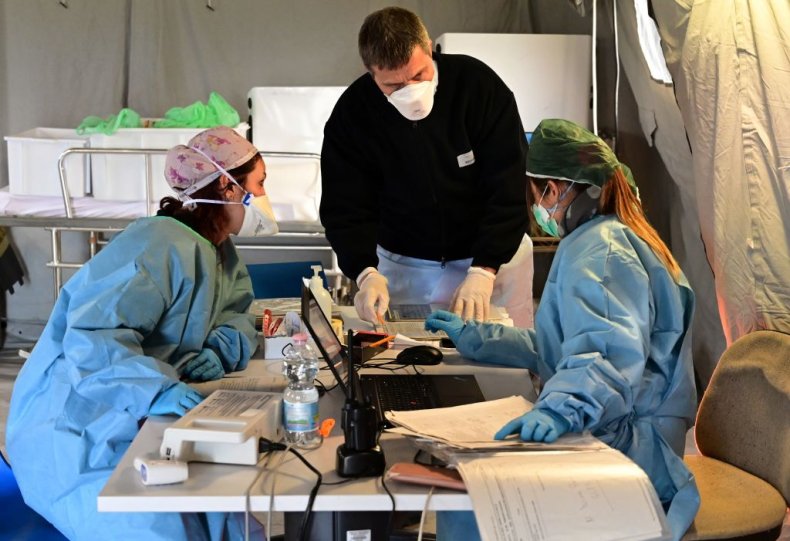 These restrictions were already in place in Italy's northern region, the epicenter of the country's coronavirus outbreak. But Monday's decision expanded the measures from impacting about 16 million people, to the entire nation of some 60 million.
Globally, there have been more than 116,000 confirmed cases of coronavirus. The World Health Organization has said the death toll from confirmed cases is about 3.4 percent. But health experts project that the actual death rate is 2 percent or less, as many mild cases have not been confirmed and go unreported.
Data suggest that people under 30 are significantly less likely to die from the virus, while the risk increases for the elderly. Pre-existing health conditions, such as respiratory problems, heart disease and diabetes, also appear to increase the risk of serious complications.