Doctor Declares Capital Gazette Shooter Sane, Fit to Stand Trial
The man accused of killing five staffers at the Capital Gazette has been judged fit to stand trial, according to a forensic pathologist employed by the Maryland Health Department and a report by the Maryland Capital Gazette.
Jarrod Ramos, 39, has been judged legally sane by a health department evaluation, according to Annapolis Judge Laura Ripken. Neither attorney complained about Ripken's evaluation.
Ramos has been charged with five counts of first degree murder, one account of attempted murder, further misdemeanors and six counts of first degree assault for shooting Gerald Fischman, Rob Hiaasen, John McNamara, Rebecca Smith and Wendi Winters on June 28, 2018 at the Capital Gazette offices. Ramos plead not guilty and not criminally responsible to all charges—which is Maryland's version of the insanity defense.
The ruling stated that the state might not have Ramos evaluated by their own mental health experts if they are so inclined—had the ruling from the forensic pathologist declared him insane they might have been more amenable to such a notion, Judge Ripken said.
Get your unlimited Newsweek trial >
Prosecutors demurred, insisting they could have another analysis completed before the time of the trial date. Judge Ripken responded, "I see almost no way this would not cause a postponement." Judge Ripken also denied the prosecution's request to view the notes of the experts.
State's Attorney Anne Colt Leitess argued that her office's psychiatrist should evaluate Ramos, a request Judge Ripken rejected in May of 2019.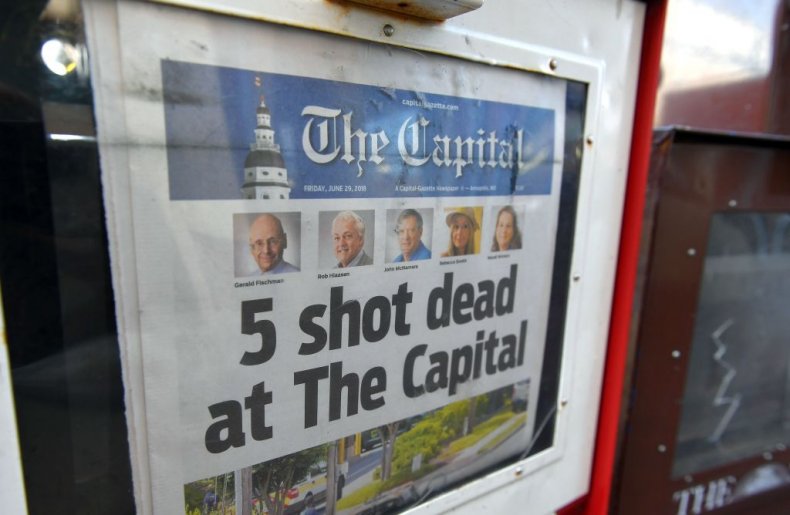 Mental health experts hired by Ramos' attorney counter-argue that he's not responsible for his actions. According to Public Defender William Davis, one of his mental health experts diagnosed Ramos with autism.
Get your unlimited Newsweek trial >
The diagnosis is apparently part of a medical report presented to the court and conducted by the defense, using the same experts and done in the same amount of time used by the the state.
"They reached a different conclusion, that's all," said Davis in court.
The full results of Ramos' mental health evaluation have been sealed from view. It's unclear how his defense might make use of the findings, as to meet Maryland's legal defense for insanity, as they must prove he was unable to stop himself because of a mental disease or defect. Ramos maintains his Sixth and Fifth amendment rights not to incriminate himself.
Ramos' trial begins on November 4. It has been split into two pieces at Ramos' request. If he's found guilty in the November 4 portion of the trial, then the second portion of the trial will be dedicated to proving his criminal responsibility to the charges.
Doctor Declares Capital Gazette Shooter Sane, Fit to Stand Trial | News