Doctor Fighting COVID Vaccine Misinformation With Ingredients List for Twinkies
Doctors have attempted to combat denial and misinformation on the COVID-19 vaccine in a variety of ways, including one doctor who shows patients a list of ingredients for Twinkies to compare it to vaccine components.
Dr. Vincent Shaw in Baton Rouge, Louisiana, pulls up the ingredient list for Twinkies when patients tell him they don't want the COVID-19 vaccine because they don't know what's going into their bodies.
"Look at the back of the package," Shaw says. "Tell me you can pronounce everything on the back of that package. Because I have a chemistry degree, I still don't know what that is."
He draws the comparison to remind patients that a lot of everyday products have safe additives that a majority of people do not understand, so concerns over components of the COVID-19 vaccine are unfounded.
For more reporting from the Associated Press, see below.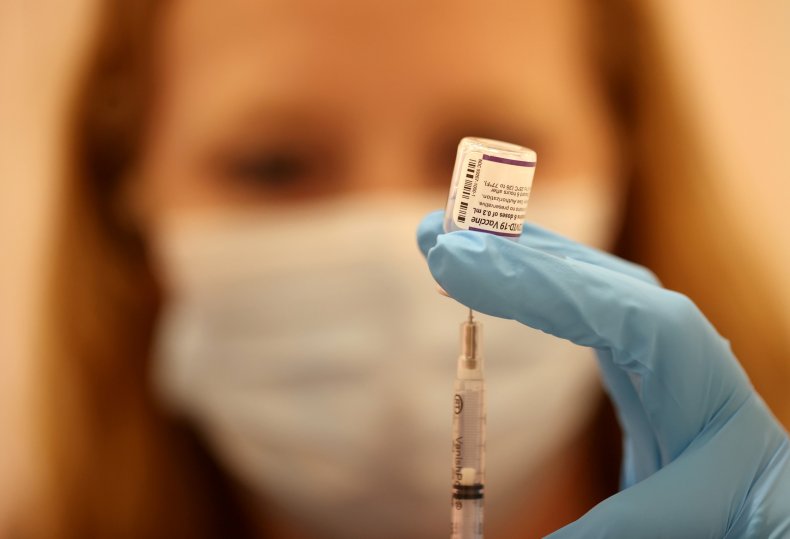 Such exchanges have become all-too-common for medical workers who are growing weary of COVID-19 denial and misinformation that have made it exasperating to treat unvaccinated patients during the delta-driven surge.
The Associated Press asked doctors from across the country to describe the types of misinformation and denial they see on a daily basis and how they respond to it.
Here are their stories:
LOUISIANA DOCTOR: 'Just stop looking at Facebook'
Shaw also commonly hears patients tell him they haven't done enough research about the vaccines. Rest assured, he tells them, the vaccine developers have done their homework.
Then there are the fringe explanations: "They're putting a tracker in and it makes me magnetic."
People who get sick with mild cases insist that they have natural immunity. "No, you're not a Superman or Superwoman," he tells them.
He said one of the biggest issues is social media, as evidenced by the many patients who describe what they saw on Facebook in deciding against getting vaccinated.
"I am like, 'No, no, no, no, no.' I shake my head, 'No, no. That is not right, no, no. Stop, stop, just stop looking at Facebook.'"
DALLAS ER DOCTOR: Baffled at how he's 'lost all credibility' with anti-vaccine patients
Dr. Stu Coffman has patients tell him they are scared about vaccine side effects. They don't trust the regulatory approval process and raise disproven concerns that the vaccine will harm their fertility. He said the most unexpected thing someone told him was that there was "actually poison in the mRNA vaccine" — a baseless rumor that originated online.
He is confounded by the pushback.
"If you've got a gunshot wound or stab wound or you're having a heart attack, you want to see me in the emergency department," he said. "But as soon as we start talking about a vaccine, all of a sudden I've lost all credibility."
KENTUCKY: Political views come into clear focus after diagnosis
Dr. Ryan Stanton recently had a patient who began their conversation by saying, "I'm not afraid of any China virus." From that point on, he knew what he was up against in dealing with the patient's politics and misguided beliefs about the virus.
Stanton blamed people like far-right conspiracy theorist Alex Jones for spreading some of the misinformation that has taken root among his patients. Among them is that the vaccine contains fetal cells. Another said it "is a simple fact that the vaccine has killed millions."
"In fact," he said, "that couldn't be more wrong."
There was hope after the vaccines arrived, but then came the delta variant and a slowdown in immunizations.
"Really it amazes me the number of people who have this huge fear, conspiracy theory about vaccines and will honest to God try anything, including a veterinary medicine, to get better," said Stanton.
MICHIGAN PULMONOLOGIST: Facebook post unleashes his frustration
For Dr. Matthew Trunsky, the vaccine pushback grew so intense that he turned to Facebook to describe the ire he confronts on a daily basis at his hospital in Troy, Michigan. The post listed eight encounters he had in the two previous days alone in which COVID-19 patients explained misinformation-fueled reasons for not getting vaccines or made demands for unproven treatments.
Example No. 5 was a patient who said he'd rather die than take the vaccine. Trunsky's response: "You may get your wish."
He estimates that he has cared for 100 patients who have died since the pandemic began.
ILLINOIS FAMILY PHYSICIAN: Traces misinformation back to Scripture, Nicki Minaj
Dr. Carl Lambert hears lots of wild misinformation from his patients. Some comes from the Bible interpretations; some originates from the rapper Nicki Minaj.
Some of it is the stuff of internet conspiracy theories, like there's a chip in the vaccine that will take over their DNA.
"Impossible scientifically," says the family physician in Chicago. He also hears patients tell him that the vaccine will weaken their immune systems. He responds: "Immunology 101. Vaccines help your immune system."
Recently he received a flurry of messages from patients who were worried about damage to their testicles — a rumor he ultimately traced back to an erroneous tweet from Minaj alleging that the vaccine causes impotence.
"And I was like, 'That's outlandish. That's a bit outrageous.' So a lot of just kind of counseling that I did not expect to have to do."
Some of the misinformation is delivered from the pulpit, he said. People have sent him sermons of preachers saying the vaccine is "ungodly or there's something in it that will mark you," a reference to a verse in Revelation about the "mark of the beast" that some Christians cite in not getting vaccinated.