Doctor Fighting to Use Ivermectin for COVID-19 Suspended by Hospital: Lawyer
Dr. Paul Marik, who is suing Virginia's Sentara Healthcare over the prohibition on using ivermectin to treat COVID-19, has had his hospital privileges suspended while a judge is considering his case.
Marik filed a lawsuit in early November after the Norfolk, Virginia, health care system where he works "flatly banned" the use of ivermectin, an anti-parasitic drug, for treating COVID-19. The drug has become a controversial topic, with some doctors arguing it could save lives despite the Centers for Disease Control and Prevention (CDC) recommending against its use.
A judge heard Marik's case on Thursday, and committed to rendering a decision soon, but warned it likely wouldn't come before Marik was set to return to work. His attorney, Fred Taylor, claimed that when the doctor arrived at Sentara Norfolk General Hospital for work on Saturday, he found a letter on his desk informing him of his two-week suspension.
Sentara Healthcare declined to comment to Newsweek on Marik's suspension, citing hospital policies and state law.
"At Sentara Healthcare, we care for all patients and consider every individual a person of sacred worth and value. We will continue to remain focused on providing excellent patient care," Sentara Healthcare told Newsweek.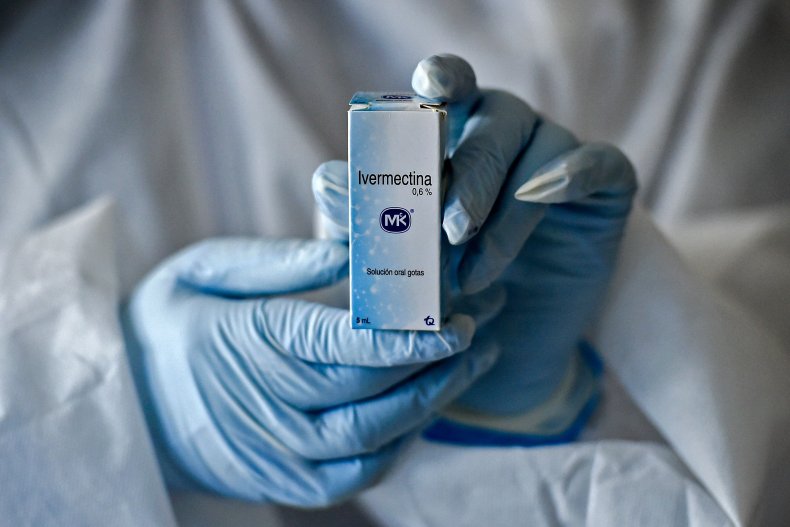 In a letter to the judge that Taylor shared with Newsweek, he said Marik was not aware of his suspension when he appeared in court on Thursday and that it gives no "explanation whatsoever for the 'coincidence'" of its timing. Given the lack of explanation, Taylor told the judge it was a "blatant act of retaliation" against Marik for suing the hospital over the use of ivermectin.
Taylor didn't disclose the contents of the hospital's letter in his letter to the judge, but said it told Marik that his suspension was due in part to an allegation that he told COVID patients his "hands were tied" and there was nothing more he could do for them. The attorney also accused the hospital of making a materially false representation to the court because the hospital said during Thursday's hearing it wouldn't discipline the doctor, the same day the suspension letter was dated.
Taylor asked the judge for a supplemental hearing about the doctor's suspension, something Jason Davis, an attorney for the hospital, argued was unnecessary. In a letter to the judge, he said there was no "possible material misrepresentation" and the doctor's suspension has no bearing on the lawsuit.
Sentara Healthcare's guidelines for medical personnel prohibit the use of ivermectin outside of clinical trials because achieving the concentrations necessary to inhibit SARS-CoV-2 are "extremely toxic." Marik isn't a Sentara employee and works under contract at the Norfolk General Hospital, but he has to abide by the health care system's guidelines.
It's unclear if Marik has actually ever prescribed ivermectin for COVID-19 patients. He testified that he never wrote a prescription for the drug, but a Sentara witness said he had, according to local news station WAVY.
Taylor reiterated to Newsweek that Marik has never prescribed ivermectin because if he did, the hospital's pharmacy wouldn't fill the prescription. The most he could do is inform the patient about the treatment, according to Taylor.
In his lawsuit, Marik argued the prohibition on using ivermectin violated the Right to Try statute, as well as patients' informed consent right to choose alternatives to a proposed course of treatment. Without a court's intervention, Marik said patients will "needlessly die" of COVID-19.
Although promising in laboratory studies, ivermectin hasn't proven to be wildly successful at treating COVID-19 in the real world and studies have been plagued with credibility issues. Still, people across the country have filed lawsuits in an attempt to force hospitals to administer it to their loved ones. One woman argued there was no downside to administering it to her father because his condition had deteriorated to the point that he was likely going to die.
During Thursday's hearing, Norfolk Circuit Court Chief Judge David Lannetti said he wouldn't make a decision as to whether ivermectin is a good or bad drug. His decision to issue or not issue the injunction would be based on whether hospitals can stop doctors from providing treatment using these drugs.
"We do believe that Virginia law is on our side here – protecting the Doctor-Patient relationship, and are hopeful that the Court will reach a similar conclusion," Taylor said.