Doctor Gets Death Threat for Not Giving Ivermectin to COVID-19 Patient
A doctor in Boise, Idaho received a death threat for not treating a COVID-19 patient with the anti-parasite medication Ivermectin.
During her hospital shift, Dr. Ashley Carvalho was "berated" by the patient's son-in-law for not treating him with Ivermectin, Buzzfeed News reported.
Police had to remove the man's family after the patient's son-in-law told Carvalho, "If you don't do this, I have a lot of ways to get people to do something, and they're all sitting in my gun safe at home."
In humans, Ivermectin is used to treat parasitic worms, head lice and skin conditions like rosacea. Right-wing politicians and media figures have promoted it as a COVID-19 treatment. However, the U.S. Food and Drug Administration has advised against using it. Clinical data hasn't shown the drug to have any effect on COVID-19 patients.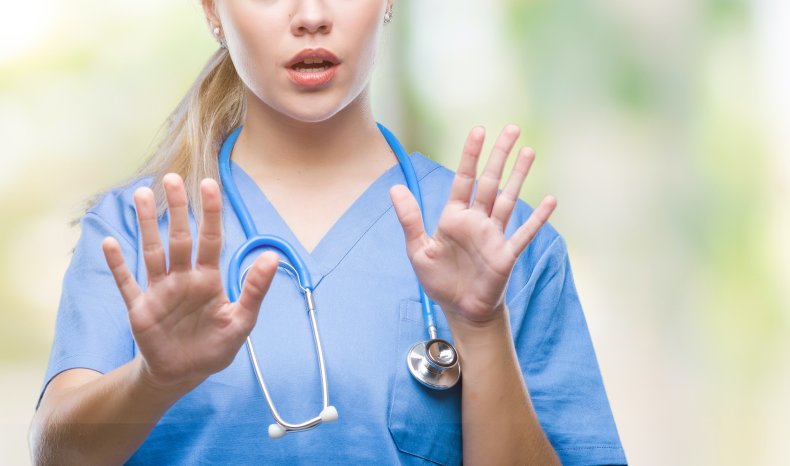 That night, all 14 intensive care unit beds in Carvalho's hospital were filled with unvaccinated COVID-19 patients.
"Last year at this time, I was very anxious about COVID, and I was just hoping and hoping for the day when we'd have a vaccine," she told the publication. "It never occurred to me that there would be a day when we have a vaccine, and I'm actually more anxious now because we have something that can really prevent this and people aren't taking it."
Idaho ranks 48th among U.S. states with the highest vaccination rates, according to the U.S. Centers for Disease Control and Prevention. Only 40.99 percent of its eligible population has been fully vaccinated.
Carvalho said that she and her medical colleagues are tired of being treated like "the bad guy" by conspiracy theorists who think that COVID-19 is a hoax and the vaccine is an experimental form of government control.
"It's just kind of a hopeless feeling," she added. "I know there's good people out there, but it really does feel like the public is not on our side."
To help guide overwhelmed hospital workers, last week, the Idaho Department of Health and Welfare (DHW) activated crisis standards of care. The standards help hospital workers decide which patients should receive priority care when resources—like beds, ventilators and care workers—are scarce.
For example, if an overwhelmed hospital has one patient who had a life-threatening heart attack and another who is dying of COVID-19, doctors will use the standards to determine which one will receive priority care. The standards take each patient's age, their underlying chronic health conditions and other factors into consideration.
On September 7, the state reported 2,558 new COVID-19 cases, its highest-ever daily toll. The state's previous high was 2,287 cases on August 30. This week, the state hit its highest-ever number of COVID-19 hospitalizations, with 760 patients, 202 of them in the ICU, the Idaho Statesman reported.
New cases throughout the state had declined since January. But they began rising dramatically at the start of July, mostly due to the highly contagious and lethal Delta variant.
Jim Souza, chief physician executive at the St. Luke's Boise Medical Center, said COVID-19 patients with the Delta variant are sicker, require more mechanical ventilation, stay in the ICU longer and die more frequently, Buzzfeed reported.
Newsweek contacted the DHW for comment.