Doctor Has the Perfect Response to Trump's London 'War Zone' Comments
A trauma surgeon in London spoke out after President Donald Trump's remarks describing the U.K.'s capital as a "war zone" because of knife crime.
Speaking to the NRA in Dallas on Friday, the president cited a hospital in the center of London as having a problem with knife crime that he appeared to blame on a lack of guns.
"I recently read a story that in London, which has unbelievably tough gun laws, a once very prestigious hospital—right in the middle—is like a war zone for horrible stabbing wounds," Trump said, according to The Washington Post.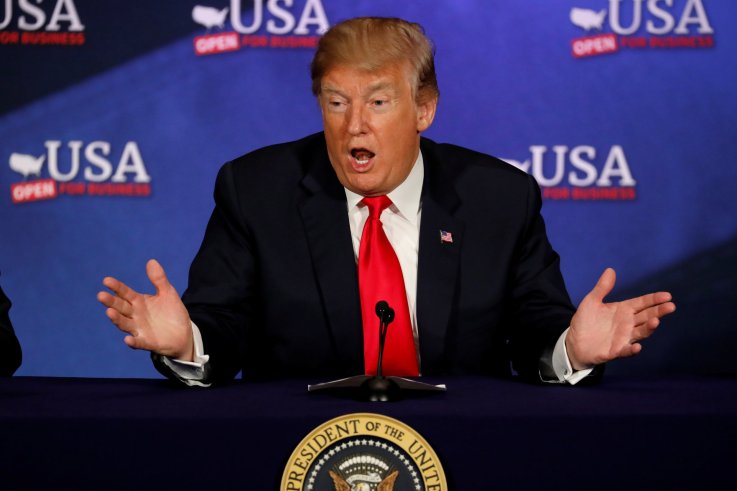 "Yes, that's right, they don't have guns. They have knives, and instead there's blood all over the floors of this hospital. They say it's as bad as a military war zone hospital," he added.
Londoners hit back at the president's comments, with Professor Karim Brohi, a trauma surgeon at the Royal London Hospital, which Trump is believed to have referred to, saying it was absurd to think that guns could help solve knife crime.
"Knife violence is a serious issue for London. We are proud of the excellent trauma care we provide, and of our violence reduction programs," Brohi said in a statement reported by The Evening Standard.
"The Royal London Hospital has cut the number of our young patients returning after further knife attacks from 45 percent to 1 percent. There is more we can all do to combat this violence, but to suggest guns are part of the solution is ridiculous," he continued.
"Gunshot wounds are at least twice as lethal as knife injuries, and more difficult to repair," Brohi added.
Brohi's colleague Dr. Martin Griffiths, who said in an interview with BBC Radio 4 that some of his colleagues had compared treating stabbing victims to working in Camp Bastion in Afghanistan, extended an invitation to Trump to visit the Royal London Hospital.
Dr. Griffiths shared a cartoon that suggested the president had missed the point of what he was saying, and wrote: "Happy to invite Mr Trump to my (prestigious) hospital to meet with our mayor and police commissioner to discuss our successes in violence reduction in London."
The president is set to visit the U.K. on July 13.
Doctor Has the Perfect Response to Trump's London 'War Zone' Comments | U.S.