Doctor Involved in Procuring PPE Defends Kushner's Ventilator Team, Says Challenges Caused by Coronavirus, Not Trump Admin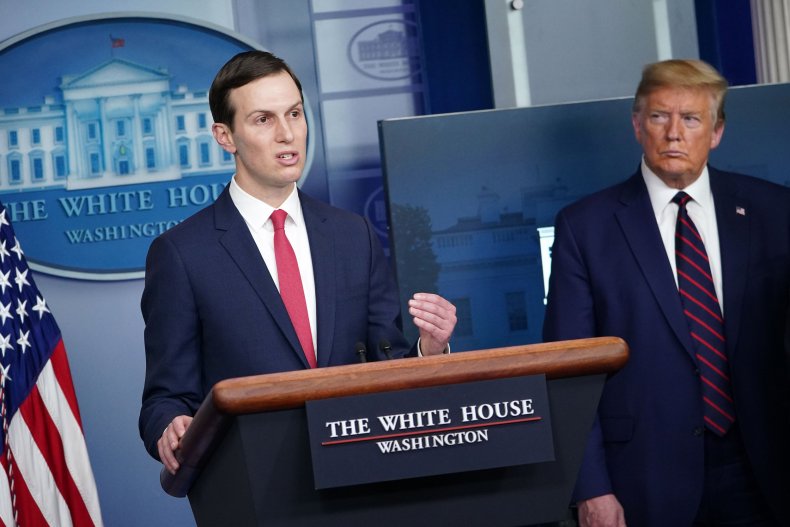 Dr. Jeffrey Hendricks has spent weeks trying to partner with the federal government to secure critically needed medical masks to aid the response to the coronavirus outbreak.
While doctors and nurses fret over dangerously-low supplies of protective gear, Hendricks has a line on millions of quality masks and the connections to bring them here. But each time he's felt like he's one step away from finalizing a federal contract, something falls through the cracks and the reset button is hit – a victim of the complex web of government procurement during a pandemic. Hendricks, however, says these hurdles weren't caused by the Trump administration, but rather, the challenges presented by coronavirus itself.
"I'm not used to government bureaucracy," Hendricks told Newsweek. "It's painstakingly slow and frustrating."
The Trump administration has faced criticism over hiccups in sourcing personal protective equipment and ventilators as COVID-19 cases and deaths mounted over the past few months. President Donald Trump tasked his son-in-law and senior adviser Jared Kushner with overseeing the effort. Kushner assembled a volunteer team, which has since been disbanded, to vet the thousands of leads that were coming in and send the most promising ones to the Federal Emergency Management Agency for final procurement if they panned out. That's where Hendricks' efforts ran into hurdles.
His experience illustrates an at-times chaotic rush to meet the unprecedented demand COVID-19 created for medical gear for the nation's health care providers.
Hendricks, chief medical adviser for M&M Labs, has long-standing contacts in China with factories that make N95 and other medical masks that have been in short supply in the United States.
He mostly deals directly with health care providers on a smaller scale and has never contracted with the federal government before. With the coronavirus outbreak – Hendricks saw an opportunity to use his existing connections to provide quality and reliable masks on a larger scale.
The process isn't an easy one that a first-time distributor can jump into, he said. It has several layers, beginning with factories in China. Hendricks said he already has associates in China who scope out factory conditions and check the quality of materials in person before anything ships. They reject items that don't meet quality standards.
"I have people on the ground who have sourced supplies for me," he said. "They know if they aren't trustworthy they will lose my business in the long-term."
Still, he encountered repeated delays when trying to convey that information to the federal government – first dealing with the volunteers and then attempting to directly go through FEMA.
He still hasn't finalized a contract, despite having lined up factories, checked the quality of the items and repeatedly reminded federal officials that he can help get millions of masks from reliable sources.
But he said he doesn't blame the Trump administration and has even set out to defend their efforts. Instead, he blames the monumental challenges that the coronavirus has caused.
"They didn't have experience in this industry, in supply chains," he said. "They didn't know any of these companies already, like I did."
Hendricks' experience was first highlighted in a New York Times story that characterized the volunteer team as being unprepared for the task of securing supplies as a deadly pandemic swept the country. Hendricks has pushed back on the article's characterization of his situation and has commended the Trump administration's efforts.
Hendricks described Kushner's team of volunteers – mostly from venture capital and private equity firms — as "enthusiastic" people who wanted to be helpful.
"Their hands were tied too," he said. "This is an unprecedented crisis. Everybody's just trying to do the best they can."
A senior administration official also defended the volunteer team as playing a small, but helpful role in sourcing high-quality products. The official noted acquisition teams at FEMA and the Department of Defense made the final call on procurement deals and contracts – not the volunteer team.
"They should be commended and not villainized," the official told Newsweek. "No one has experience sourcing leads during this global pandemic—private or public market."
The effort to secure protective equipment and other supplies for the states as the coronavirus swept the nation has been a sore subject for the administration. Trump has spent recent weeks inviting governors to the White House, where they've held public appearances in the Oval Office in front of placards displaying how much protective equipment their states have received from the federal government.
Trump also this week appeared to push back on criticism leveled at Kushner over the effort – one of many critical roles that he's handed to his son-in-law to oversee.
"You've done a great job. Some day people are going to appreciate it," Trump said to Kushner during the public portion of a meeting with House Republicans at the White House on Friday. "They say, 'Oh, he's a relation.' Well, if he wasn't a good relation, I'd get him out of here so fast."
As the federal government sought out masks, ventilators and other medical equipment, the states were also going through the process independently – and occasionally in competition.
"It wasn't always easy," said Casey Tingle, deputy director of the Governor's Office of Homeland Security and Emergency Preparedness in Louisiana.
Louisiana was among the "hotspots" that saw high numbers of COVID-19 cases. At one point early in the outbreak, the state was No. 1 per capita in the number of deaths. Hurricane-prone Louisiana is experienced with procuring needed emergency supplies in times of disasters, but Tingle said the coronavirus presented an all-new challenge.
"You're having to go international to get to where these supplies are manufactured," he said. "There were a lot of different steps in the process to get from where manufacturing was happening to get to our warehouse. It wasn't always clear how that worked."
"You're dealing with vendors you've not dealt with before."
Because of the short supply and heavy demand internationally, Tingle said the state was often entering into multiple contracts, hoping that one would pan out and knowing that some wouldn't. The state made the decision that it wouldn't pay any money upfront for supplies.
"There were vendors who would not do business with us because of that," he said. "Some things never even got delivered to us, but we didn't lose any money because we didn't pay anything."