Doctor Takes Refuge, Pleads for COVID Vaccines After Six Deaths in 12 Hours, 'Please Hurry'
A critical care doctor has made an impassioned plea from a hospital stairwell, calling on his medical center to "please hurry" and vaccinate his staff after six patients died in less than 12 hours.
Douglas Allen Arenberg, a pulmonary diseases specialist with Michigan Medicine, described the wait as "demoralizing" as many states begin to roll out doses of the COVID-19 vaccine.
"I don't have my COVID shot yet. So I am posting this picture of the stairwell where I retreated yesterday after the 6th death in less than 12 hours," Dr. Arenberg tweeted alongside a snap of the stairwell on Saturday. "Just needed a place to gather myself and try to rally my team of residents, nurses, RTs & Pulm/Critical care fellows."
The Ann Arbor-based doctor urged Michigan Medicine to "please hurry and get the ICU staff, residents, and attendings vaccinated."
The health provider received its first shipment of the Pfizer vaccine on December 14, according to a hospital statement.
"I cannot fathom anything more demoralizing than seeing all these photos of our colleagues getting immunized while we wait. The stairwells are getting pretty full," Dr Arenberg added.
Fellow doctors, nurses and medics from around the country rallied around the doctor in support.
"You're not alone," one California nurse replied. "I cried in the printer room after admitting 10 covids when we have no ICU beds, patients holding in the ER, closing the ER, nurses with 9 patients each. Pulmonologist with 60. 7 nurses out with covid. And 1 intubated."
"Those look a lot like the stairwells I cried earlier today, when I had to tell a father that his wife and unborn baby had died due to covid," another doctor added.
One Chicago physician said she received the jab on Sunday but was still waiting for her team to be vaccinated as well. "The process is terrible," Michelle Prickett said. "Hard to be joyful when you know not everyone at the bedside has been given their protective shield. Be well, care for your team and know you're not alone in this."
Virginia doctor Danny Theodore also described the process as demoralizing. "I just finished another night shift in the COVID-19 ICU and I am waiting to get my vaccine next week, he said. "I continue to see major health systems vaccinate those that have never cared for Covid-19 patients before the Covid-19 icu staff. Absolutely Demoralizing."
Others expressed their anger over the prioritization of a handful of politicians who received the jab last week.
"Doug deserves the vaccine more than Marco Rubio and Mike Pence. And tens of thousands others on the frontlines," one man wrote.
Michigan Medicine, the academic medical center of the University of Michigan, received an initial shipment of 1,950 doses of the Pfizer Inc./BioNTech vaccine on Monday, December 14.
The health provider said it vaccinated about 40 employees on Tuesday December 15 and would "ramp up" the volume of testing this week, depending on supply.
"It will take time to get to everyone who wants a vaccine," Marschall S. Runge, CEO of Michigan Medicine, dean of the U-M Medical School and executive vice president for medical affairs at the University of Michigan said in a statement. "While distribution continues, it's vital for all of us to continue to social distance and wear masks when going out in public."
The academic medical center includes approximately 28,000 employees and initial supply is limited, so a phased approach will be used for priority groups based on state and federal guidelines.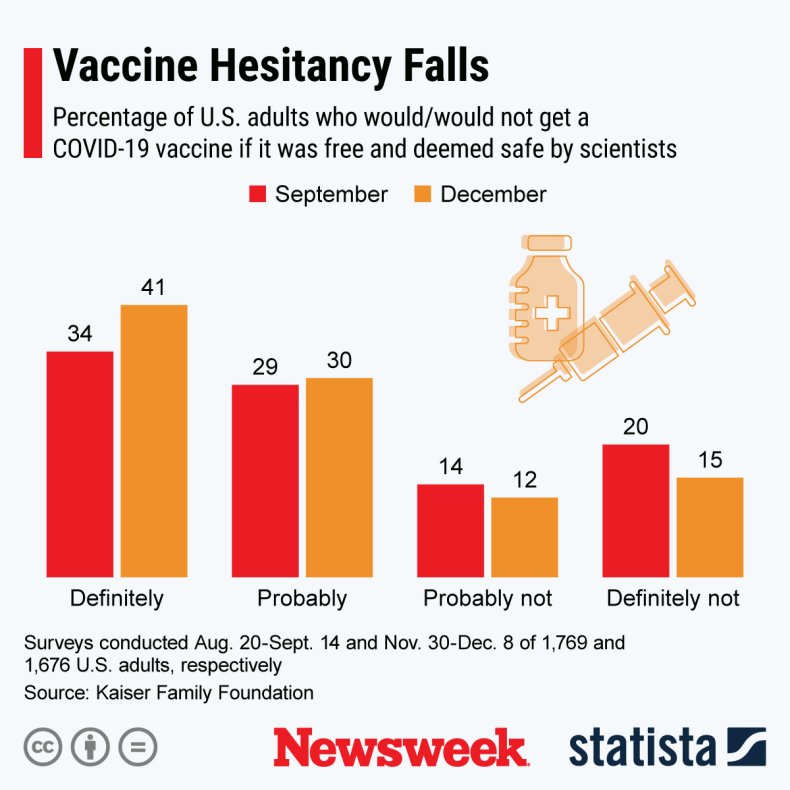 Sandra Lindsay, a critical care nurse at Long Island Jewish Medical Center in Queens, was one of the first in the country to receive an approved COVID-19 vaccine on Monday December 14.
Vice president Mike Pence received the COVID vaccine live on TV alongside second lady Karen Pence and Surgeon General Jerome Adams on Friday, December 18.
He told a press conference that he "didn't feel a thing" while getting the shot at the Eisenhower Executive Office Building near the White House.
The U.S. is now preparing itself for its largest ever vaccination campaign after the Food and Drug Administration issued an emergency authorization for the Pfizer/BioNTech vaccine.
Dr. Anthony Fauci, the director of the National Institute of Allergy and Infectious Diseases and a member of the coronavirus task force, has sought to allay fears that the vaccine was created too quickly, and said the speed was a reflection of extraordinary scientific advances, and did not compromise safety or scientific integrity.
"By the time we get to several months into this year we will have enough people protected that we can start thinking seriously about the return to normality. And that's up to all of us to step forward and get vaccinated," he told reporters last week.
Newsweek has contacted Michigan Medicine for comment.