Some Unvaccinated in Denial To the End, ICU Doctor Says as Omicron Surges in Delaware
During the pandemic, health care workers have been the people by patients' sides in their final moments, and while some of the dying have expressed regret about not being vaccinated, a Delaware doctor said that's not always the case.
After a brief bit of relief in the spring, COVID-19 hospitalizations started to rise over the summer, and health care workers have gotten little relief as the country heads into a winter surge. Vaccines are known to help prevent a person from becoming seriously ill with COVID-19, but about 30 percent of adults have yet to be vaccinated, and even those who have been hospitalized aren't convinced inoculations are the way to go.
"Some patients express regret after they get sick," Dr. Michael Benninghoff, section chief for medical critical care at Delaware's Christiana Hospital, the largest in the state, told Newsweek. "Tragically, some who are unvaccinated are sort of in denial until their final moments, which is sad to see."
About 82 percent of Delaware's intensive care unit (ICU) beds are in use, with about 24 percent occupied by COVID-19 patients, according to the state's Department of Health and Social Services. However, ChristianaCare Health System's chief operating officer, Sharon Kurfuerst, said on Tuesday that hospitals are frequently running over 100 percent capacity.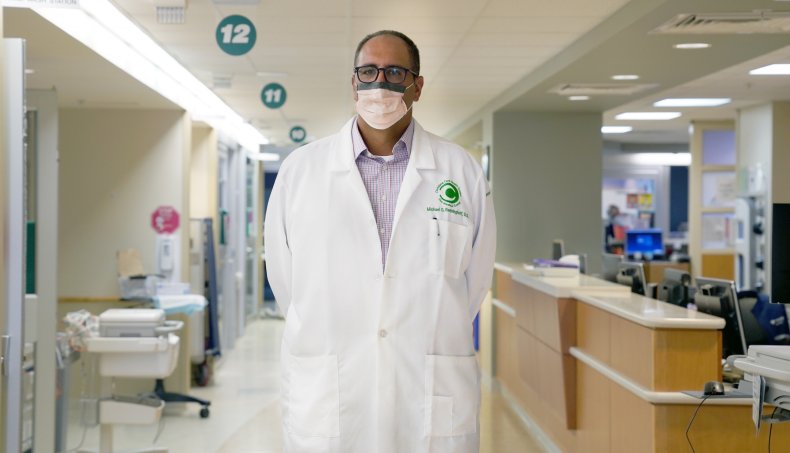 Kurfuerst added that the number of patients in beds doesn't tell the whole story about the strain on health care systems. She noted that patients in the emergency room aren't counted as admitted patients but add a "couple of hundred patients on any given day."
"Our health care workers are tired, and they're frustrated, and they're sad," she said. "They see avoidable illness every single day as a result of COVID, much of it among those that are unvaccinated. And it is morally distressing for them to see folks who are sick who could be well with a simple preventative measure. So from a community standpoint, really asking that each and every Delawarean gets vaccinated."
Benninghoff also urged people to get vaccinated against COVID-19 and warned that people who rely on treatments are taking a risky bet. While treatments for COVID-19 are light-years from where they were in March 2020 and doctors feel more confident in their ability to treat the disease, there are limitations to what can be done.
Doctors previously told Newsweek that aside from remdesivir and the steroid dexamethasone, doctors have little to use when combating COVID-19. The bulk of their treatment plans involve addressing the complications caused by the disease, and sometimes it's a juggling act to not cause irreparable harm elsewhere in the body.
Benninghoff said his ICU is having "as good as outcomes as anyone in the country" but noted that it's far easier to prevent COVID-19 than to treat it.
"I think people are thinking, Oh, I'll just take this drug or that drug," Benninghoff said. "[But] it can be as bad as 50/50 chances."
While ICUs are filling up around the state, Benninghoff denied that it's anything out of the ordinary for the Delaware hospital. He said it's not unusual for the ICU to be full, and it's the model the staff is used to. Even in the summers before the pandemic, there were no "slow" days, he said.
The bulk of ICU admissions for COVID-19 involve unvaccinated people, and Benninghoff said the only vaccinated people he's seen are those who have comorbidities or are immunocompromised. While Omicron has been shown to infect vaccinated people, the variant has so far caused largely mild cases, and Benninghoff said he doesn't expect to see significant surges in vaccinated people being hospitalized.