Doctor Shares How Antigen Test Can Show False Positive Due to Water, Soda in Viral Video
In the age of COVID-19, as multiple variants have spread across the world, at-home tests have become tantamount to a saving grace for many individuals and families still grappling with the virus.
The two main tests known to most everyone include antigen tests and PCR.
PCR, or molecular tests, have been cited as "the gold standard" when testing for COVID-19 due to the near-100 percent accuracy and sensitivity of the test. It involves taking a nasal swab or saliva sample and treating it with an enzyme that converts RNA into double-stranded DNA, eventually creating two copies of coronavirus DNA from the original one piece of RNA.
The downside for PCR is that the tests require skilled technicians to oversee the process, which makes antigen tests more preferable when timing is of the essence. While less accurate overall when compared to PCR, these tests can be done at home and offer convenience while also keeping some extra money in your pocket.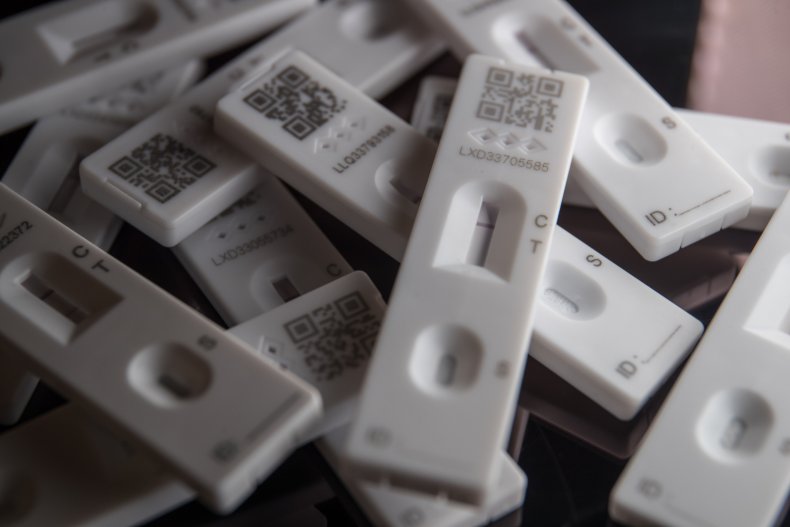 Antigens are described as substances that cause the body to produce an immune response, therefore triggering a generation of antibodies. Antigen tests are treated with a liquid containing salt and soap that breaks apart cells and other particles and is then applied to a test strip.
Meanwhile, the Federal Trade Commission has recently warned that fake at-home tests are being sold online. If it's not authorized by the Food and Drug Administration, it's not a viable test.
However, if at-home antigen tests are being procured and used by individuals in their own homes, there can certainly be user error attached to a test's outcome. That was the message sent by Dr. Karan Raj on his popular TikTok page.
He posted a video in response to an individual whose rapid test came up positive after being splashed with tap water. The first thing he does is open the test, also called a lateral flow device.
"This gray box and the portion just above it contain antibodies that are sensitive to the COVID-19 virus," Raj said. "If you use things like soda, tap water and fizzy drinks, that's going to provide an altered pH which will affect the function of the antibodies on the test line."
Raj said a buffer solution is necessary to provide "a staple PH that will actually make the test work."
The video, which has been viewed over 6 million times, draws some obvious conclusions. First, many commented on the fact that directions should be followed for the best possible outcome—ironically mocking those who received strange results because they simply didn't read the packaging.
Even the American Society for Microbiology wrote in November that "a team of Canadian researchers has shown that rapid antigen tests for SARS-CoV-2 work only when manufacturer instructions are followed."
Dr. Jason J. LeBlanc said the impetus for such a study was to demonstrate "the putatively obvious" regarding the amount of false-positive tests going viral due to soda or fruit, etc.
"Seeing the misuse and misrepresentation of the test function on social media, we felt compelled to derive robust scientific data to explain the formation of false-positive results during SARS-CoV-2 antigen testing," LeBlanc said.
The makers of CLINITEST, one of the rapid antigen tests on the market, responded to questions about test ingredients by saying that its buffer solution consists of 99.7 percent saline solution.
Some commented on Raj's video, serious or not, by saying that false-positive tests could help get them out of school or work due to being "contagious."
"The amount of time off school I'm getting off because of this video is going to be insane," one TikToker said.