Doctor Slams DeSantis' 'Medical Authoritarianism' Comment as COVID Surges in Florida
A doctor took exception with Florida Republican Governor Ron DeSantis' comment on "medical authoritarianism" over the issue of government-mandated COVID-19 protocols.
During a Thursday interview with Fox News host Tucker Carlson, DeSantis called such precautions "the most significant threat to freedom" in his lifetime and likened them to the Berlin Wall.
"They are basically saying that we are all just subservient to medical authoritarianism, whatever they think needs to be done," said the governor. "We have to submit to it. That is, it's probably, Tucker, the most significant threat to freedom in my lifetime certainly since the fall the Berlin Wall because taken to this illogical conclusion, you end up with Australia where they are forcing lockdowns at the point of bayonet."
But Dr. Jonathan Reiner of Washington, D.C., said during his appearance on CNN Saturday: "I have news for the governor. A greater threat to freedom is being paralyzed in a drug-induced coma on a ventilator in the ICU."
Reiner, who is a medical analyst for the news network, accused the governor of violating "the rule of holes," or "when you find yourself in a hole, stop digging."
"He has dug himself an enormous hole in Florida," the doctor said. "And he has handcuffed himself. He has removed the tools that a governor has to try and suppress a pandemic like this: enforcing masking requirements, closing down crowded venues, incentivizing people either positively or negatively to get vaccinated. He has removed all these tools and he has found himself in a deep, deep hole, and yet, he keeps digging."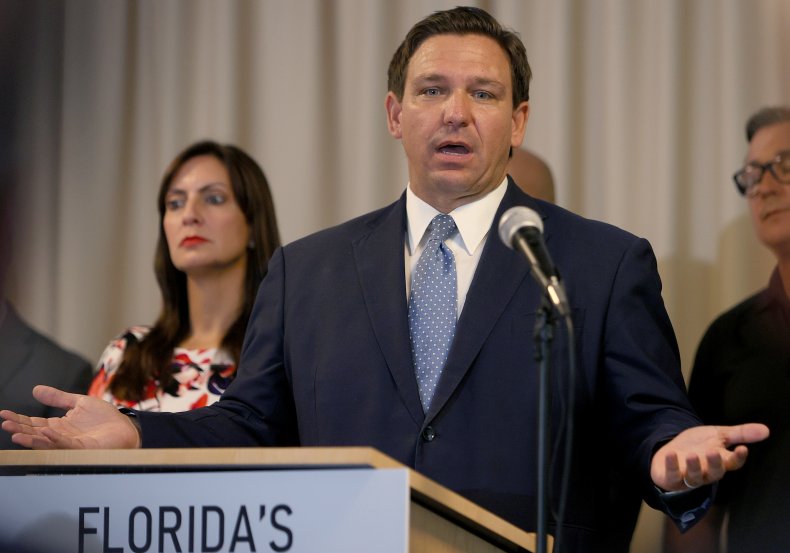 Reiner has frequently made comments about the state of the COVID-19 pandemic in Florida. Last week, he noted during another appearance on CNN that very few places in the world are experiencing a surge in new cases worse than in Florida.
"The viral load in Florida is so high right now, there are only really two places on the planet where it's higher," Reiner said. "One is Louisiana, and the other is Botswana. It's so high in Florida that I think that if Florida were another country, we would have to consider banning travel from Florida to the United States."
In a statement sent to Newsweek on Saturday, DeSantis' press secretary, Christine Pushaw, said: "It is truly remarkable how CNN's narrative mirrors President Biden's unprovoked attacks on Governor DeSantis. I wonder why CNN is so focused on Florida rather than Louisiana, which has a mask mandate but far higher COVID prevalence than Florida?"
Pushaw also highlighted DeSantis's recent push for monoclonal antibodies as a preventative treatment for COVID-19 and the fact that Florida exceeds the national average for vaccination rates. Monoclonal antibodies are strictly useful as a treatment for mild symptoms, according to an NPR report, and cannot be used to treat patients with severe symptoms or those that have been hospitalized.
Florida has led the U.S. in new cases recently, according to data from the CDC, leading many to call it the epicenter of the current COVID-19 resurgence. In the past week, the Sunshine State has seen nearly 150,000 new cases, far outpacing much larger states like Texas (89,666) and California (54,325).
Florida has also been consistently surpassing its single-day record for new COVID cases, setting it three times since the start of August. The state most recently broke its own record on Tuesday with 24,869 cases.