'Doctor Strange' Extra Goes Viral For Giving 'Performance of a Lifetime'
While Benedict Cumberbatch may well be the star of Doctor Strange in the Multiverse of Madness, a background actor truly upstaged him in a scene going viral online.
The scene from the Marvel movie has been viewed millions of times, sparking a flurry of jokes and memes.
Many social media users also tried to identify the background extra in question, though her identity still remains unconfirmed.
The scene featuring the eye-catching moment comes towards the start of Doctor Strange in the Multiverse of Madness as Stephen Strange (Cumberbatch) attends the wedding of Christine Palmer (Rachel McAdams). As he sits down and starts to converse with Nic West (Michael Stuhlbarg), somebody over Strange's left shoulder steals focus.
The clip was originally shared on Twitter by content creator @JohnnyNeff_ who pointed out that she was giving the "performance of a lifetime," and added, "she's a star baby."
While sat behind Cumberbatch, the actress feigns conversation and then spends time looking around, which many commenters suggested was a strained attempt "not to look at the camera." The 26-second clip, which zooms in on the extra, has been viewed over 4.4 million times, and shared tens of thousands of times on Twitter. The same clip was also shared by @chaaarlesweber on TikTok, and viewed hundreds of thousands of times.
The unknown actress was called "the most iconic extra I've ever seen in a film" by @lovely_lubbly on TikTok. "I kinda wanna know her story .. her potential is there.. you know?" wrote @blackpoeticfire on Twitter. "Meryl Streep is afraid for her career" joked @federicobini_.
Actor Alexis Rodney suggested it had the same energy as the infamous sweeping extra from Quantum of Solace. Other social media users shared clips of other notable background artists from scenes in Twins and Ned's Declassified School Survival Guide.
Other users on Twitter compared it to Adele's recent appearance at a basketball game where she spent time looking everywhere but the camera.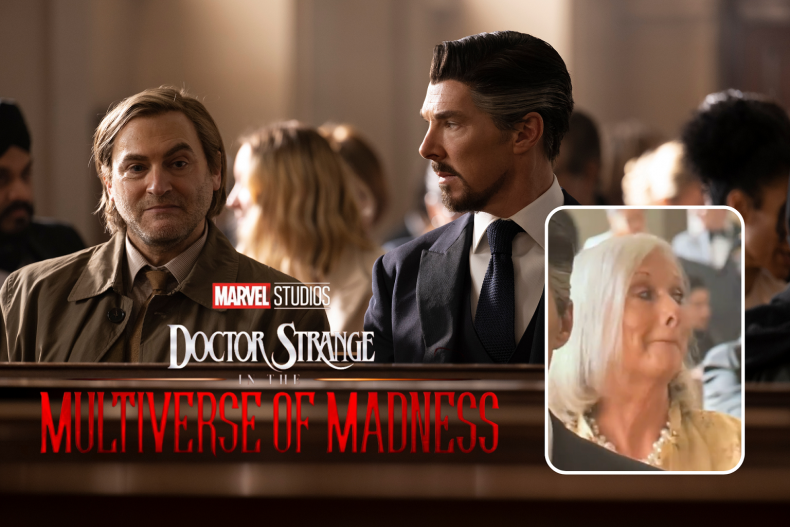 While the jokes came thick and fast in the comment section, some were determined to identify the actress. Many suggested it was the Bafta-nominated British actress Lesley Sharp, known for her roles in The Full Monty and Rita, Sue and Bob Too.
Others suggested that it may have been a relative of Cumberbatch's himself, which was why the scene stayed in the movie. @_JonathanNotJon shared an existing picture of Cumberbatch with his mom, Wanda Ventham.
Keeping in the family theme, a Cumberbatch fan account wrote: "I've always wondered if this lovely woman could be Tracy Peacock, Benedict Cumberbatch's older sister, before she passed away last year." Despite the speculation among fans and viewers, the identity of the background artist remains unknown.
Doctor Strange in the Multiverse of Madness is available to watch on Disney+ now.