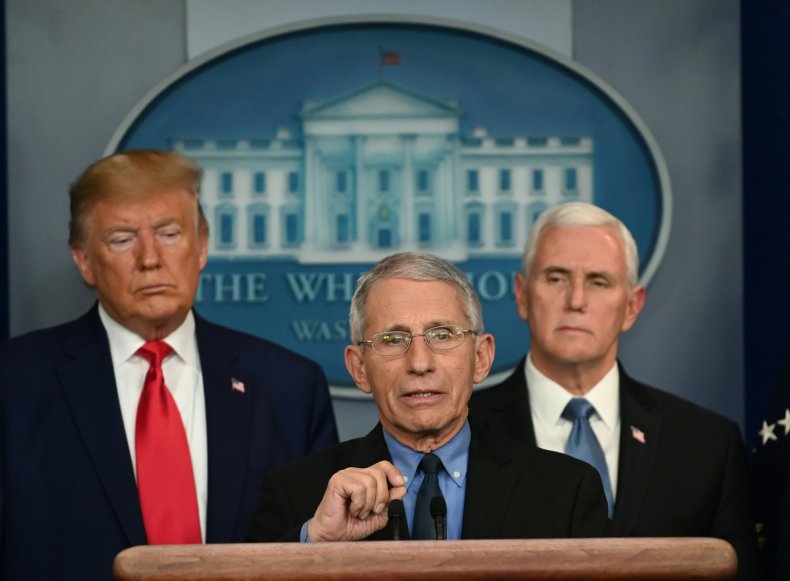 On Monday, Dr. Anthony Fauci, a member of President Donald Trump's coronavirus task force, appeared on CNN to talk community spread concerning the novel coronavirus and how the U.S. could see an increase of cases in the coming weeks.
"My concern is, as the next week or two or three go by, we're gonna see a lot more community-related cases, and that's of great concern," Fauci said.
Fauci's comments come one day after he detailed his definition of "community spread," another term for community-related cases.
"What we're seeing right now is called community spread, namely we're having people popping up who are infected with no known original source or index case," Fauci said on Sunday while appearing on Fox News' Fox & Friends.
The novel coronavirus, officially known as COVID-19, originated in Wuhan, China, but has since spread to at least 61 countries. There are currently 89 Americans with confirmed cases of the illness, including 44 people who were aboard the Diamond Princess cruise ship and three people expatriated from Wuhan by the U.S. government. Over the weekend, two people infected with the disease died in Washington.
Many of the cases in the U.S., such as those on the cruise ship and evacuated from China, can be traced back to a source. However, several cases have been documented in the U.S. with an unknown origin, prompting concerns of community spread of COVID-19 among health officials.
"Unfortunately, this is something we expected. Whenever you have a respiratory disease that's easily transmissible, you're gonna get community spread and it's gonna become difficult to pinpoint the source of each and every infection," Fauci added during his Monday CNN appearance. "And that's exactly what we're seeing in Washington state and now in several other states throughout the country. It's gonna make our job much more challenging."
Fauci also spoke about the confirmed case in New York City, and how contact tracing will be used to find potentially related cases. According to New York Governor Andrew Cuomo, the confirmed case is "a woman in her late thirties," who "contracted the virus while traveling abroad in Iran."
"So, what the state and local authorities will be doing, is making a contact tracing on people, that she clearly came into contact with, for any reasonable period of time. That's what contact tracing's all about," Fauci said. "But, when you have a lot of people, who are in the situation of community spread, it becomes, logistically, much more difficult to do that."
According to a March 1 report by the World Health Organization, there are currently 87,137 confirmed cases of COVID-19 worldwide, and 79,968 confirmed cases in China. There have been 2,873 total deaths in China and 104 deaths in other countries.