Doctor Who Co-Wrote Report That Led To Big Ten Initially Canceling Season Says Results Are Misinterpreted
A co-author of a recent study linking COVID-19-positive athletes to a potentially fatal heart condition says the results of the study were largely misrepresented and that it is safe for athletes to play sports this fall.
Dr. Curt Daniels, the director of sports cardiology at Ohio State University, told The Columbus Dispatch that he believes the results presented in the study and the risk of myocarditis were "misconstrued" as a way to discourage sports from continuing during the coronavirus pandemic. Daniels said that the study should not be used to cancel fall sports, but rather as a push to implement greater safety protocols and make a responsible return.
"I think we have a safe way to return to play," he told the Dispatch. "I hope that we will find a way to do so."
Daniels said that athletes who test positive for myocarditis should take a three-month break from tough physical activities, but those who test negative can continue once proper coronavirus procedures have been followed.
Newsweek subscription offers >
The three-month-long Ohio State study found that four of 26 college athletes who tested positive for COVID-19 also showed signs of myocarditis, a rare inflammation of the heart that could be fatal. Two of the athletes showed mild symptoms, while the other two were asymptomatic.
The study ultimately found that a cardiac MRI can effectively identify myocarditis in athletes, which can result in death if not diagnosed and paired with rigorous exercise. CMR imaging was found to help identify which athletes were most susceptible to myocarditis and when athletes who are diagnosed with COVID-19 can safely resume playing sports, the study said.
The results of the study were reportedly one of the factors that led two Power Five Conferences -- the Big 10 and PAC-12 -- to cancel fall sports.
Daniels said he was disheartened to see people focusing on the number of athletes who developed myocarditis instead of the methodology used to identify it in order to treat it. He mentioned that a more accurate conclusion to be drawn from the study is that no evidence of myocarditis could be found in 85 percent of COVID-19 cases while adding that the 26-person sample size is extremely small.
Newsweek subscription offers >
In response to the general reaction of the study, including a piece published by The New York Times on August 23, the cardiologist said his views on the "alarmingly" high results were widely misrepresented.
"They're putting it out there saying it's not safe to play. They're not reading the article. Or if they're reading it, they're just putting their own spin on it, like, 'It's not safe,'" Daniels said.
He added: "It's actually the opposite. We're saying we actually found this, but we know a path now to say it's safe to go back as opposed to having this uncomfortable feeling of not knowing anything" about the risk.
Dr. James Borchers, the Ohio State athletic department's head physician and another co-author of the study, presented to the Big Ten Conference's presidents and chancellors this past weekend as part of the B1G medical subcommittee, according to The Columbus Dispatch. While Newsweek could not confirm what Borchers told the group, the league's leaders announced Wednesday that the conference will begin its football season on October 23 following a unanimous vote. The conference cited reliable safety measures and more confidence in recent medical information as reasons for the return.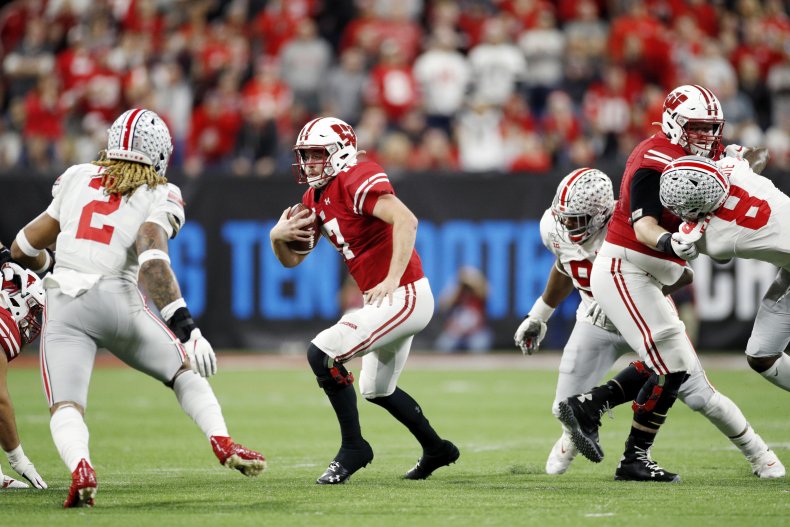 "The data we are going to collect from testing and the cardiac registry will provide major contributions for all 14 Big Ten institutions as they study COVID-19 and attempt to mitigate the spread of the disease among wider communities," Borchers said in a press release about the season's start.
The release noted that all student-athletes who develop COVID-19 will undergo comprehensive cardiac testing to include labs and biomarkers, ECG, echocardiogram and a cardiac MRI.
While the myocarditis study is ongoing and several more are expected to follow, the goal is to begin the risk stratification process and determine the best testing and treatment options for those who do develop the heart condition.
"There's sort of two components. There's an infectious disease component, and now there's the heart component, which has obviously taken center stage recently," Daniels said. "Those are the two factors that most people, not specifically the Big Ten, talk about. But I think from what we've gathered that we have a safe path to return to play."
Newsweek reached out to the Big Ten for comment but did not receive a response in time for publication.
Doctor Who Co-Wrote Report That Led To Big Ten Initially Canceling Season Says Results Are Misinterpreted | News