With many people in England unable to book COVID-19 tests, private clinics offering them have seen a "spike" in demand, with tests costing patients as much as £350 ($450) and earning private doctors, in some cases, millions in revenue, Newsweek can reveal.
The National Health Service (NHS) Test and Trace service in England has apologized for not being able to provide tests to all those who need them.
"Can I please offer my heartfelt apologies to anyone who cannot get a COVID test at present," Sarah-Jane Marsh, director of testing at the NHS, has said.
"All of our testing sites have capacity, which is why they don't look overcrowded, it's our laboratory processing that is the critical pinch-point. We are doing all we can to expand quickly.
"The Testing Team work on this 18 hours a day, 7 days a week. We recognize the country is depending on us."
British Prime Minister Boris Johnson has promised that 500,000 tests could be conducted each day by the end of October.
When Newsweek tried to book an appointment in central London, we were told that no walk-in appointments nor home testing kits were available.
But tests are still readily available in the private sector, with Public Health England, the body responsible for collecting and reporting data, having no centralized database of the number of tests carried out privately unless they return a positive result.
This has led to some clinicians making significant profits from COVID-19 testing.
"In the last couple of days, 80 percent of people now asking for tests are in a concerned group, their children are returning to school or a kid with a cough," Dr. Mark Ali, the founder of Private Harley Street Clinic Limited, tells Newsweek.
"It's all these people who've encountered the bottleneck. We're now seeing people frustrated by the inability to obtain NHS tests due to location…and provision of numbers in terms of capacity."
British Health Secretary Matt Hancock said that the reason that those with symptoms could not get tested is because people were abusing the system.
"In the last couple of weeks, we've seen a sharp rise in the number of people applying for a test who are not eligible, they do not have symptoms," he told the BBC.
"We've suddenly seen this rise in demand of people who are not eligible. I've read stories of whole schools being told to go and get a test and all the pupils. That's not what testing is there for. You need it for people who are symptomatic.
"I want to reassure people who have got symptoms, 90 percent of people get a test that's within 22 miles. The average distance someone has to travel to get a test is under 10 miles. We have got the vast majority getting a test locally and getting the results very quickly.
"I've heard stories of people saying 'well, I'm going on holiday, I'm going on a flight, I'm going to get a test to see if I'm ok'. That's not acceptable."
The General Medical Council (GMC) has said that no doctor should try to "profit from the fear and uncertainty caused by the pandemic."
Private Harley Street Clinic Limited charges £195 ($250) for a home-testing kit plus £15 ($19.50) delivery, £250 ($325) for a consultation and £350 ($450) for a home visit.
"Our test in the clinic costs £250 and that's done by one of our professional nurses and has our clinic's efficiency and access to clinical advice before, during and after," Dr. Ali says.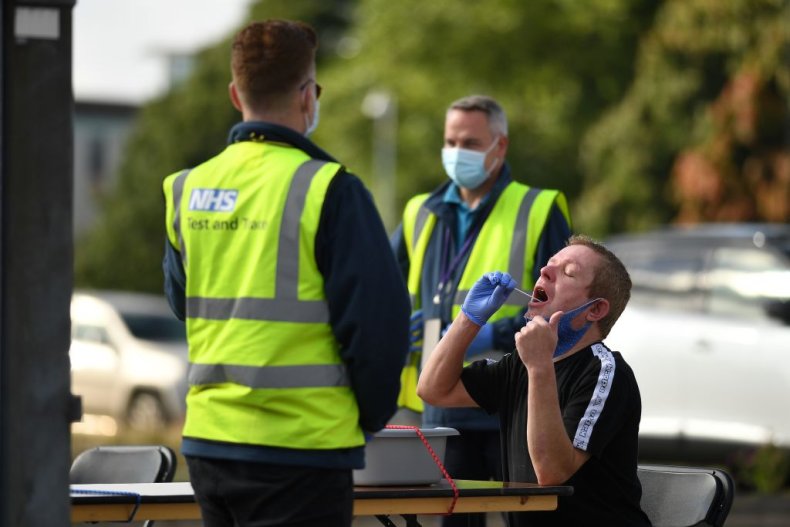 "If people want it as a postal option, it's £195 but they still get all of that clinical follow-up. I know customers think it's a price worth paying because we have plenty of return customers. We've got some private customers who keep coming back to us because they see us as really good value. The fact we're very efficient, we go the extra mile."
A home testing kit produced by Randox Healthcare, which is conducting a large number of tests for the NHS alongside private patients, costs £120 to purchase privately.
Home testing kits costing £55 have sold out online but are available for medical professionals much more cheaply and would mean a markup of over 1,500 percent.
"I was looking at the procurement process for it [tests] and it was $15 (£11.50) for a test," Dr. Ben Littlewood-Hillsdon, chief medical officer at health technology solutions provider Doctorlink, tells Newsweek.
"There is an element of it [private testing] that's highly unregulated. They're making hay while the sun shines. Objectively it might be legal and all fine but there's the morality and the optics of it… it's blowing my mind a little.
"But if you have people who are concerned and they [medics] aren't asking why they're taking the test, there's nothing wrong with that. They're not putting demand on the [public health] system."
And Dr. Ali says that there are valid reasons for the costs.
"We're in the business of medicine," he says. "We're in the business of providing clinical tests and service for people. In private practice, that always comes at a cost. Of course, there has to be a cost for it—the test itself, the cost for paying for all our staff, the cost for hiring and maintaining all our buildings and equipment, everything comes with a cost and of course, nobody works for free.
"Nurses need to get paid, receptionists need to get paid. There has to be a profit margin built-in for that reason."
Dr. Ali estimates that his clinic has conducted an average of 100 tests a day since the beginning of April. This would mean revenues of between £3.14 million and £5.6 million for testing for a service that the NHS offers for free and is meant to be provided to anyone who might need it.
In March, The Sunday Times reported that Dr. Ali had made £2.6 million in the first week of selling tests before returning at least £2 million to customers after failing to complete testing.
Dr. Ali now says that he was misquoted and would not be drawn on his current profits.
Shadow health secretary Jon Ashworth said at the time that Dr. Ali was exploiting fears.
Ashworth said: "This is an unprecedented public health crisis. People will be disgusted at profiteering behavior like this. It has to be a national priority to ramp up testing, especially for our NHS staff, and the government must stamp out this exploitative action."
Dr. Ali says his Private Harley Street Clinic Limited company offers value because he has "always had a presence on Harley Street for the last 10 years, been in practice for the last 30 years, a consultant for 18 years and in private practice for 10 years."
According to Companies House, Private Harley Street Clinic Ltd was dissolved on June 6 2017 after failing to file accounts. Private Harley Street Clinic Limited was incorporated shortly after.
He has previously been found in breach of Advertising Standards Authority (ASA) guidelines by claiming that an intravenous infusion of vitamins and minerals could protect people from COVID-19.
There is no evidence that this product would "protect" people from COVID-19 infection. Dr. Ali says the decision to take down the advert was made before the ASA was involved.
His company has total net assets of £1,457, according to its most recent company filing.
After the article was originally published, Dr Ali wanted to comment further about the piece.
"We categorically have not made 'millions' from Covid19 testing and refute any claim around this as it is simply not true," he told Newsweek by email.
"The fact is that the trend has been U-shaped with a strong demand at the beginning of the pandemic in March and April, and again now in September. The summer months in between have had relatively low demand and we have tested small numbers each day, around 20 people at the lower end of this U-shaped testing trend. Private doctors are providing tests to help people and businesses who desperately need them. We are able to provide enhanced speed and efficiency to meet difficult logistical challenges."
When asked for evidence to show that his company's revenues were not millions, Dr. Ali again refused to provide documentation.
A Department for Health and Social Care (DHSC) spokesperson said he didn't see what the story was and said that testing was working fine.
A DHSC spokesperson said: "NHS Test and Trace is working, it's completely free and our capacity is the highest it has ever been and our laboratories are processing more than a million tests a week."
They did not answer questions about whether "profiteering" from COVID-19 was a good thing or bad thing.
Ashworth has not responded for further requests for comment.
Update 09/28/20 10:45 EST: This article has been updated to include Dr. Ali's assertion that his company has not made millions from selling COVID-19 tests.