Doctors Find Nail Lodged in Man's Lung Two Years After He Accidentally Swallowed It
Surgeons in southern China cut a rusty nail out of a patient's lung in May, after he accidentally swallowed it during a work accident and did not seek medical attention for two years.
The male patient, identified only by the last name Li, works as a carpenter in Tiandeng County in Guangxi, according to a report published Tuesday by the Minzu Hospital of Guangxi Zhuang Autonomous Region.
Li was examined at a county-level facility in early May as part of his treatment for a stomach ulcer, but scans revealed a metallic object in his right lung measuring 3 centimeters (1.18-inches), the report said.
The workman recalled accidentally swallowing a nail while working on a construction site in 2019. He panicked after realizing what he had done but soon forgot about it when he felt no discomfort, the report said.
Li was admitted to Guangxi Minzu Hospital on May 19 following a referral.
"I was holding one nail between my lips and holding another in my hand while nailing a wooden board," Li was quoted as saying in the report. "I turned around and the nail suddenly fell into my throat. I swallowed it before I could react."
"I felt no pain and could eat and drink normally. I didn't feel anything for weeks and weeks. I thought it had passed through my digestive system, so I never went to a doctor," the patient added.
The nail is believed to have traveled down his windpipe before falling into a bronchus and landing at the bottom of his right lung, where it did not appear to affect his daily life.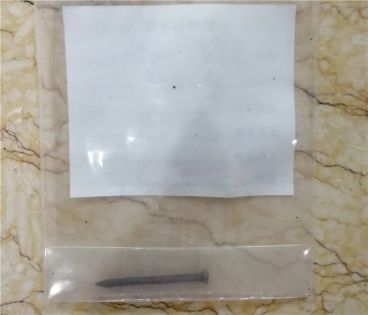 Dr. Luo Qiang, deputy head of cardiothoracic surgery at Guangxi Minzu Hospital, said similar cases would ordinarily call for a routine endoscopy. However, the length of time since Li's accident made the course of treatment more complex.
"We would usually go in endoscopically and retrieve it with a pair of forceps," the surgeon explained. "But because it's been two years, the nail had already been surrounded by lung tissue and could not be removed."
Luo pinpointed the location of the 1-inch nail through precise CT scans and performed microsurgery on Li, entering his chest via a small incision and removing a piece of his lung containing the rusty metal object.
The hospital said the excised portion of lung tissue would not affect his recovery. Li remains under observation at the facility, but the report said he was recuperating well and could be discharged in the coming days.