Doctors Remove 4-Inch Piece of Cement From Man's Heart
When a 56-year-old man went to the emergency room because he was experiencing chest pain and difficulty breathing for two days, doctors discovered a piece of cement measuring 4 inches, or 10 centimeters, in his heart.
A report published by The New England Journal of Medicine on October 2 found that the man underwent a minimally invasive surgery, known as kyphoplasty, to treat a spinal compression fracture the previous week.
After an examination, the report stated that doctors found "an intracardiac foreign body."
"The patient underwent emergency cardiothoracic surgery," the report read.
It continued and stated that doctors found the piece of cement embolism, which resulted from the man's kyphoplasty procedure, puncturing the man's heart and right lung.
According to information from Johns Hopkins Medicine, kyphoplasty injects a certain type of cement into an individual's vertebrae and creates space for the treatment with a balloon-like device. This procedure may be recommended by doctors for cancer-damaged vertebrae or specific spinal fractures.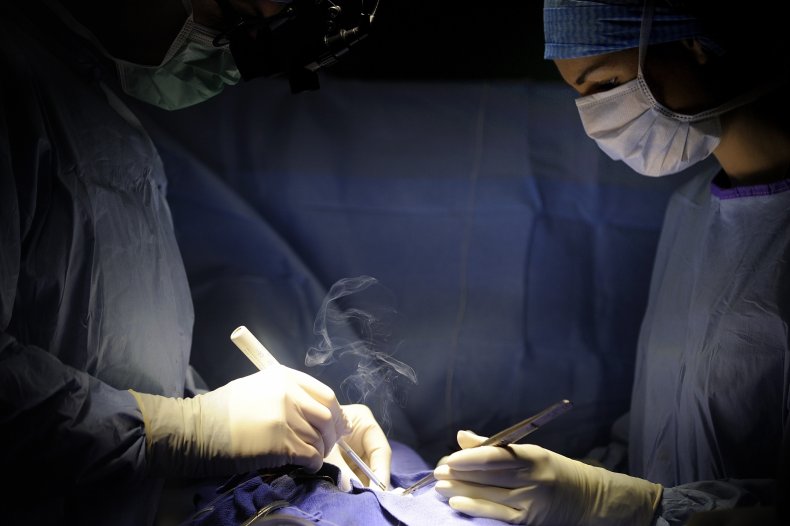 The procedure is not without its risks, one of which, affected the man.
"Cement embolism is a described complication of kyphoplasty; the cement can leak into the venous system, harden and embolize," the report from The New England Journal of Medicine read.
Other risks, outlined by Johns Hopkins Medicine, include infection, bleeding and increased back pain.
LiveScience reported that according to the American Association of Neurological Surgeons, kyphoplasty is typically safe and less than 2 percent of people who had the procedure performed experienced a complication.
Doctors ultimately removed the piece of cement and repaired the tear in the man's heart where it was punctured. The New England Journal of Medicine reported that the man did not experience any postoperative complications and now, one month after the procedure, he has nearly recovered.
This piece of cement was not the only recent foreign object doctors have had to remove from an individual.
Newsweek recently reported that doctors in Lithuania removed metal objects from a man's stomach. They found screws, nails and knives, all of which weighed about one kilogram, or just more than 2 pounds.
The man reportedly began eating metal objects for a month after quitting alcohol, according to BBC News. He began suffering from severe abdominal pain and a scan revealed the metal objects in his stomach.
"During the three-hour operation with X-ray control, all foreign bodies, even the smallest ones, in the patient's stomach were removed," said surgeon Sarunas Dailidenas.
Newsweek has reached out to Gabe Weininger, an author of The New England Journal of Medicine's report, for further comment but did not hear back by press time.