Nobel Prize Winners Among Those Demanding End to Syria Hospital Attacks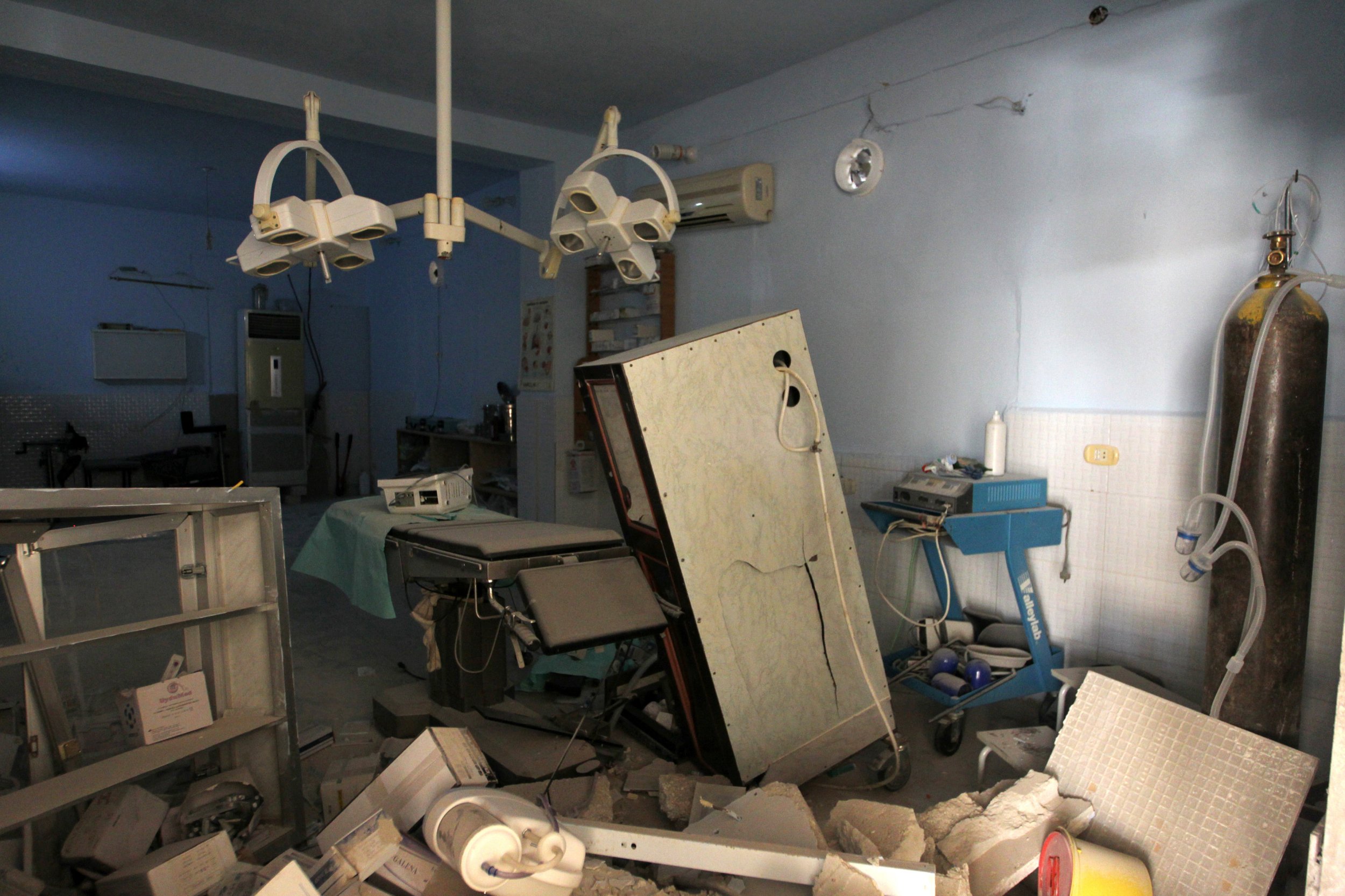 Nearly two dozen doctors from around the world have penned an open letter to President Barack Obama, Prime Minister Theresa May, Chancellor Angela Merkel other heads of state calling for an immediate stop to attacks on medical facilities and health professionals in Syria.
The letter, which includes the signatures of two Nobel Prize winners, comes several weeks after a group of doctors in Aleppo wrote an open letter calling for Obama to help in preventing airstrikes on medical facilities. The doctors said in that letter, "For five years, we have faced death from above on a daily basis." Physicians For Human Rights, a U.S.-based organization, coordinated Friday's letter.
Since the start of the Syrian civil war in 2011, 750 medical personnel have been killed in 373 attacks on facilities in the country, according to Physicians For Human Rights. The letter's signatories say they "stand in solidarity with Aleppo's brave physicians and health workers," and they allude to Omran Daqneesh, the 5-year-old Syrian boy who was featurerd in a distressing photo that was transmitted around the world last week. Looking dazed, and his body stained with blood and dust, Daqneesh had just been pulled out of the rubble of a building hit by an airstrike when he was photographed.
As of press time, there had been no official response from the Syrian or other governments. Published in The Lancet on Friday morning, here is the letter in full:
Dear Prime Minister May, Chancellor Merkel, President Obama, President Putin, and all other Heads of State and Heads of Government of the International Syria Support Group (ISSG),
From the crumbling remnants of Aleppo's last hospitals, 15 of our medical colleagues penned a heart-breaking plea to President Obama last week, desperately calling for action to save the remaining citizens of their city. As their hospitals were bombed around them, the doctors said that medical services in eastern Aleppo could be completely destroyed in a month, leaving 300 000 people without any medical care. "Death has seemed increasingly inescapable", they wrote.
Today, while bombs continue to rain down on Aleppo, it appears that their desperate appeals have yet again fallen on deaf ears. We write today in the hope that ours will not.
As medical professionals from around the world, we stand in solidarity with Aleppo's brave physicians and health workers who, despite the horror of their situation, refuse to abandon their fundamental oath to save lives where there is hope of doing so.
Though war is horrific, it still has rules. The Geneva Conventions have been internationally agreed upon in a series of treaties dating back more than 150 years. Ratified by Syria, Russia, and all other member states of the UN, the conventions ban indiscriminate attacks and the targeting of civilians, medical personnel, and medical facilities.
In Syria and elsewhere, the targeting of hospitals has somehow become the "new normal". Physicians for Human Rights has documented 373 attacks on medical facilities and the deaths of 750 medical personnel in Syria since the start of the conflict. The Syrian Government and its allied forces are responsible for over 90% of these attacks, each of which is a war crime.
These numbers are increasing unabated. Hospitals in eastern Aleppo are bombed almost daily, bringing utter devastation. We see pictures of small children with glazed looks in their eyes, a grainy paste of cement dust and blood streaking their faces. We watch videos of women and men wailing helplessly over the lifeless forms of their relatives. To those of us outside Syria, these are the nameless faces of this horrible war. But to Aleppo's doctors, they are family, friends, and neighbours.
As a member of the ISSG, you have repeatedly condemned attacks on medical infrastructure. You have demanded that all parties to the conflict respect the principle of medical neutrality and facilitate free passage for medical personnel and supplies. But as the population of Aleppo endures the worst spate of attacks on hospitals seen throughout this conflict, your repeated condemnations have lost all meaning. In the words of Aleppo's brave doctors, "We do not need tears or sympathy or even prayers. We need action."
The relentless targeting of medical facilities is a stain on the conscience of all world leaders. No medical professional should have to work in constant fear of barrel bombs, fearing for their lives as well as those of their patients. It is unconscionable for your government to stand by while eastern Aleppo's 300000 residents are deprived of their remaining doctors and hospitals.
We demand immediate measures be taken to allow our colleagues to work unhindered to save lives and alleviate suffering. We demand you use your influence over all parties to the conflict to ensure: an immediate and total cessation of all attacks on medical facilities, medical transport, health professionals, and patients in Syria; and the implementation of at least a regular weekly 48-hour ceasefire for Aleppo—as demanded by the United Nations—in order to allow sustained and unhindered delivery of humanitarian aid, including medical supplies and equipment, and safe and unimpeded medical evacuations.
We declare no competing interests.
Dr. Saleyha Ahsan (UK), Medics Under Fire
Dr. Peter Agre (USA), Bloomberg Distinguished Professor and Director, Johns Hopkins Malaria Research Institute, Johns Hopkins Bloomberg School of Public Health, 2003 Nobel Prize in Chemistry
Dr. Holly G. Atkinson (USA), Distinguished Medical Lecturer, CUNY School of Medicine and Past President, Physicians for Human Rights
Professor Ahmad Banasr (Tunisia), President, Conseil Régional de l'Ordre des Médecins de Tunis, Associate Professor of Forensic Medicine and Forensic Sciences and of Ethics and Medical Law in the University of Tunis
Dr. Jacques de Haller (Switzerland), President of the Standing Committee of European Doctors (CPME)
Dr. Sebnem Korur Fincanci (Turkey), President of the Human Rights Foundation of Turkey
Professor Sherien Ghaleb (Egypt), President of the International Association of Law and Forensic Sciences, General Secretary of the Arab Union of Forensic Physicians, Professor of Forensic Medicine and Toxicology, Faculty of Medicine, Cairo University
Dr. Amar Jesani (India), Editor, Indian Journal of Medical Ethics
Dr. David Nott (UK), Consultant Surgeon, Imperial College, London, Founder and Chairman of the David Nott Foundation
Professor Michel Kazatchkine (USA/ France), UN Secretary General Special Envoy on HIV/AIDS in Eastern Europe and Central Asia, Senior Fellow, Global Health Center, the Graduate Institute of International and Development Studies, Geneva
Dr. Denis M. Mukwege (DRC), Founder and Medical Director of Panzi Hospital, Democratic Republic of Congo
Dr. Robert Mtonga (USA/Zambia), Former Co-President of International Physicians for the Prevention of Nuclear War
Dr. Sanjay Nagral (India), Chairperson, Forum for Medical Ethics Society, India
Sir Richard Roberts (UK), Nobel laureate in Medicine
Dr. Tilman A Ruff (Australia), Associate professor, Nossal Institute for Global Health, School of Population and Global Health, University of Melbourne, International Medical Advisor, Australian Red Cross
Dr. Zaher Sahloul (USA), Senior advisor, Syrian American Medical Society, American Relief Coalition for Syria
Mr. Baboulal Sethia (UK), President, Royal Society of Medicine
Dr. Nagi Souaiby (Lebanon), Forensic and Emergency specialist, President Lebanese Resuscitation Council Lebanon
Dr. Kerry J. Sulkowicz (USA), Chair, Board of Directors, Physicians for Human Rights
Dr. Ahmad Tarakji (USA), President, Syrian American Medical Society
Dr. Ghanem Tayara (UK), Chairman of Union of Medical Care and Relief Organisation (UOSSM)
Dr Vasiliy V. Vlassov (Russia), President, Society for Evidence Based Medicine, Moscow
Professor Ron Waldman (USA), Professor of Global Health, Milken Institute of Public Health, George Washington University