Doctors Use Billboard to Call Out Hospital Using McDonald's to Feed Patients
A nonprofit group comprised of thousands of doctors put on a public display opposition opposing fast food being served to patients in a Tampa, Florida, hospital.
"I'm Not Lovin' the Ventilator," a large billboard reads, parodying McDonald's slogan of "I'm Lovin' It." The Physicians Committee for Responsible Medicine, which has more than 17,000 doctors as members, had the 10 feet tall by 36 feet wide billboard put up on Monday.
The billboard targets Tampa General Hospital and calls on the center to get rid of a McDonald's restaurant located on the first floor. The illuminated sign also warns that eating high-fat fast food can cause obesity, which can put COVID-19 patients at greater risk for intubation.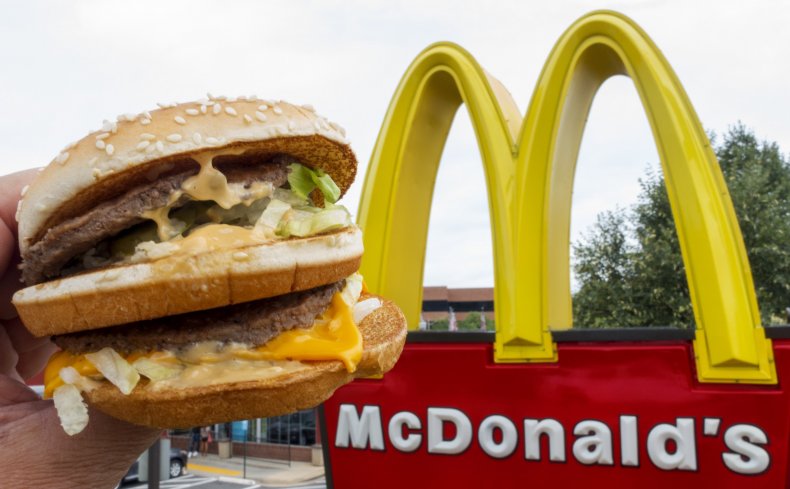 "High-fat fast food like beef burgers and milkshakes can cause weight gain, and COVID-19 patients who are overweight or obese are more likely to require invasive mechanical ventilation," Susan Levin, the director of nutrition education of the Physicians Committee for Responsible Medicine, said in a statement.
She added, "It is urgent that hospitals, including Tampa General, provide plant-based meals that can help people prevent and even reverse obesity, diabetes, high blood pressure, and other diet-related diseases that can put COVID-19 patients at risk for severe illness."
Along with serving as a warning about the health risks of fast food in relation to COVID, the billboard calls on people to contact Tampa General Hospital on Twitter to demand it remove the fast-food restaurant.
Tampa's NBC affiliate station WFLA-TV posted an image of the billboard on its Twitter page. The news outlet also featured a story about the sign.
The Physicians Committee for Responsible Medicine also filed a complaint on Tuesday with the Florida Department of Health in Hillsborough County about Tampa General Hospital. According to a news release from the group, its complaint argued that the hospital "should banish artery-clogging fast food, including fried chicken, and provide healthful, plant-based meals that address underlying conditions like diabetes that can make COVID-19 more severe."
The Physicians committee had previously tried to have ads parodying McDonald's slogan installed in five bus shelters in the city. The group claimed that Tampa's transit agency, Hillsborough Area Regional Transit (HART), initially accepted the ads before later not allowing the signs to be posted.
"It's outrageous that HART would suppress a health message that could affect outcomes for patients with COVID-19," Levin said in her statement.
The Physicians Committee monitors fast food in hospitals and publishes an online list of hospitals across the U.S. that host fast-food restaurants.
The group said it had contacted Tampa General Hospital's CEO and chief of staff before the billboard was erected. It also noted the hospital's contract with McDonald's "likely ends in 2023, so now is the time to plan for changes to the food environment."
The billboard will remain up until February 12, the committee said.