Documentary Goes Inside Julian Assange's Paranoid World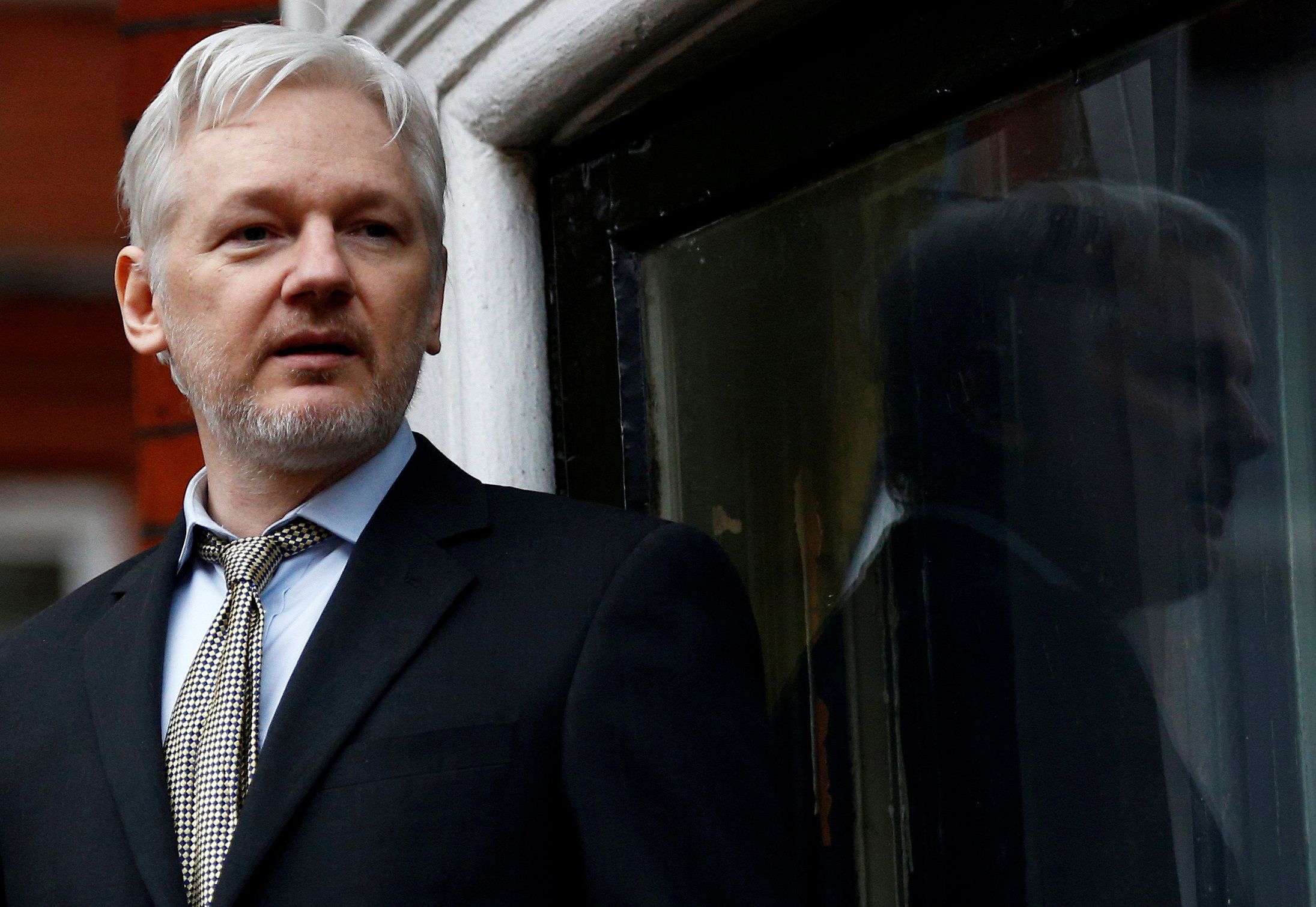 Updated | The opening scene in the new documentary about Julian Assange sets up the two themes of Laura Poitras's film. The year is 2011, the setting a posh English country house where the WikiLeaks founder was bivouacked. Assange is trying to get Secretary of State Hillary Clinton on the phone so he can warn her that a journalist has released hundreds of thousands of unredacted State Department cables that had been in WikiLeaks' possession, potentially putting at risk secret agents worldwide. But Assange—silvery, feline, with a charming overbite—isn't looking up the number himself, nor is he making the call. Rather, he is directing a pretty young woman, a journalist and acolyte named Sarah Harrison, on who to call and what to say to State Department operators, while he sits across the table smirking.
Related: Director Laura Poitras discusses new film on Julian Assange
Here is Surveillance State David versus Goliath. Here, too, are the punk Don Draper and Millennial Megan. That gender power imbalance—and the abuses of it that have, arguably, confined Assange to the Ecuadorean Embassy in London for almost five years—is the subtext of Poitras's film.
Human frailty and foibles, from vanity to anxiety—all sometimes in extreme closeup—suffuse this film with unexpected pathos. Its anti-heroes are brilliant smug jerks who don't know how to work with women. They are weird IT assholes, arrogant and dismissive about women, schooled on the internet kink that addles the feelings of unsentimental men. They are worse even than Donald Trump in their own way, because we expect more of them if for no other reason than they are younger and are Fighting the Man.
Poitras is the great chronicler of post-9/11 American military-intelligence activity, including the creation of the global surveillance system. She has won numerous awards and was considered such a threat that she was stopped and searched 60 times at U.S. borders before the government gave up.
In Risk, she started out making a piece of hagiography about a visionary who in the internet found a way to crack into military industrial secrets, and stepped in with a vision of saving humanity. She came to understand that, alas, the anarcho-hacker world is not so very different from that of the civil rights era, when leader Stokely Carmichael famously opined that "the only position for women in the movement is 'prone'."
Poitras spent six years filming Assange, during which time Edward Snowden contacted her. She deviated from the Assange movie to make Citizenfour, which won an Oscar in 2015. When she returned to Risk, that story had been altered by two Swedes accusing Assange of rape and his having holed up in the Ecuadorean embassy. Also, a group of anonymous women was accusing an Assange associate, global hacktivist Jacob Appelbaum, of sexual abuse.
The movie was further complicated because Poitras had been romantically involved with Appelbaum. She says they got together only after the Assange filming ended, but he was with her in Berlin when Snowden was contacting her, and the opening photo of her in her book Astro Noise, stretched out on a daybed in the thin Berlin sunlight, is credited to Appelbaum. The photo is titled Summer of Snowden.
Those were surely heady times, filled with terrible paranoia and excitement. Her journal about Snowden is filled with references to "Jake." Appelbaum was by her side in a suit and tie when she accepted a German award for Citizenfour.
"This is not the film I thought I was making," she narrates in the new movie, screened for the press Sunday night at the Whitney Museum of American Art in New York. "I thought I could ignore the contradictions," she says. It is to the film's great credit that she did not.
The film reveals Assange as a man who is both visionary and vain, charming and arrogant. He dismisses the two Swedish women whose claims of sexual abuse launched a police investigation as being part of a plot—and not one concocted by a likely suspect such as the CIA, but by "radical feminism." As proof, he says one of the women "started a lesbian nightclub in Gothenburg."
As possible extradition to Sweden looms, he dispatches trusty Girl Friday Sarah Harrison to face the London press corps for him. Just before she steps out to defend him, she practices what she should say if asked about "the girls." Assange instructs her to act like the question "offends your femininity."
The film doesn't go into the details of the accusations. In published police reports, the accusers are identified as Miss A and Miss W. One of them accused Assange of forcing her into sex despite her objections, and both accused him of ignoring their request that he use a condom. No charges have been filed, but Assange and his lawyers believe that if he goes to Sweden to answer police questions, the Americans will scoop him up to face potential charges in the United States. Attorney General Jeff Sessions indicated last week that the U.S. would indeed go after him.
In the film, Assange is alternately dismissive and scheming about the two women. "They will be reviled forever by a large segment of the global population, so I don't think it's in their interest to proceed that way," he says of the women's perhaps filing charges, adding that he might consider apologizing for "anything I did or didn't do that hurt their feelings."
He allowed Poitras to film him with a female lawyer, discussing the case. Sitting on a flowered couch, surrounded by women, he accuses the accusers of being in league with the cops, as part of a "radical feminist political-positioning thing." The lawyer rolls her eyes.
Assange says he thinks one of the women would "be happy" to come and discuss the case with him personally. He laments that there are two women, saying that if there were only one, she wouldn't be believed. "But there are two," he muses at the end of one scene.
Appelbaum was a developer of the TOR Project, which enabled internet users to operate anonymously and evade government tracking. The film shows him on a panel in Cairo during the Egyptian revolution, accusing Egyptian officials and telecom executives—an act of extreme courage since many of the security henchmen are in the room glaring at him—of blocking protester communications. Later, teaching a class on "practicing safe internet" to a room full of Egyptians, including many women in hijab, he makes a joke about broken condoms. When no one laughs, he says, "Well that was awkward."
Appelbaum, like Assange, ultimately went down over his treatment of women. Anonymous accusers set up a website last spring, and some came forward publicly with what they called sexual abuse charges. (Among the allegations: He ignored a safe word during a threesome, he "overshared" about sexual acts and he forced himself on a drunk girlfriend in a room full of his friends.) TOR forced him out, and a half dozen other hacker collectives have since ejected him. The California native is now reportedly working on a Ph.D. in the Netherlands.
The demise of these two dissidents has occurred under the eye of the surveillance state, the pitiless, inescapable machine designed by other men—men who are just like them and who know where to look for secrets, who know where the shadow lurks in the human heart—to watch and watch and watch. One wants to believe that, like the lovers in 1984, Poitras, Appelbaum and Assange are victims, their private lives examined and then destroyed by the machine. One so wants to believe that their accusers are just National Security Agency bots, but then some of the accusers have put their real names to their stories.
And Poitras doesn't allow for that, at least as far as Assange goes. He is not revealed so much as he reveals himself—to be a jerk.
Poitras is a meticulous journalist and deft filmmaker, and her intimate access to Assange and his minions is riveting. In one scene, presented without explanation, they all gather around Assange in a chair and take turns trimming his silver locks.
The paranoia is acute and constant. Assange holds a small audio recorder over his head with one hand whenever he talks on his flip phone (no iPhones here). One sunny day, Poitras follows Assange into a private forest for a discussion with one of his lawyers. Lolling under a tree, he keeps interrupting the conversation to urgently point to various tree branches or cock his head, apparently listening for eavesdroppers or flybots. He instructs Poitras to walk around and look for spies, and her camera scans a great empty meadow.
In other scenes, he sips Scotch and pontificates on how he calculates what is acceptable risk in his global endeavors. At one point he ridicules the efforts of activists who work locally. Poitras's camera captures the beads of sweat on his upper lip, his smirks and smugness, as well as moments of insecurity, when he shakes his hands to stop them from trembling before the court decision.
Throughout, Assange shows himself to be a man keenly aware of his global reach and with an eye to his legacy. After the British court in 2012 rules that he can be extradited to Sweden, he lets Poitras inside the hotel room with his mother, where he dyes his white hair red, inserts brown contact lenses, dons a black leather jacket and drives off on a motorcycle, a camera attached to his helmet, recording his two-wheeled flight to freedom through the streets of London, a bit like a Tom Cruise character.
Much later, Lady Gaga shows up in his Ecuadorean sanctuary, and the scene is presented again without explanation from Poitras. The pop star lolls on a stuffed chair in a black witch hat, recording the great dissident with a small camera, and asks him what his favorite food is. "I'm not a normal person," he says. "You have to understand that. I'm a political person."
Correction: An earlier version of this story mistakenly said Jacob Appelbaum was a founder of the TOR Project; he was a developer of it.