Documents Stolen From Capitol May Contain National Security Risks
Acting U.S. Attorney Michael Sherwin has said that materials stolen during yesterday's coup attempt on the U.S. Capitol by rioters supporting President Donald Trump's attempts to overturn the election may constitute a breach of national security.
"Materials were stolen, and we have to identify what was done, mitigate that, and it could have potential national security equities," Sherwin said. "We just don't know the extent of that damage at this point—if there was damage, we don't know the extent of that."
Specifically, Sherwin said that rioters stole electronics from U.S. senators' offices that could've contained sensitive information relating to domestic and foreign intelligence and other sensitive matters, Reuters reports.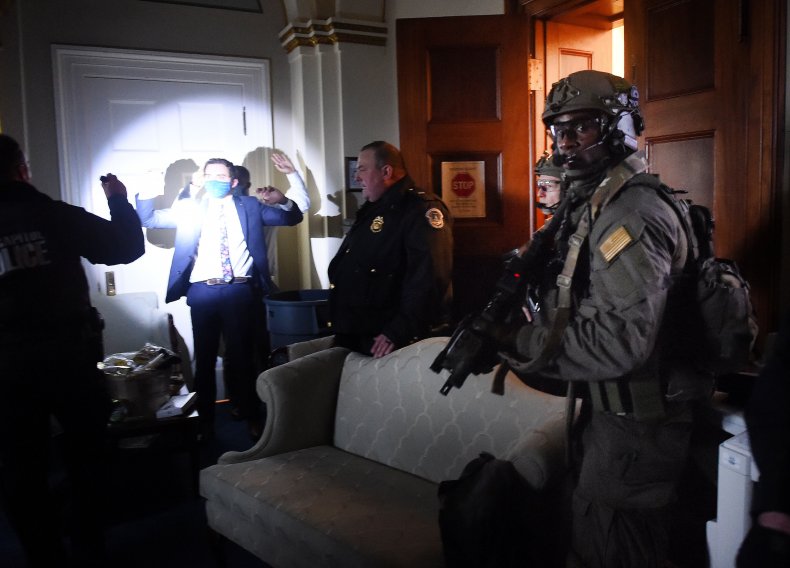 During the break-in to the federal building, rioters rifled through desks in the Senate chambers and stole artwork. Others entered congressional members' offices. Pro-Trump rioters vandalized Democratic House Speaker Nancy Pelosi's office and ransacked the office of Republican Oklahoma Senator Jim Inhofe, according to Tulsa World.
In a video posted Wednesday evening, Democratic Oregon Senator Jeff Merkley said that rioters "smashed" his office door and stole a laptop in addition to tearing things off of the walls and trashing the place.
The office of the Senate parliamentarian Elizabeth MacDonough was also invaded. Rioters went through documents, leaving papers on the ground, according to footage from CNN.
"Certainly it is likely that hardware has gone missing from the Capitol complex when you have an uncontrolled entry," Daniel Schuman, a former Congressional testifier on technology issues, told Forbes. "Unauthorized access to any technology is dangerous, and we don't know who came along with the mob inside the building."
While the rioters ostensibly sought to stop Congress from certifying the Electoral College's final votes to seat President-elect Joe Biden, the theft of national security information could make rioters potentially subject to charges of seditious conspiracy in addition to rioting and insurrection, Sherwin said.
On Wednesday, Acting Attorney General Rosen said that the Justice Department sent hundreds of federal law enforcement officers and agents from the FBI, ATF (The Bureau of Alcohol, Tobacco, Firearms and Explosives) and U.S. Marshals Service to assist the Capitol Police as well as federal partners from the Interior Department, the Department of Homeland Security, the National Guard, the D.C. area Metropolitan Police and other local authorities.
"The investigation is ongoing," the FBI told Fox News. "The FBI has been deployed to assist our U.S. Capitol Police partners as requested in protection of federal property and public safety."
At least 52 people were arrested, including five on weapons charges with at least 26 of the arrests occurring on the grounds of the U.S. Capitol, Robert Contee, chief of the city's Metropolitan Police Department, told The New York Times.
Newsweek contacted the U.S. House for comment.