DOD Official Cooper Says Ukraine Inquired About Aid the Same Day as Phone Call With Trump
Deputy Assistant Secretary of Defense Laura Cooper told the House Intelligence Committee during an impeachment hearing on Wednesday that Ukraine had contacted the State Department about promised security interest on July 25, the same day that President Donald Trump allegedly asked for quid pro quo from Ukraine president Volodymyr Zelenskiy.
Two separate emails were received by Cooper's staff, one stating that the Ukrainian Embassy and House Foreign Affairs Committee were asking about security assistance. The second email said, "The Hill knows about the FMF [Foreign Military Financing] situation to an extent, as so does the Ukranian embassy."
These emails were unclassified, but provided additional information to Cooper's testimony that was not included in her previous deposition.
"What was going on with Ukrainian security assistance?" Cooper said one of the emails read.
House Intelligence Committee Chairman Adam Schiff noted that Cooper was the first witness to appear before the committee to say Ukraine knew about the funding issue on the day of the call.
Cooper claimed she never saw the emails and that her staff never gave them to her. The official said she was aware of the hold on U.S. military aid to Ukraine, but believed the money was being held back because of Trump's concern about corruption in the Ukrainian government.
"The only specific discussions I am aware of related to a series of meetings," Cooper said. "In those meetings, participants did discuss the degree to which corruption was a concern and the degree to which there was progress."
Cooper said she got "the positive sense that progress was being made" from those meetings.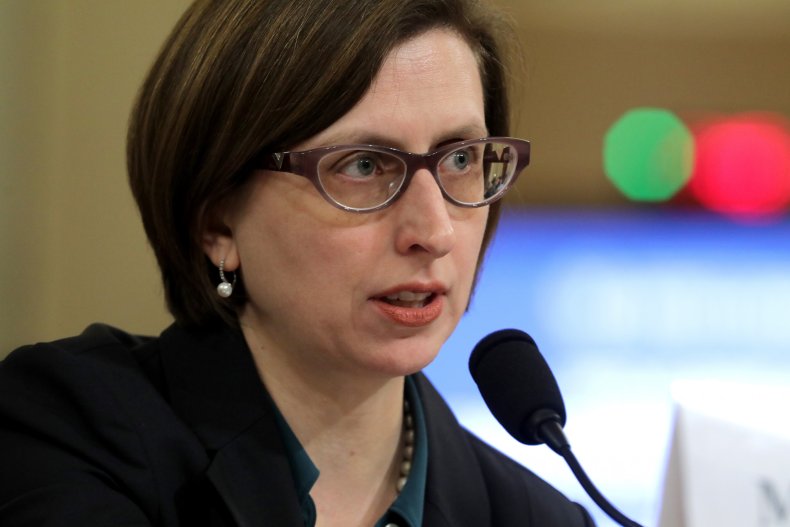 "In July, I became aware of a hold being placed on obligation of State Departments Foreign Military Financing and DoD's [Department of Defense] USAI [Ukraine Security Assistance Initiative] funds," Cooper said in her opening statement. "In a series of interagency meetings, I heard that the President had directed the Office of Management and Budget to hold the funds because of his concerns about corruption in Ukraine. Let me say at the outset that I have never discussed this or any other matter with the President and never heard directly from him about this matter."
Cooper stated that roughly 86 percent of the security assistance funds have been obligated so far, but that they will eventually be able to do obligate all the money. "Given how critical these funds are for bolstering Ukraine's security and deterring Russia," Cooper continued, "I appreciate this Congressional action."
Cooper had previously given a deposition behind closed doors before the public hearings began. That deposition was interrupted by a group of Republicans led by congressman Matt Gaetz, demanding transparency in the impeachment hearing process.
"If we had rules, Nancy Pelosi would have put this issue to a vote and established rules," Gaetz said on Fox News in October. "But the Democrats want to preserve the most operational flexibility. So if they're going to have a world with no rules, we got to stop thinking that we can use the Marquis of Queensbury rules of engagement when we're fighting against an angry pack of rabid hyenas. And that's what we're facing."