Who Plays Dodge in Netflix's 'Locke and Key'?
Locke and Key is back for a second season on Netflix, bringing with it more twists and turns, body switching and peculiar goings on.
At the heart of all the drama is Dodge, aka, Echo, a demonic creature who is desperate to find the secret set of keys that are hidden in the house and the town in which it is set.
Although Season 1 seems like an eternity ago, it was only released on Netflix in 2020.
For those who are struggling to remember what went down in Matheson and who the heck Dodge is, here's a helpful guide to the character—and the actress who plays her.
Who Plays Dodge in 'Locke and Key'?
Canadian-Brazilian actress Laysla De Oliveira plays Dodge/Echo in the hit Netflix fantasy series.
Since making her debut in the 2012 TV series Covert Affairs, De Oliveira has landed herself roles in The Gifted, Gothica and Guest of Honour.
The Netflix star also boasts an impressive follower count on Instagram, where she posts lavish travel photos, selfies and promo shots.
Who Exactly Is Dodge and What Does She Want?
Okay, now we've established who plays her, let's move on to who her character is (you'd be forgiven if you didn't quite follow her storyline in Season 1).
Dodge (also referred to as Echo) is first introduced in the show via Bode Locke (played by Jackson Robert Scott). Exploring their (creepy AF) new home, Bode wanders into the garden, where he finds a deep, uncovered well. When he calls out to the bottom of the watery pit, a voice replies—only it's not his reverberating off the stones, it is that of Dodge. She also reveals the house has secret keys hidden within it, and encourages Bode to find them.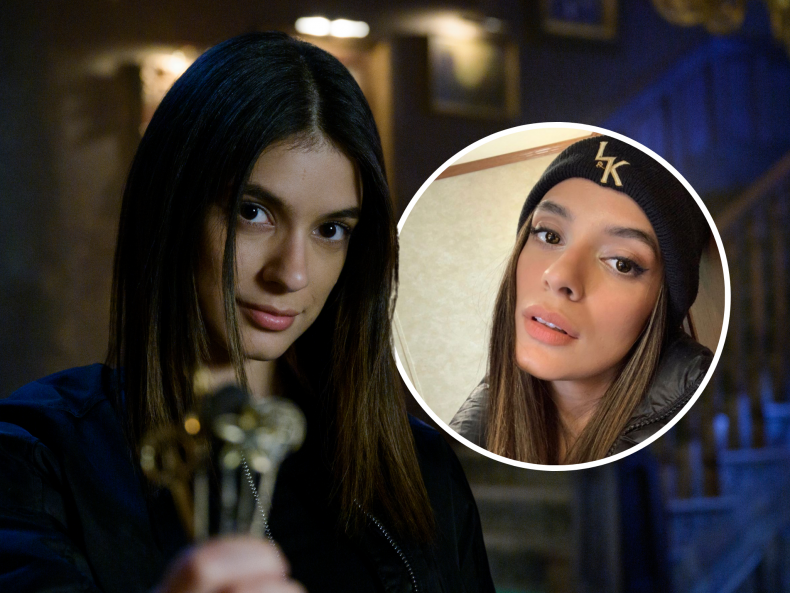 Over time, it becomes clear that rather than being a friend, she is actually a demonic, otherworldly creature who is using Bode (and later his older siblings) to not only free her from her trap, but to unleash chaos on the house and the town of Matheson.
Of all the keys, the Omega Key is of particular importance to Dodge—which she finds out was hidden in Rendell Locke's mind (the children's late father and one of the original Keepers of the Keys played by Bill Heck).
Elsewhere, the kids discover the sought-after key, before Dodge uses the Identity Key to morph into Ellie (Sherri Saum). The kids and Kinsey's (Emilia Jones) boyfriend Gabe (Griffin Gluck) then accidentally banish the real Ellie, believing her body to still be possessed by Dodge.
So, as it stands, the sinister fiend is still very much alive and kicking, and Ellie is trapped behind the Black Door.
Locke and Key Season 2 is available to stream on Netflix now.