Dodger Stadium Reopening to Full Capacity Signals COVID is Over in Sports
The Los Angeles Dodgers announced Friday that they'll open Dodger Stadium to 100 percent capacity on June 15. That Tuesday night game against the Philadelphia Phillies goes a long way to show how sports has fared in its bout with the COVID-19 pandemic. The Los Angeles Angels said it would open its stadium to full capacity two days later.
As more leagues and venues continue opening to more and more fans, the majority of them maskless, it shows that COVID is becoming a part of sports history.
The final tally of the three-game series between sports and COVID? Sports 2, COVID 1.
How did that score happen?
1. COVID postponed or canceled a slew of sporting events and leagues starting in March 2020, putting the sports world on silence. COVID wins and leads, 1-0.
2. Sports slowly reopened with hockey and basketball playing regular-season games and their playoffs at neutral sites, but with no fans. Baseball played its season at home stadiums, but without fans. Only the World Series and National League Championship Series, both played in Arlington, Texas, had limited fans. Other sports slowly allowed fans, including pro and college football last fall. SPORTS wins, series tied at 1-1.
3. Then, in a bold move after Texas Gov. Greg Abbott issued a statement on March 2, 2021, that Texas would fully reopen business, the Texas Rangers announced it would play its home games this season with expectations of a full stadium. Globe Life Field opened the 2021 season at nearly a full capacity, and hardly any fans wearing masks. Meanwhile, college baseball across the south has reopened to stands full of maskless fans. Now, just a day after the New York Knicks said it would allow 15,000 total fans for two playoff games, the Dodgers and Angels will fully reopen. SPORTS wins the series, 2-1.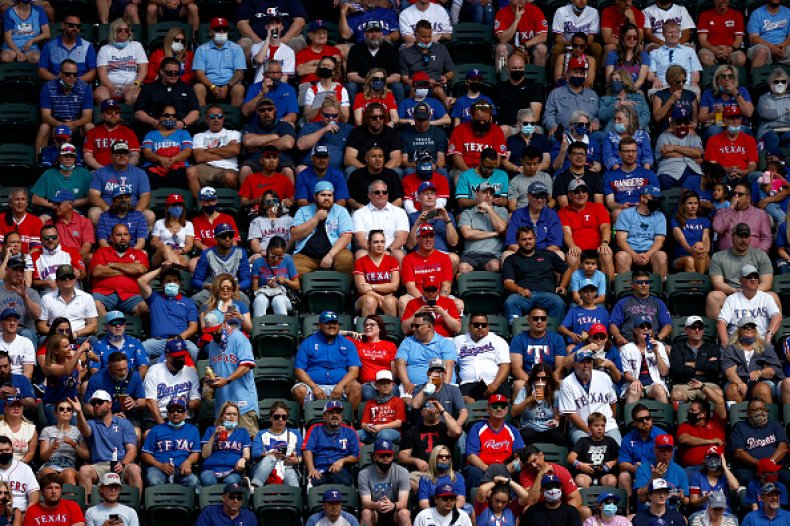 Football teams around the country have already indicated they want more and more fans, anywhere from half capacity to a packed house, for the 2021 season. PGA events have fans lining the greens and fairways, auto racing has fans back in the stands and track and field events has onlookers, all without masks for the most part. The NCAA softball tournament began this weekend, mostly with packed stands and no masks.
Sure, all of those venues are outdoors and many people have already received vaccinations. Having fans at indoor venues for the NBA and NHL playoffs is another. Having fans at NCAA swimming and diving championships is another. The New York Knicks easing capacity and mask rules is another.
Having limited fans during this year's March Madness men's and women's tournaments was a start for basketball, which canceled its tournaments entirely in 2020 but expects full arenas in 2022 after centralized tournaments in Indianapolis (men's) and San Antonio (women's) in 2021.
The full reopening for sports isn't a global thing, though. The 2020 Tokyo Summer Olympics was postponed until 2021, with the Summer Games scheduled to start in July. However, most of the Japanese population and that country's scientists believe a cancellation of this summer's Olympics is the best way to move forward, with hopes Tokyo can get another bid for the 2032 Games.
In America, sports are picking back up, just like business in general. American sports began blazing this path for reopening, and it will likely continue. Especially with Los Angeles reopening.