Time has moved on fast this MLB offseason. One moment the Dodgers were losing the 2017 World Series to the Astros in seven wild games. The next they could be in position to sign two of the biggest prizes in baseball. Yes, Giancarlo Stanton and Shohei Otani could both go to L.A. Here's how.
First: Can it really be only just over a month ago that Yu Darvish pitched that Game Seven of the 2017 World Series against the Astros so spectacularly badly, that George Springer hammered Darvish's 47th and final pitch into the Los Angeles night sky, that baseball's perennially highest payroll failed so memorably to win a title.
Apparently so, although it doesn't feel like it. Darvish was released; Jose Altuve shared Sports Illustrated's 'Sportsperson of the Year' with the Texans' J.J. Watt. Donald Trump tweeted, often. Time moved on, fast, even without any baseball to watch. Almost fast enough that you might have missed when the Marlins did what everyone expected them to do under the new ownership and started flogging Giancarlo Stanton and his mighty forearms and his mightier contract to anyone in need of pro baseball's best slugger.
Stanton looks most likely to be traded to the San Francisco Giants, according to the latest reports. "Relax. Stanton is totally coming here," suggested a McCovey Chronicles blog post on Tuesday, sounding totally unrelaxed about the possibility of Stanton getting cold feet over a team that lost 98 times in 2017.
You know who didn't lose 98 times in 2017? Who won 104 times and came within 47 wayward pitches of winning the World Series? "Giancarlo Stanton, once close to becoming a Dodger, has a chance to come home", a headline in the L.A. Daily News ran on Tuesday, pointing out that Stanton followed the Dodgers growing up, that he still has family in Southern California, that he almost joined ten years ago. That the biggest payroll in baseball makes the most sense for absorbing his salary, even if that payroll is going to have to shrink in 2018. "It's no wonder that the Dodgers would be Stanton's first (if not his only) choice to waive the no-trade clause in his contract, which guarantees a total of $325 million—the most ever for an MLB player," J.P. Hoornstra wrote. If the piece sounded more hopeful than sure—and hope is nearly always forgivable in these cases—that's not to say Stanton to the Dodgers is anything less than plausible, in theory, at least before the Giants pin him down.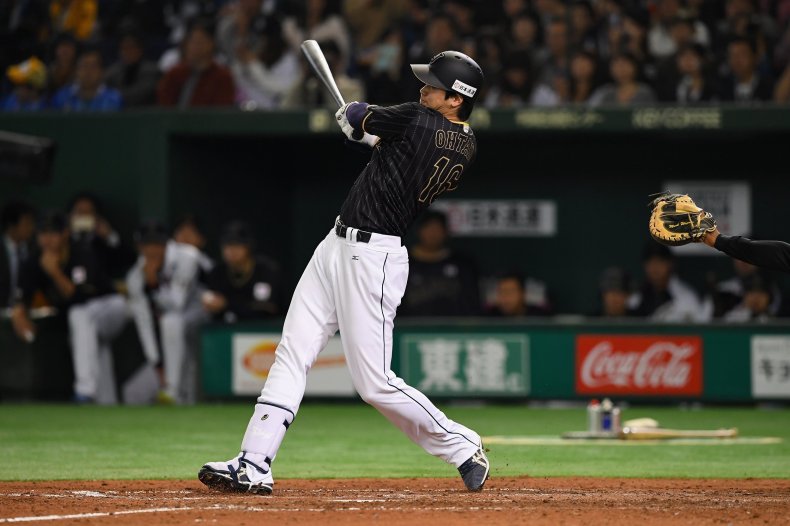 Time passed, weirdly, rapidly, and a lavishly gifted two-way player by the name of Otani started meeting with teams. The Dodgers made their pitch on Monday, according to the Orange County Register (as did the Giants). Otani is being auctioned to MLB teams by his Japanese team, the Hokkaido Nippon-Ham Fighters, and his eagerness to come to the U.S. at 23 rather than waiting a couple of years is going to cost him a lot of money. Sports Illustrated pointed out in November that the new MLB Collective Bargaining Agreement's terms for non-U.S. players mean Otani will have to sign a minor-league contract rather than being able to negotiate terms that reflect his talent and future value to the team that signs him. He should get something in the hundreds of millions of dollars. He will get something in the hundreds of thousands. That makes him even more of a delectable signing for a team like the Dodgers.
Time passes, quickly through the offseason, then slowly, through the endless trudge of a regular season. Before you know it, the Dodgers will have won the 2018 World Series with Stanton's slugging and Otani's pitching and hitting. And you wonder, again, when and whether the things you missed actually happened.
Uncommon Knowledge
Newsweek is committed to challenging conventional wisdom and finding connections in the search for common ground.
Newsweek is committed to challenging conventional wisdom and finding connections in the search for common ground.
About the writer
Sportswriter at Newsweek.