Dodgers Did 2 Things Wednesday No Team Has Ever Done in MLB History
The Dodgers have been part of professional baseball for well more than a century. Despite more than 100 years in the major league, the team did a couple of things Wednesday night that no team has ever done in the history of the game. They even tied a few more records.
The Dodgers won Game 3 in their National League Championship Series game against the Atlanta Braves, 15-3, but it's what they did in the first inning, and through three innings, that could be untouchable for such a timeless game. The Braves now lead the series, 2-1.
First, the Los Angeles Dodgers scored 11 runs in the first inning. No team has ever scored that many runs in the first inning of any postseason game in history. To top it off, 10 of those runs were scored with two outs.
Secondly, they hit five home runs in the first three innings—another first in history by this Dodgers squad.
The Dodgers trailed the Braves, two games to zero, in the best-of-7 series heading into Wednesday night in Arlington, Texas. The Dodgers needed some pop on offense, and that's exactly what they got.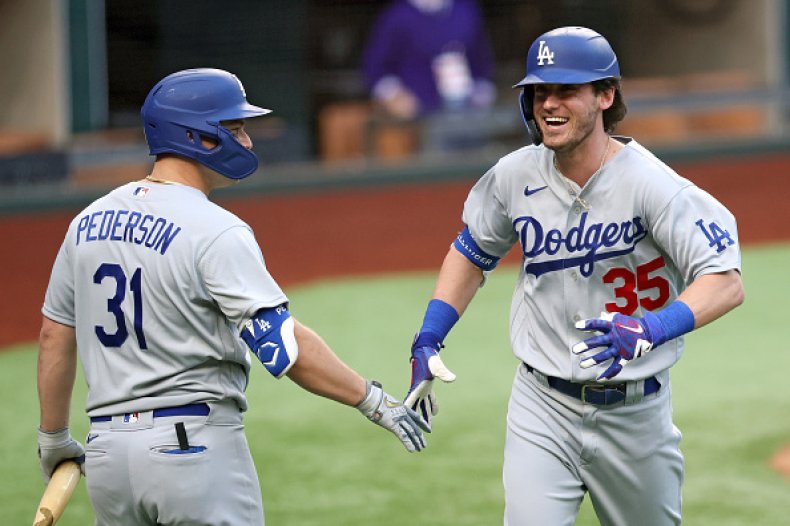 Los Angeles scored 11 runs in the first inning, driving away Atlanta's Kyle Wright in the process. Wright gave up seven runs—all earned—on five hits and two walks in just two-thirds of an inning worth of work.
No team in Major League Baseball achieved what the Dodgers did in Game 3 of 2020's NLCS on Wednesday. The Dodgers passed 10-run first innings by these teams on that list:
1929 Athletics (World Series Game 4)
1968 Tigers (World Series Game 6)
2002 Angels (ALCS Game 5)
2019 Cardinals (NLDS Game 5)
The Dodgers sent 14 batters to the plate in Wednesday's first inning at Globe Life Field in Arlington. The top of the first inning lasted 32 minutes. They totaled 18 bases.
Here are a few more postseason records tied by the Dodgers on Wednesday:
3 homeruns in 1st inning: This is tied for the most-ever, only accomplished one other time
4 RBIs in 1st inning: LA's Max Muncy did this in Game 3, tying him with Kiké Hernández's from Game 5 of the 2017 NLCS
Five (5) extra-base hits in 1st inning: Ties an all-time record
1st inning back-to-back HRs: Joc Pederson and Edwin Ríos became the first to do this Wednesday since the 2004 NLDS
14 batters in 1st inning: Ties an all-time record
Game 4 of the NLCS will be at 8 p.m. Thursday. The game will be televised by FS1.