A Dodgers Fan's Celebration Ends in Fiery Destruction
A local CBS affiliate in Los Angeles captured a particularly chaotic moment when a fan celebrating the Dodgers winning their first World Series in 32 years ended up with his car ablaze.
The video from CBS2/KCAL9's Sky9 news helicopter, which made the rounds on Twitter in the early hours of Wednesday morning, shows a man doing donuts in his car when he runs over fireworks. The fireworks catch onto the bottom of the car, then begin shooting sparks off into all directions as the car continues circling in the intersection, to the delight of the crowd gathered out on the streets.
What began as a joyous moment soon turned dangerous, though, as the car caught on fire, with flames rapidly spreading from underneath the back tires. People rushed around the car to try to save the driver. The video cuts off right as the car pulls over, and the driver opens the car door, presumably to flee.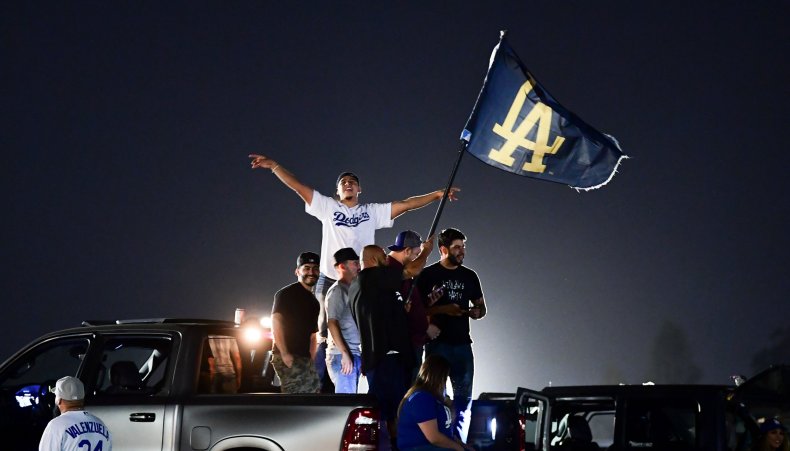 Journalist Mike Rogers of CBS2/KCAL9 posted the footage on his Twitter account, and soon garnered thousands of "likes" and retweets. His colleague Desmond Shaw, the channel's "Eye in the Sky" news and traffic reporter, captured the footage. Shaw reported the particular scene as "the biggest group we've seen so far" celebrating the Dodgers' victory over the Tampa Bay Rays.
On his own Twitter account, Shaw posted other videos of more vehicles doing donuts at the same intersection of the burning car, which he identified as being located in East Los Angeles at Atlantic and Olympic streets. He reported that deputies estimated a thousand people gathered there. It's unclear what became of the driver of the burning car.
The Los Angeles Police Department ordered a precautionary citywide tactical alert following the Dodgers winning their first championship since 1988. One stretch of East L.A. along Whittier Boulevard was completely blocked by celebrators in the streets. Also, despited being warned not to do so by the LAPD, fans gathered en masse outside Dodger Stadium with fireworks being set off in Echo Park as passing cars honked their horns until late into the night.
Metro bus service was delayed, and detours were set up throughout the city due to street closures. Even before the game, the LAPD urged fans to celebrate from home and looked to prevent a scene like last night's by issuing a video to its Twitter account beforehand with legendary Dodger broadcaster, the retired Vin Scully.
Fans were certainly eager for a victory and to blow off some steam, as this year marked the third time in four years that the team made it to the World Series. This was also the first time since 1988 that both the Dodgers and the Los Angeles Lakers won championships in the same year.