Don't go thinking that the Tampa Bay Rays and Los Angeles Dodgers would be a yawner of a World Series. Even in a pandemic-shortened season, historic records are still getting breached.
And there have only been two games in this year's World Series. Then again, it is 2020, right?
The Fall Classic is tied at 1-1, and here are two big records that have been tied so far (both set by legendary New York Yankees players):
Game 1
Mookie Betts of the Dodgers became only the second player in World Series history to reach base by a walk, and then steal two bases in the same inning of a World Series game. The other? Babe Ruth in 1921 for the New York Yankees—a series won by the New York Giants in the eighth game in a best-of-9 series. Like Ruth, Betts was also traded away from the Boston Red Sox.
Game 2
Tampa Bay outfielder Randy Arozarena tied a MLB rookie postseason record when he notched his 22nd hit in the 2020 playoffs, tying a mark set by Yankees great Derek Jeter in the 1996 postseason. Arozarena's Rays are guaranteed at least three more games, which means the 25-year-old Cuban can break the record this weekend.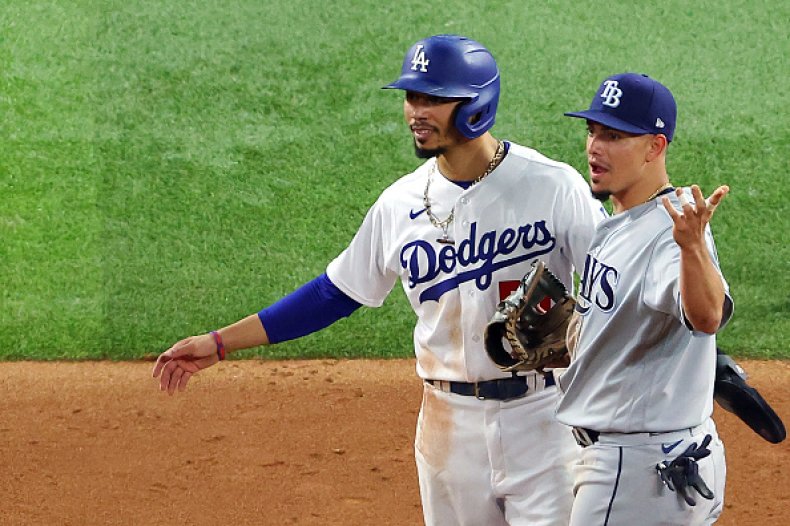 Here's what Betts did in Game 1 on Tuesday this week. Rays starter Tyler Glasnow walked Betts to kick off the fifth inning. Betts stole second base, and then third, to help ignite the Dodgers' four-run spurt to pull away for the win. Babe Ruth is the only other player to pull off the same feat, which happened during the 1921 Series.
However, the fifth inning wasn't the only base-running mark hit by the Dodgers in Game 1. When Betts stole third base that inning, teammate Corey Seager swiped second base on a double steal. That marked the first time since 1912 that three bases had been stolen by one team in the same inning, matching the New York Giants.
"I mean, obviously, you know they've got two good catchers who can throw the ball, but I think that was a time and place that I had to try to get to second right there," Betts said after the game. "Then, once I got to second, I had to try to get to third, especially with Seags [also stealing] to stay out of a double play, and make it easier on our guys to at least scratch across a run."
Betts wasn't done scribbling his name in the record books at that point. In the sixth inning, he hit a home run to become the only other player to hit a homer and steal two bases in a World Series Game since Chase Utley did it for the Philadelphia Phillies in 2008. It was also Game 1. And it was also against Tampa Bay.
Meanwhile, Arozarena has plenty of chances to break Jeter's record over the next week. Game 3 will be Friday night, followed by games four and five–all at Globe Life Field in Arlington, Texas.
All games will be broadcast on the FOX network.
About the writer
Scott McDonald is a Newsweek deputy night editor based in Cape Coral, Florida. His focus is assigning and writing stories across all topics, from news to politics, business, weather, sports and international news. Scott joined Newsweek in 2018 after a lengthy career of print journalism in Texas, including The Dallas Morning News, where he was a sportswriter, and he's a voter for the Heisman Trophy. He has been a newspaper editor-in-chief and also a newspaper publisher. He is a graduate of The University of Texas at Austin. You can get in touch with Scott by emailing s.mcdonald@newsweek.com. Languages: English