Dodgers Star Justin Turner Removed From World Series Game For Positive COVID Test
The question circulating around baseball circles is: How did it take beyond six innings of the World Series championship game to finally pull a player from a positive COVID test?
Shortly after the final out of the Los Angeles Dodgers winning the 2020 World Series, 3-1, over the Tampa Bay Rays, Major League Baseball announced that Dodgers star third baseman Justin Turner had been removed from the game because he earlier tested positive for COVID-19.
Major League Baseball commissioner Rob Manfred said "We learned during the game he was a positive, and he was immediately isolated."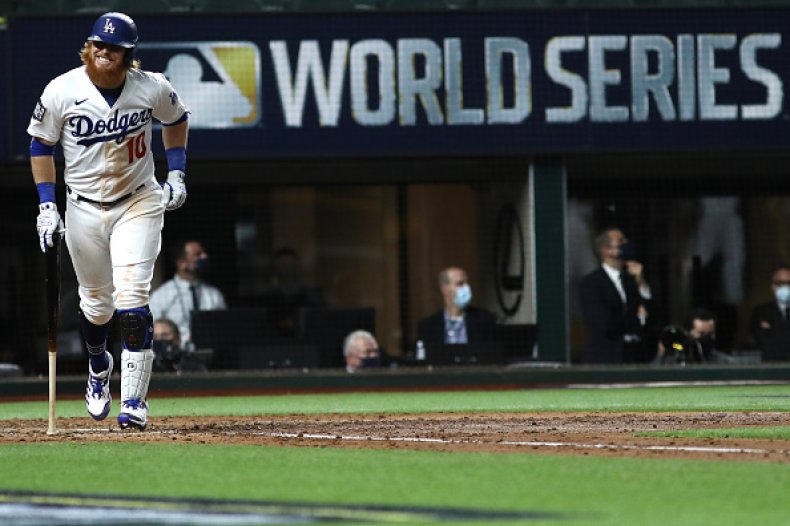 This happened while teams were in secure environments, playing in a "bubble" and constantly getting tested.
Turner went 0-for-3 on Tuesday in the Series-clinching game, and was pulled after the Dodgers took a late lead.
The Dodgers won Game 6 on Tuesday, 3-1, but they trailed 1-0 since the first inning. The Dodgers plated two runs in the bottom of the sixth after Adam Barnes and Mookie Betts scored to give Los Angeles a 2-1 lead. Turner flied out to left in the bottom of the sixth for the second out, and he was replaced in the seventh inning by Enrique Hernandez, who struck out swinging in the eighth inning.
ESPN's Jeff Passan said he learned in the second inning Tuesday night that Turner's test sample from Monday (a day off for both teams) came back as inclusive, and that Turner had to take another test Tuesday. Turner's newest test showed positive. By the time MLB had gotten word, and before they could pull Turner from the game, the Dodgers had taken the lead.
Turner was not initially on the field for the post-game celebrations and trophy presentations. All of his teammates, coaches and their family members on the field were wearing protective masks during the celebration. Turner was later seen on the field, wearing a mask at times. He took a team photo while not wearing a mask, though.
After the game, Turner tweeted that he was feeling fine, and that he was happy for both his teammates and the city of Los Angeles.
"Thanks to everyone reaching out! I feel great, no symptoms at all. Just experienced every emotion you can possibly imagine. Can't believe I couldn't be out there to celebrate with my guys! So proud of this team & unbelievably happy for the City of LA," Turner wrote.
This was the first world championship for the Dodgers since they defeated the Oakland Athletics in 1988. Although the Dodgers have won seven world titles now (6 in L.A. and 1 in Brooklyn), they lost two of the last three.