Does Adam Sandler Support Trump? Speculation Arises After Schneider Remarks
Rob Schneider recently appeared on The Glenn Beck Podcast and criticized Saturday Night Live for becoming too supportive of Hillary Clinton during the 2016 presidential election. His comments have since led to people speculating on the political beliefs of Adam Sandler since the two men frequently work together, but the evidence may not back up the claim.
Schneider is an outspoken supporter of former President Donald Trump, and his statements on Beck's show only reinforced his stance. Sandler, though, has been more tight-lipped about his political beliefs.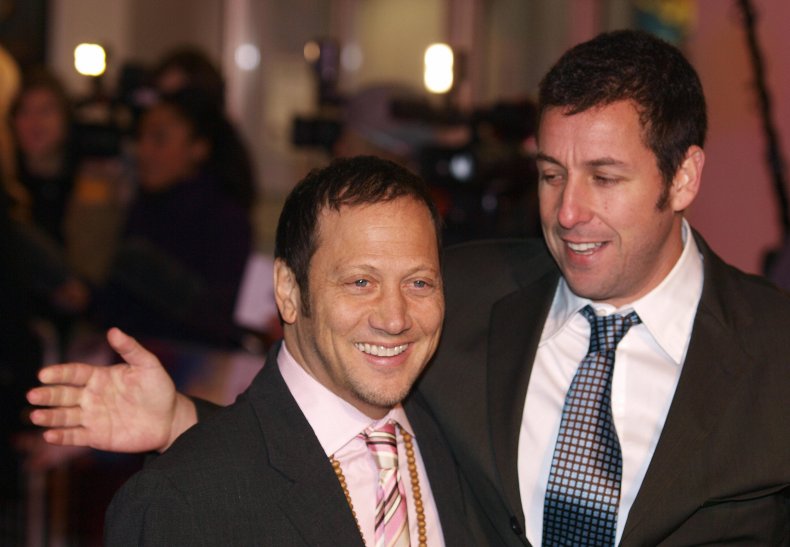 Sandler and Schneider have maintained a close relationship for years since they were both break-out stars of Saturday Night Live in the 1990s. Since departing the sketch comedy show, the two men have worked together in more than a dozen films. They have also taken part in standup comedy tours together, and they often speak fondly of one another during interviews.
Schneider's MAGA alignment has caused social media users in recent days to outright say that Sandler is also a Trump supporter.
However, substantial evidence does not appear to exist that backs up these claims.
In 2021, an article from Definition.org was published online about celebrities who reportedly support Trump. An advertisement for the article included a photo of Sandler, yet when readers clicked on the slideshow, the comedian did not appear on the list of the 50 celebrities compiled by the site.
Nevertheless, the fact-checking website Snopes.com dug further to see if there was any proof that Sandler is a fan and/or voter of the former president.
Snopes.com noted that The Wall Street Journal once reported in 2016 that Sandler was once registered with the Republican Party. The Journal also wrote that Sandler performed at the Republican National Convention in 2004. (That convention saw then-President George W. Bush officially accept his party's nomination to seek a second term.)
The Uncut Gems star has also reportedly donated money to at least one GOP candidate for president. In 2007, CNN said Sandler gave $2,100 to Rudy Giuliani's failed 2008 presidential campaign.
Sandler was briefly linked to Trump in the summer of 2019 after a Twitter user claimed he found the star's name on a list of people who had donated to Trump. The list cited by the Twitter user was published by OpenSecrets, a nonprofit organization that tracks money in politics.
Snopes.com, though, reported a writer from Yahoo Entertainment discovered that while a person by the name of "Adam Sandler" was on the OpenSecrets list of Trump donors, it was not the actor who made millions from films like Happy Gilmore and Hotel Transylvania but another person with the same name.
Sandler has not publicly commented on Trump, though he did reference the then-president when he returned to host Saturday Night Live in 2019.
The star reprised his "Opera Man" character on the show's "Weekend Update" segment. His performance included a less-than-flattering stanza about the Republican.
Sandler sang, "Trumpa, Dumpa/They afraid to impeach/I get to make–a the wall/Putin make me his beetch."
A representative for Sandler declined comment when contacted by Newsweek.