Does Austin Butler Really Sing in 'Elvis' Movie?
Baz Luhrmann's new biopic Elvis explores the real life of the iconic King of Rock and Roll, and his meteoric rise to fame amidst his fraught relationship with manager Colonel Tom Parker.
The movie follows Elvis Presley from the time Parker discovered him in his youth through his global stardom, as well as the many demons he faced and Parker's oppressive control over him. But, most importantly of all, it includes Presley's music.
With Austin Butler personifying Elvis onscreen, the film has a stellar soundtrack that includes countless hits. But viewers might be wondering, is the actor really singing or is it Presley himself?
Does Austin Butler Really Sing in 'Elvis' Movie?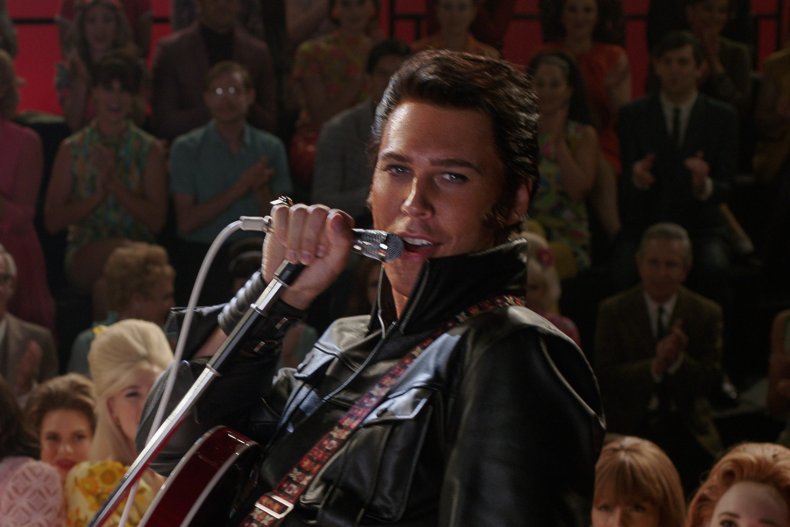 Yes, Butler does sing in Elvis. His voice is used exclusively in scenes depicting the young singer before his vocals were mixed with Elvis' own for the Las Vegas performances from his later years.
In fact, as part of his audition, Butler sang his own rendition of Elvis' Unchained Melody, and he practiced relentlessly for months to ensure both his singing and his accent matched Presley's.
Butler, who has also played guitar since the age of 13, told Entertainment Weekly of the work he put into the role, saying: "I knew that the singing aspect of [the role] was going to be something I really wanted to give everything I had to."
"I sang every day [while preparing and filming] and would do my singing exercises first thing in the morning. It is really like a muscle," Butler continued.
"Through filming, I started noticing notes that I couldn't hit in the beginning, suddenly, now I could hit those notes. I was widening my range. But it's not just singing — you're having to find vocal mannerisms. That could be a little tricky."
Butler is featured on the soundtrack for Elvis, with his solo renditions of songs like Trouble and Baby, Let's Play House included, as well as the tracks that mixed both the actor and singer's vocals together.
In an interview with USA Today, Butler shared that the song he felt most proud of which includes both his vocals and Elvis' was Suspicious Minds in Las Vegas, because he couldn't "tell when my voice ends and his begins."
Luhrmann has heaped praise onto the actor for his performance, telling Entertainment Weekly: "Honestly, I put him through the wringer, but he lived Elvis. What he's managed to do is not do an impersonation, but to live Elvis, to the extent that he's humanized him."
The official Twitter page for Elvis has also shared video clips of the actor singing his own rendition of Elvis' music, like Can't Help Falling in Love With You.
Elvis is out now in theaters.