Does Barbie Have a Girlfriend? 'Love Wins' Photos Resurface in Viral Tweet
The idea of Barbie having a girlfriend has Twitter users excited, as photos of the Mattel doll wearing a T-shirt in support of LGBTQ+ rights, while posing with a doll inspired by fashion blogger Aimee Song, have resurfaced in a viral tweet.
The photos, which see Barbie and the Song-inspired doll wearing T-shirts that say "Love Wins," were shared late on Monday night in a tweet that now has Twitter wondering: does Barbie have a girlfriend?
Twitter user Sarah, who kicked off the discussion, seems to think so, as she said: "JUST LEARNED BARBIE HAS A GIRLFRIEND" and shared a photo of Barbie's supposed girlfriend and a screenshot of a VT article from 2017.
The tweet has received more than 100,000 likes and more than 20,000 retweets at the time of writing.
Despite the "Love Wins" photos going viral now, they were actually released in November 2017.
The photos were created in collaboration with Aimee Song, a fashion blogger and founder of the Instagram account @SongofStyle. The doll that Barbie is posing with—and has Twitter users excited—was inspired by Song herself.
When the photos were first released three years ago, Barbie captioned the Instagram: "Proud to wear this 'Love Wins' shirt with @songofstyle!
"Did you know that her exclusive T-shirts benefit different causes and non-profits? Such an inspiring initiative and fabulous few days I have spent with Aimee, she's a doll!"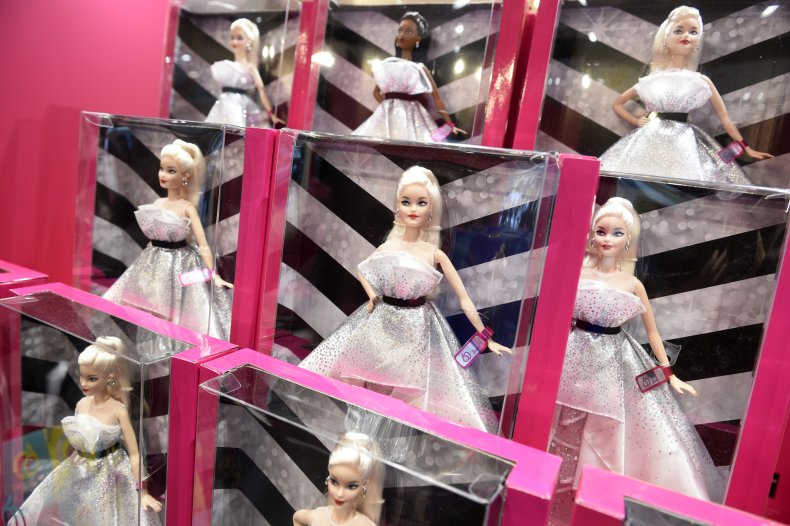 Song, who identifies as an LGBTQ+ ally, created the T-shirts to benefit The Trevor Project, which is a non-profit organization that focuses on preventing suicide among LGBTQ+ youth.
The viral tweet caught the attention of Barbie's "girlfriend" herself, who shared a photo of her matching the doll that she inspired, and said: "I am the girlfriend."
Despite the photos being years old, Twitter users are expressing their delight at the idea of Barbie having a girlfriend, like influencer Tana Mongeau who shared the tweet and said: "Barbie likes girls I knew I was a Barbie."
Twitter user Fran, shared two photos from the "Love Wins" series in a tweet that has been liked more than 19,000 times at the time of writing and has been shared widely across the app, said: "how Barbie get a girlfriend before me? this is so .. i'm so jealous but happy for my girl"
Sarah, who posted the "Love Wins" photos and sparked the discussion, said in a tweet: "I think being part of the reason Barbie started trending, and inspiring fan art and the person who Barbie's gf was based on to confirm, is my greatest achievement here on stan twit."