Does Donald Trump Know the National Anthem Lyrics? President Sings Part of Song At College Football Championship
For all the fuss President Donald Trump has made about NFL players respecting the national anthem this season, he appeared to struggle with it while singing along at the College Football Playoff National Championship game Monday evening.
Trump attended the game and was ushered down to the field for the anthem by a military escort. He was greeted with a mix of cheers, boos and, eventually, a U-S-A chant. Trump eventually lined up with servicemen as the Zac Brown Band launched into the "Star-Spangled Banner."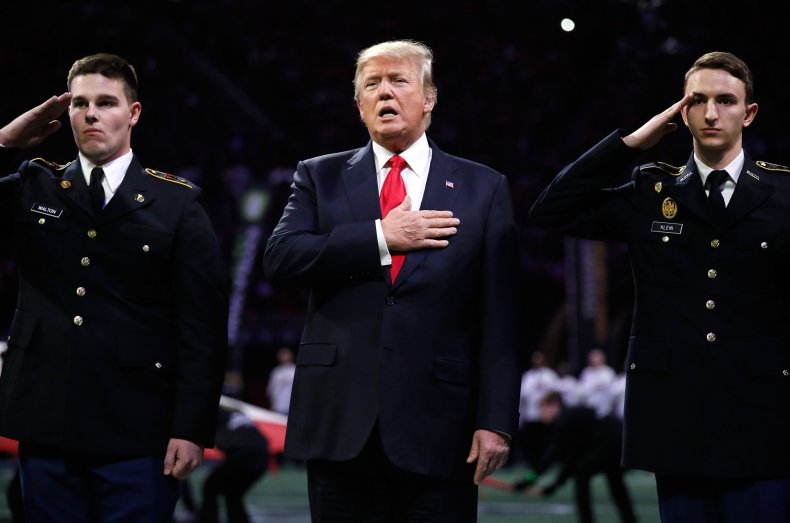 With his hand over his heart, Trump confidently mouthed the opening lines, "Oh, say can you see, by the dawn's early light," and pretty much nailed "what so proudly we hailed." He got derailed "at the twilight's last gleaming?" It looked like the president was reaching for the words as he mouthed along, though it's impossible to know for sure.
From there, Trump got back on track, enthusiastically singing "whose broad stripes and bright stars." Then he seemed to get lost again. He opened his mouth at "perilous fight" but didn't say the line, hesitantly pulling back again at "were so gallantly streaming."
Now, again, it's unclear if Trump simply did not want to sing the middle lyrics of the anthem or didn't know them. But he didn't seem shy about belting out some parts of the song. From about "rocket's red glare" forward, he hammed it up, singing along like he was going for a blue ribbon at a state fair karaoke contest.
The performance left some wondering if the president knew the lyrics to our nation's anthem, particularly after he has regularly demanded NFL players—protesting the oppression of black people in America—stand for it.
This isn't a new controversy. Back in May, folks online asked the same question when President Trump appeared to struggle while singing along at a Memorial Day ceremony at the Tomb of the Unknown Soldier at Arlington National Ceremony in Virginia.