Does Facebook's IPO Prove That Zuckerberg Isn't Up to the Job?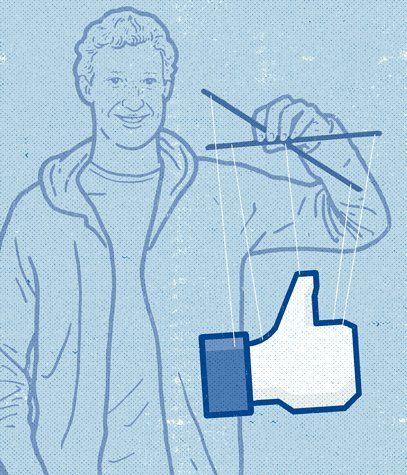 At Harvard, Mark Zuckerberg was a superstar student, a computer prodigy able, in his spare time, to bang out the lines of code that would become Facebook, a transformational company that in eight years has changed the world.
But in his first big test as a CEO—Facebook's initial public offering of stock—the baby-faced 28-year-old flunk-ed, and badly. Worse, in the wake of this overhyped and poorly managed stock deal, the guy in charge was nowhere to be found. He wouldn't do interviews, or even make a statement.
Which raises a huge question: Is this guy ready to be the CEO of a publicly traded company?
As the IPO wrapped up, the wunderkind hacker appeared to be in way over his head, lacking the skills, experience, and temperament for this job. That's scary because Facebook is an extraordinarily powerful company with enormous influence over the entire Internet—and also because Zuckerberg has craftily arranged things so that he can't be pushed out of his position.
Facebook's IPO was a disaster from the moment shares began trading on May 18. They were priced too high, and too many of them were on the market, so instead of getting the typical IPO "pop," Facebook's stock swooned. Then came a bombshell that the company, worried about a weakening business, had quietly warned Wall Street analysts to lower their projections in the days before the IPO. Privileged clients got the news and backed away from the stock, while everyone else remained in the dark and rushed in to buy the shares. Some early-in-the-day investors lost 25 percent overnight.
The optics, as they say, are not good. Overpricing the IPO made Facebook look greedy and incompetent. Talking about making the world a better place while running a stock deal where rich insiders got richer and regular folks got fleeced makes Facebook look hypocritical. Refusing to talk about the deal makes Facebook look sneaky.
None of this is the right image for a company that is trying to convince 900 million users that it can be trusted with their personal information. "I have no doubt that this is going to hurt their business," says Vivek Wadhwa, a research fellow at the Rock Center for Corporate Governance at Stanford Law School. "Facebook has gone from being a darling to being a villain. Zuckerberg went from being seen as this child-genius rock star to being seen as a thief. People have lost their savings." (Part of Wadhwa's research at Stanford involves developing ethical guidelines for startups, "so we can educate people like Zuckerberg before they learn the hard way," he says.)
Now the finger-pointing has begun. The Securities and Exchange Commission and the Financial Industry Regulatory Authority are investigating, as are U.S. House and Senate committees. Investors are filing lawsuits against Facebook and its bankers for the "selective disclosure" of the bad news before the offering, with one law firm also questioning the fact that two days before the IPO, several insiders, including two Facebook board members, decided to sell more shares than they originally intended.
Some people lay the blame on Morgan Stanley, the lead underwriter, saying the bank gave Facebook poor advice on pricing the deal. And a senior executive inside Morgan Stanley, speaking on condition of anonymity, blames the NASDAQ exchange, whose computers malfunctioned on May 18, which spooked investors in the crucial first hours of trading.
Ultimately, however, the responsibility resides with Zuckerberg, who controls 57 percent of Facebook's voting rights, so even though Facebook's board of directors contains some older, more experienced executives—Netflix CEO Reed Hastings, Washington Post Co. CEO Donald Graham, and Netscape co-founder Marc Andreessen—they can't outvote Zuckerberg. Investors also have no say in how the company is run, thanks to a dual-class stock structure that Zuckerberg put in place.
But can Zuckerberg handle the job? "I mean this sincerely—I don't know," says Michael Pachter, an analyst at Wedbush Securities who publicly criticized Zuckerberg during the IPO roadshow for showing up to meetings with investors wearing a hoodie instead of a suit, a look Pachter considered immature and disrespectful. "You have a guy with a 200 IQ and he's used to being the smartest guy in the room. But he has zero experience," Pachter says. "I remember being 28. I thought I knew more than everybody as well. But there are some things where he's not as well versed as his elders. That's why he should learn from them."
Zuckerberg will have to learn on the job. He's now running a company valued at $90 billion, more than Ford and General Motors combined. That's like taking flying lessons when you're already in the cockpit of a 747 with hundreds of passengers aboard.
"There are all of these things you learn in business school so you can run a company: aspects of accounting and finance, things like modeling and forecasting, and all the human-resources stuff," says Roger Kay, analyst with the research firm Endpoint Technologies. "There's all this pedestrian stuff, and it's kind of boring and rote, but it's important."
The collapse of Facebook's stock and revelations about its weaker-than-expected revenues are drawing attention to some fundamental problems the company faces. Combined with its poor advertising returns, the company will now be under extra pressure to boost earnings and justify its stock price. To hold on to its multibillion-dollar valuation, Facebook needs to keep growing at a rate of 50 percent per year over the next few years. No matter what Zuckerberg says about Facebook having a social mission, "having gone public, they now have to work hard to monetize their business and keep their valuation," says Sir Martin Sorrell, CEO of WPP Group, the world's largest advertising company.
This pressure is likely to tempt the company to use the one tool it has for reliably monetizing: data. Lots of it. The IPO disaster simply creates an incentive to pry even deeper into the lives of users, "the one thing people hate most," Wadhwa says. Facebook can track people even when they're not on the site, watching where they go and what they do. That information, sliced and analyzed the right way, could be of great value to advertisers.
Another hurdle Zuckerberg will have to face is mobility. People are moving from PCs to mobile devices, with which Facebook so far can't figure out how to make money, partly because it simply can't cram as many ads onto the smaller screen of a smartphone.
Finally comes the growing sense that advertising on Facebook doesn't really work, with advertisers "starting to question the return on investment of what they were spending," Sorrell says. Placing ads next to Google search results works well because people using Google are already searching for products. Advertising on Facebook is less effective because people go to the site to talk to their friends, not look for products.
Of course these might be the ordinary problems of a business in a highly volatile field. Frankly, nobody would be complaining if Facebook stock had gone up instead of down, a feat the company could have accomplished so easily, just by selling fewer shares at a lower price. But Facebook didn't want to leave money on the table. Zuckerberg and his bankers let hubris, self-delusion, and ego get the better of them. The task at hand now is to mop up the mess.
Rob Cox contributed reporting to this article.