Tomi Lahren's U.S. Flag Halloween Costume Might Violate U.S. Code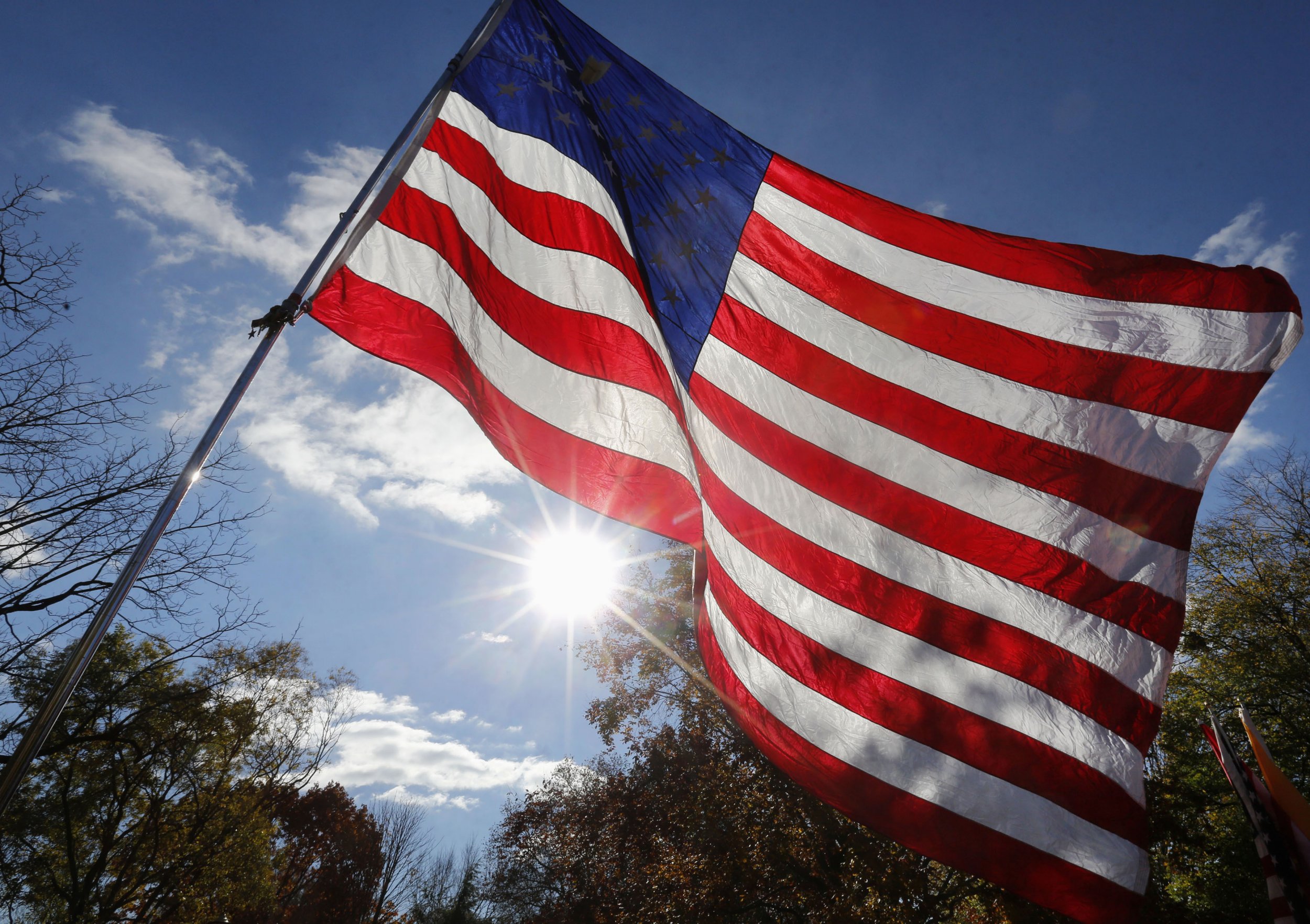 Fox News contributor Tomi Lahren donned a "Make America Great Again" Halloween costume with parts of the American flag as wings, and accusations of her violating U.S. Code around the flag flew.
The political commentator published a picture of herself on Instagram wearing what appears to be a royal blue bodysuit with President Donald Trump's campaign slogan "Make America Great Again," a red tutu, an American flag fanny pack, and then the most controversial part—the stars part of the flag draped over her right arm and the stripes part along her left arm.
"Oh LA get ready to find your safe spaces! What am I? Well if you're a conservative, I'm American AF. If you're a lib, I'm "offensive." Let's go. #TeamTomi #halloween #MAGA #Merica #makeHalloweenGreatAgain," Lahren captioned the picture.
Social media users quickly flagged the image uploaded two days before Halloween as disrespectful, and worse. Trump administration critic Keith Olbermann, who wrote a book titled TRUMP is F*CKING CRAZY (this is not a joke), tweeted that Lahren "is in violation of the U.S. Flag Code."
Olbermann provided a link to the code and highlighted the "Respect the flag" section which reads, "The flag should never be used as wearing apparel, bedding, or drapery. It should never be festooned, drawn back, nor up, in folds, but always allowed to fall free. Bunting of blue, white, and red, always arranged with the blue above, the white in the middle, and the red below, should be used for covering a speaker's desk, draping the front of the platform, and for decoration in general."
Another Instagram user commented on Lahren's Instagram post citing another portion of the code: "'No part of the flag should ever be used as a costume or athletic uniform.' Loool." The rest of that section states, "However, a flag patch may be affixed to the uniform of military personnel, firemen, policemen, and members of patriotic organizations. The flag represents a living country and is itself considered a living thing. Therefore, the lapel flag pin being a replica, should be worn on the left lapel near the heart."
If Lahren is in violation of the U.S. code's desecration of the flag section, she would face penalties.
"Whoever knowingly mutilates, defaces, physically defiles, burns, maintains on the floor or ground, or tramples upon any flag of the United States shall be fined under this title or imprisoned for not more than one year, or both," the U.S. code states.
A subsection further details, "As used in this section, the term 'flag of the United States' means any flag of the United States, or any part thereof, made of any substance, of any size, in a form that is commonly displayed."
The irony of it all is that Lahren attempted to be patriotic, but the social media world saw her as a hypocrite. She has repeatedly criticized NFL athletes for taking a knee during the national anthem, calling the act that players say protests police brutality a show of disrespect to the American flag.
Lahren has a fan in President Donald Trump's son. Donald Trump Jr. on Sunday tweeted a picture of Olbermann with the American flag wrapped around himself—as pictured on the cover of his book—and wrote, "Life is hard; it's even harder when you're stupid."
Lahren, later Sunday on Twitter, addressed "selectively patriotic Snowflakes who are melting over a Halloween costume" with an explanation that she did not violate U.S. code because her outfit wasn't made from an American flag.
She isn't the only high-profile person to come under fire for possible flag desecration. Kid Rock during the 2004 Super Bowl wore an American flag with a hole in the middle through his head, upsetting the Veterans of Foreign Wars, among others.