Do Gun Control Laws Save Lives? Major Study Says Lack Of Federal Funding For Research Means We Still Don't Know
Updated | Does gun control save lives? One of the largest-ever studies on U.S. gun policy published on Friday found some evidence that a number of policies could reduce homicides, suicides and accidental deaths and injuries. However, the think tank behind the study said there has been so little research done on the subject due to a lack of federal funding, that it will be difficult for policymakers to make informed decisions.
In a research project called "Gun Policy in America," The RAND Corp think tank sought to provide a factual basis for the debate around gun control to determine which policies might be the most effective.
In reviewing available research, however, RAND said it found a lack of studies attributing a reduction in violence rather than just coinciding with the results. The project looked at thousands of studies, but only 62 of them had causal results about gun policies, with only two-thirds of them were carried out in the last 15 years.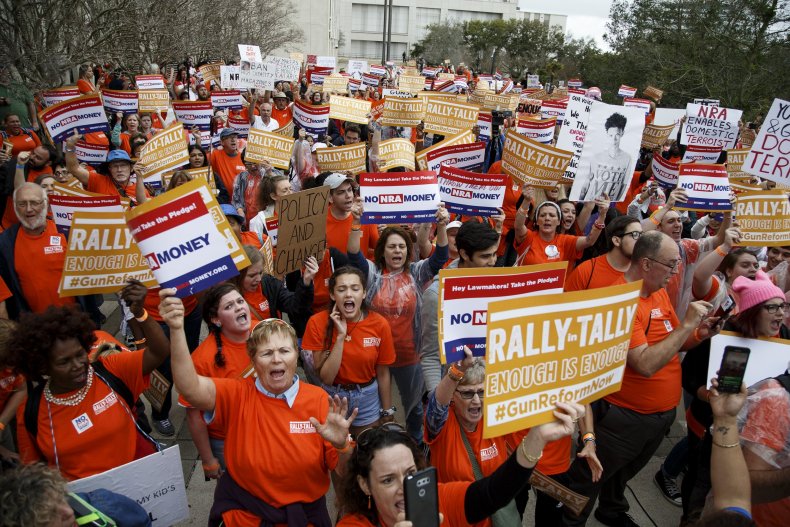 Still, the RAND team determined that the strongest evidence available supports the conclusion that laws designed to keep guns out of the hands of children reduce self-injuries related to firearms, suicides and accidental injuries to children.
It also found moderate evidence to support conclusions that background checks reduce firearm suicides and firearm homicides and that laws prohibiting the purchase or possession of guns by individuals affected by mental health issues reduce violent crime.
The think tank said there is also moderate evidence that stand-your-ground laws, which allow people to use guns to defend themselves without being required to at first attempt to flee when possible, may increase state homicide rates.
"For four of the outcomes we studied—defensive gun use, hunting and recreation, mass shootings, and officer-involved shootings—we found inconclusive evidence, at best, on the effects of any of the policies," researchers said.
"However, these understudied outcomes are often central concerns in gun policy debates. For instance, even though we found that child-access prevention laws have measureable benefits in reducing accidental and intentional self-injuries and deaths, the effects of these laws on defensive gun use—one of the principal objections raised against child-access prevention laws—have not been evaluated rigorously," they added.
RAND said the lack of information on gun control could in large part be attributed to a lack of federal funding for research, which it said dried up around 20 years ago.
In fact, annual spending bills in Congress since 1996 say no funding "at the Centers for Disease Control and Prevention (CDC) may be used to advocate or promote gun control."
"The federal government previously supported a more robust program of research examining firearm violence and policy," RAND researchers explained.
"In the 1990s, the CDC was sponsoring millions of dollars of research on firearm violence. But when a group of researchers found that having a gun in the home was associated with an elevated risk of firearm homicide for members of the household, their results were viewed by some as a one-sided attempt to manipulate the gun policy debate," they added.
As a result, Congress passed the Dickey Amendment in 1996, which slashed $2.6 million of funding from the CDC–an amount that mirrored what its injury prevention center had been investing in gun violence research.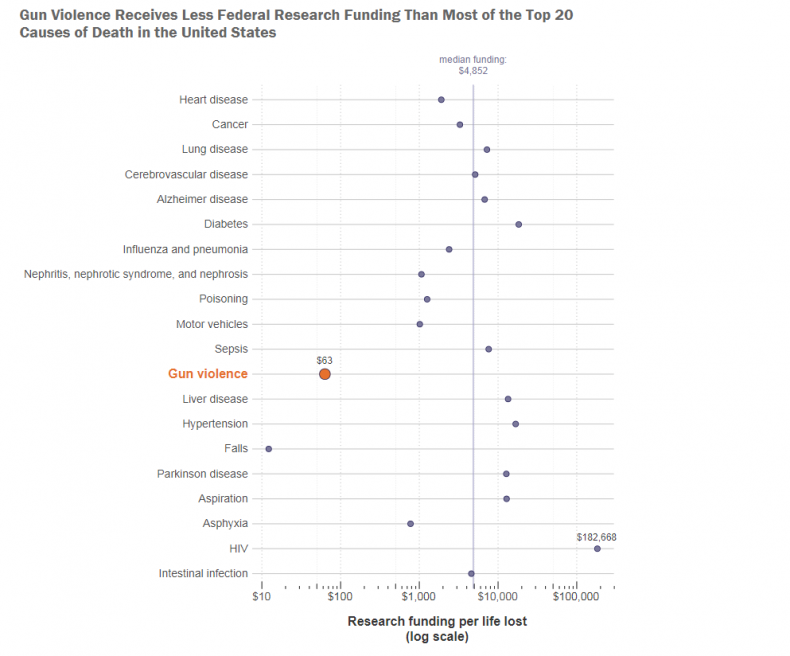 The think tank recommended the federal government increase funding for gun research to levels more on par with federal research investments in research into other significant causes of death and injury, such as car accidents.
The think tank also said the focus of federally funded research should be expanded to look at the effects policies have on defensive gun use, gun ownership, hunting and recreation activities, jobs in the gun industry and officer-involved shootings.
Read more: Gun Control Laws: These Are the Measures Americans Support
"Unfortunately, federal support for research that could help states and communities reduce firearm crime, violence, and suicide remains very limited," researchers said.
"Moreover, the state and federal surveys describing gun ownership and use—sorely needed to help researchers understand how state-level policies work—have not lived up to the optimism expressed by researchers in the early 2000s," they said, adding: "In some important respects, federal support has deteriorated since then."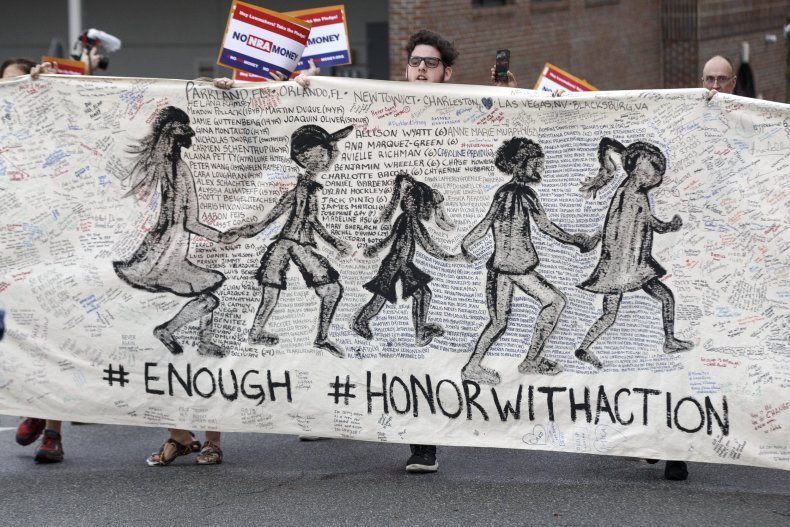 The study comes in the wake of last month's school shooting in Parkland, Florida, which saw 17 students and teachers killed. The mass shooting reignited the nationwide debate around gun control, with the Trump administration facing growing calls for more restrictive gun laws.
In a televised appearance on Wednesday, President Donald Trump left those in favor of comprehensive gun control optimistic after calling for legislation that would expand background checks to weapons bought at gun shows and on the internet, limit access to those with mental health issues and restrict gun sales for some young adults.
Support for stricter gun laws has surged in polls conducted after the school shooting at Marjory Stoneman Douglas High School, with roughly 2 in 3 Americans now saying that they are in favor of tighter gun control laws, according to a number of polls, including a recent POLITICO/Morning Consult study.
The poll found support for stricter gun laws among registered voters at 68 percent, compared with 25 percent who said they opposed tighter regulation.
Correction: RAND informed Newsweek that a graphic showing the aount of research funding the U.S. allocates for different causes of mortality supplied by the think tank and used in this piece had been mislabelled. A new graphic has been supplied and is included in this piece.