Does Ivanka Trump Back or Oppose Abortion Rights?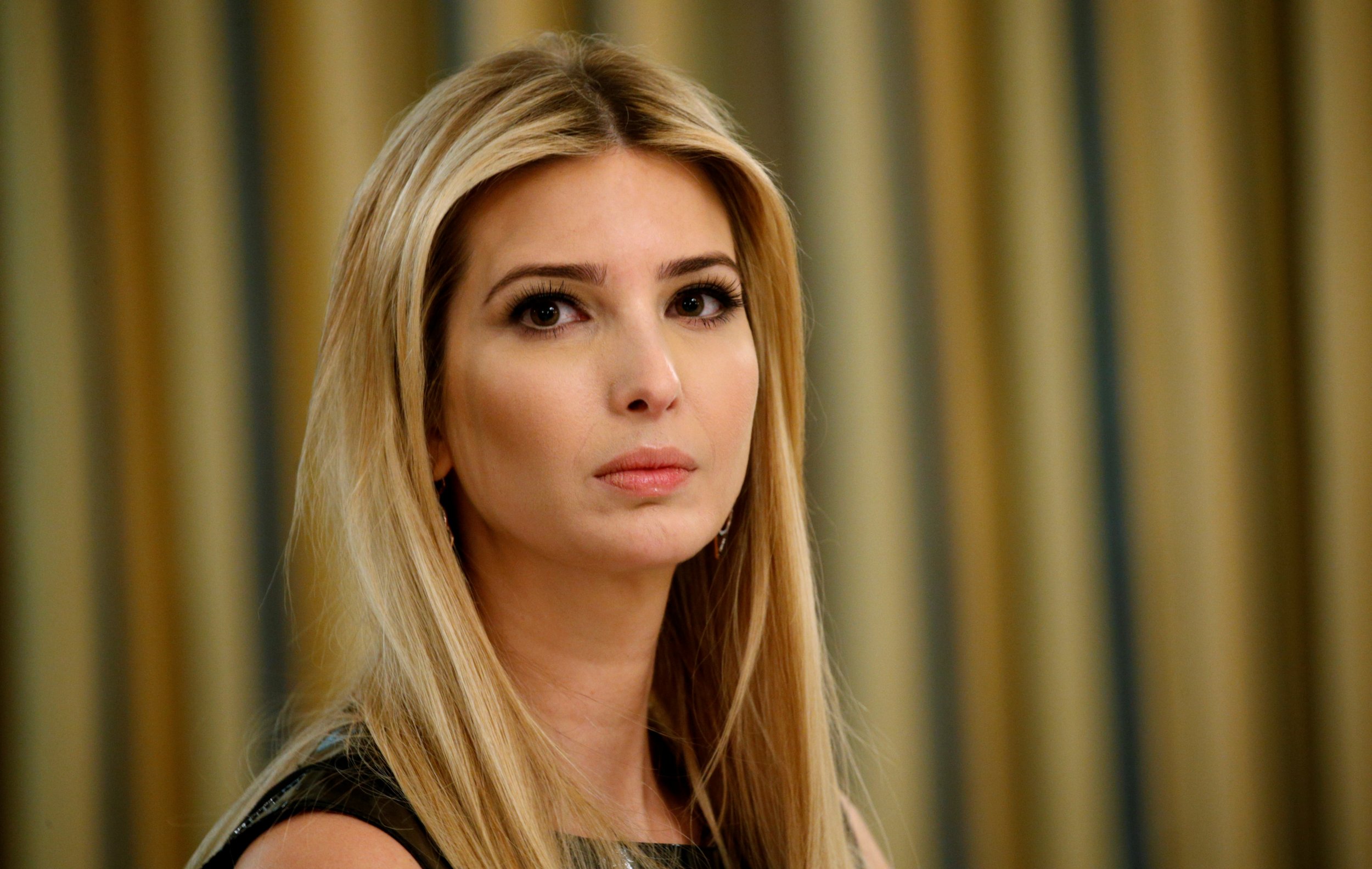 Marchers in New York marked International Women's Day on Wednesday afternoon by chanting "Hey, hey, ho, ho, Donald Trump has got to go" while walking between two of the real estate mogul's signature properties. Some hoisted posters featuring coat hangers, a strong symbol for many women in the battle over abortion rights.
Meanwhile, the most powerful millennial woman in the Trump inner circle tweeted her version of support. "Today, we celebrate women and are reminded of our collective voice and the powerful impact we have on our societies and economies," Ivanka Trump wrote.
Related: Ivanka helped 'set the tone' for Trump's speech
Her record on the most crucial of women's rights, though, is one of artful dodging. The landing page of Ivanka's eponymous website celebrated the day with the words "Be Bold for Change," written in pink, beige and red. The website gives no clue about what this "change" might be, but throughout his presidential campaign, Donald Trump made it pretty clear that one thing he intended for women would be a rollback to the days when access to legal and safe abortions was rare or nonexistent. That would herald other, more fundamental and devastating changes in the lives of women who can't choose when or if to have children, because they would face extreme difficulties in pursuing educations and careers.
Trump was all for abortion in his libertine days (back when he proclaimed that unprotected sex and the risk of sexually transmitted diseases were his Vietnam). He began proclaiming himself anti-abortion only in recent years, and because of his flip-flop on the subject, many hoped he might flop back to an abortion rights position once in office.
Since his election, though, he's packed his Cabinet with evangelical Christians, picked a known extreme conservative for the Supreme Court vacancy and looked on benignly as Republicans in Congress ginned up attacks on women's reproductive rights, starting with their long-cherished goal to defund Planned Parenthood, a leading provider of low-cost contraception and health care, in addition to abortions. These anti-abortion politicians—who represent a minority in the U.S. but a majority in Congress—want to cut the $400 million in Medicaid money that goes to Planned Parenthood, which would leave around 400,000 women lacking access not just to abortions but also to actual health care, according to the Congressional Budget Office.
It is an open question whether Ivanka is anti-abortion like her father. During her days as an elegant Manhattan billionaire's daughter-about-town, she and her husband, Jared Kushner, donated money to a group known to back abortion rights, Democrats in New York, and socialized with progressives. But there is no record that she openly supported Planned Parenthood or even the right of women to choose safe and legal abortions across America.
Growing up a privileged young woman and attending the best private and boarding schools in the country, Ivanka would have had access to the best medical care and expert sex education. She is also known to be conservative and abstemious in her lifestyle, and friends say she actually might regard legal abortion as either unnecessary or as a matter of importance only to people who behave irresponsibly.
It's also possible Ivanka is anti-abortion for religious reasons. Before marrying Kushner, she converted to his family's Orthodox Judaism, and she keeps a kosher home and adheres to other rules of that faith. Orthodox Jews are divided over abortion, but many believe it is wrong and sanctioned only when a mother's life is threatened. If a mother's life is at stake, Jewish law requires that her life be saved first, before the fetus. That is the opposite of the Catholic approach, which says a fetus must be born in order to be officially brought into the faith.
During the campaign, Ivanka dodged a straight yes-or-no question on abortion. In February last year, in response to Boston radio host Margery Eagan's question, she replied, "I don't talk about my politics," adding, "I don't feel like it's my role, and not the candidate's. I'm the daughter…. I don't think my politics are relevant to the discussion."
Ivanka then pivoted to suggest that her father has always "advocated for" gender equality in his businesses. "My whole life I was surrounded by incredible female role models at the Trump Organization, women doing jobs that in the late '80s and early '90s women were just not doing."
Last fall, at a women's summit in California, Ivanka said she saw her "core" role as "advocating for women." She noted, "I don't express my views on policy, with one exception as it relates to child care and advocating for women, because I never thought I'd have this platform. But it was incredibly important for me to participate in that conversation and very core to my personal and professional mission over the last decade, so I stepped into the fray on that front."
Ivanka is due to publish a book on working women later this spring, and the book's publicity platform, the #WomenWhoWork portion of her website, currently proclaims, "Of Ivanka's many roles, she considers 'mom' to be her most important and challenging. 'Raising a daughter, I hope that she grows up to feel empowered to do anything that her brothers can do and to relentlessly pursue her dreams,' she says. 'I hope that my sons grow up to be in touch with the sides of their personality that have previously been considered more feminine—that they're great husbands like their father and they're great siblings and they're sensitive and loving and caring, in addition to being driven and passionate and ambitious. That's what I wish for my children along with health and happiness.'"
Two days ago, Ivanka reportedly was behind an offer made to Planned Parenthood: Donald Trump said he wouldn't support cutting off funding and might even give the organization more money if it would simply stop providing abortions. Planned Parenthood's president, Cecile Richards, declined. The New York Times credited Ivanka with pushing her father toward that appearance of conciliation with Planned Parenthood.
"There is an opportunity for organizations to continue the important work they do in support of women's health while not providing abortion services," the president said. But Richards responded, "We will always stand for women's ability to make decisions about their health and lives without interference from politicians in Washington, D.C."
Senator Kirsten Gillibrand (D-N.Y.) told reporters she thought that Trump extended the offer only so he could say he had done so and that he would follow up Planned Parenthood's refusal with an accusation that the organization was not being reasonable.
The Times also reported that Ivanka had "urged her father to tread carefully on the Planned Parenthood issue during the Republican primary contest." If that was the case, her father certainly did not heed her advice.
Outside the Trump International Hotel on Wednesday afternoon, two high school juniors, Leyla Ulusoy and Munis Koc—both wearing red hijabs—held up a sign that read, "My Body My Choice My Country My Voice." The two friends said they thought Ivanka was out of touch on the subject of abortion.
"I feel like she lives such a luxurious, rich life that she doesn't know what other women are going through," said Ulusoy, 17. "She can decide to give birth, but it should be a choice for women who have been raped, or incest victims, or who have no money, or whose husbands or boyfriends don't want children."