Does John Calipari Deserve a Lifetime Contract From Kentucky?
John Calipari has agreed to remain at the University of Kentucky for the rest of his career after committing to a new long-term deal.
The 60-year-old had reportedly been approached by UCLA to fill its head coach vacancy and, according to The Athletic, had been offered a six-year deal in the region of $48 million.
However, on Monday night, the Wildcats coach announced he was staying in Lexington.
"Where else would I want to coach?" he said on his radio show.
"It has nothing to do with the other stuff [...] people call every year. They presented it to me, and I appreciate it."
A spokesman for Kentucky confirmed Calipari had signed a long-term contract that would see him finish his career at Kentucky.
While neither the length of the deal nor its financial details were disclosed, The Athletic reported Kentucky's offer to Calipari amounted to "essentially a lifetime contract."
Not everyone, however, was impressed with the development. Speaking on Fox Sports radio show "The Odd Couple," Rob Parker called the decision ridiculous.
"His tenure at Kentucky has been a disaster," Parker, who co-hosts the show, said.
"He has done nothing to earn it other than someone else [UCLA] being willing to offer him a deal. It's been a failure at Kentucky and Wildcats fans know it."
Since taking charge of the Wildcats in 2009, Calipari led Kentucky to a national title in 2012, matching the haul of his predecessor, Orlando Smith.
Parker, however, argued Calipari should have eclipsed Smith's achievements by now given the talent at his disposal.
"All of these great players have come through and one national championship? That's terrible," he said.
"John Calipari doesn't deserve a lifetime contract."
However, Chris Broussard disagreed with his co-host.
"He's won one national championship but national championships are very hard to come by in college basketball," he said.
"But who's better than that other than Jay Wright and Mike Krzyzewski?"
Wright led Villanova to the national title in 2016 and 2018, while Krzyzewski has won the NCAA Tournament five times during his spell at Duke.
In 10 seasons in Lexington, Calipari has a 305-71 record. Aside from the 2012 triumph he has led the Wildcats to a further three Final Four appearances in 2011, 2014 and 2015.
Kentucky was a number two seed going into the NCAA Tournament this year, but lost 77-71 to number five seed Auburn in the Elite Eight on Sunday.
The Wildcats went 30-7 this season but have now fallen in the Elite Eight twice in the past three years.
The current extension is the sixth time Calipari has put pen to a new deal with the university since being appointed in 2009. His current deal, which was signed in March 2017, runs through the 2023-24 season and is worth $8 million per season.
The contract includes a clause calling for a salary review in June 2022.
Data compiled by USA Today shows Calipari is the highest-paid coach in the country at $9.2 million—aside from payments from the school, the figure also includes other income Calipari reported.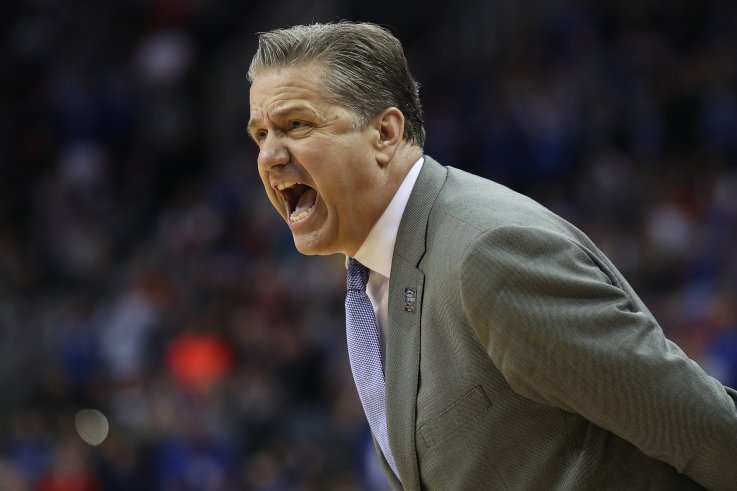 Does John Calipari Deserve a Lifetime Contract From Kentucky? | Sports