Does Kim Jong Un Speak English? Here's What We Know About the North Korean Leader's Language Skills
North Korean leader Kim Jong Un has had an international upbringing.
Unlike the majority of his country's isolated population, the 35-year-old totalitarian dictator studied abroad, in a German-speaking school in Koeniz, Switzerland. During his time in a Swiss boarding school from 1998 until 2000, he is known to have been an aficionado of international action movies and basketball games.
But some of Kim's classmates have suggested that he struggled to keep up academically because he wasn't fluent in German. And as he heads into high-level negotiations with President Donald Trump over the potential denuclearization of the Korean peninsula, it is unclear whether he speaks English or how good his foreign language skills are. Video footage shows that an aide, believed to be an interpreter, follows the North Korean leader wherever he goes.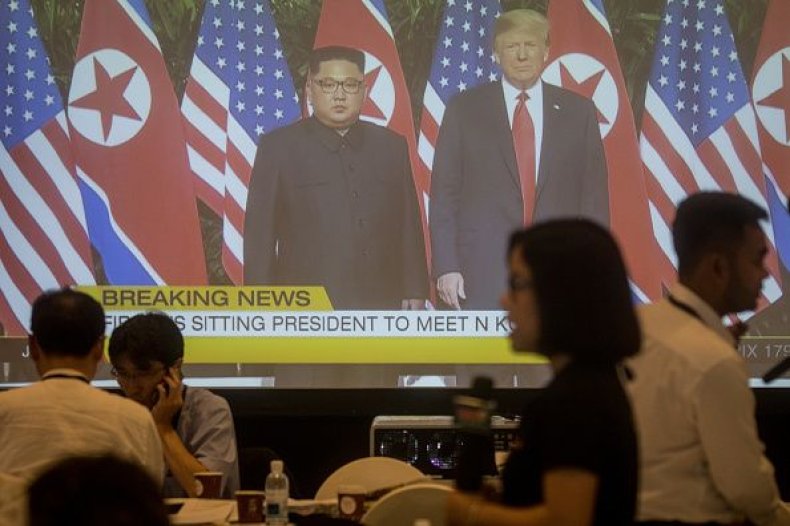 Reports have suggested that Kim took English classes during his time in Switzerland and got a passing grade. Many claim that Kim understands and speaks just enough English to have an informal chat, and that his English language skills are not strong enough to hold formal negotiations, especially about important topics like denuclearization.
Dennis Rodman, an American basketball star who has spent time in North Korea with Kim Jong Un, told reporters in Singapore last June that Kim understands some English, especially when he is talking about sports.
"Well, I think he understands bits and pieces. If you're talking about basketball, yes he understands that," Rodman who was in Singapore for the first summit between Trump and Kim, told CNN.
During their meeting in Singapore, Trump and Kim both brought translators with them.
Both leaders have reputations for being mercurial, and scholars have pointed to the important role that interpreters can play in defusing potentially tense situations. The U.S. employs some of the world's best interpreters for its diplomatic missions.
Some experts say this is especially important, given that Trump often does not read his briefing materials. When asked by a Boston Globe reporter why it is important for an American interpreter to join Trump and Kim, longtime presidential interpreter Harry Obst noted that translators can be better prepared than the president.
"One reason is that the interpreter traveling with the president gets to see his talking points and all documents that the president needs for this particular meeting," Obst said. "This is doubly important with a president like Trump. Why? Because he doesn't read his briefing book. The packet for such a meeting — and I've worked hundreds of them — may be as much as between 80 and 200 pages."