Does L.A. Rams Signing Ndamukong Suh Have Anything Left? He's 347 Days Younger Than Head Coach Sean McVay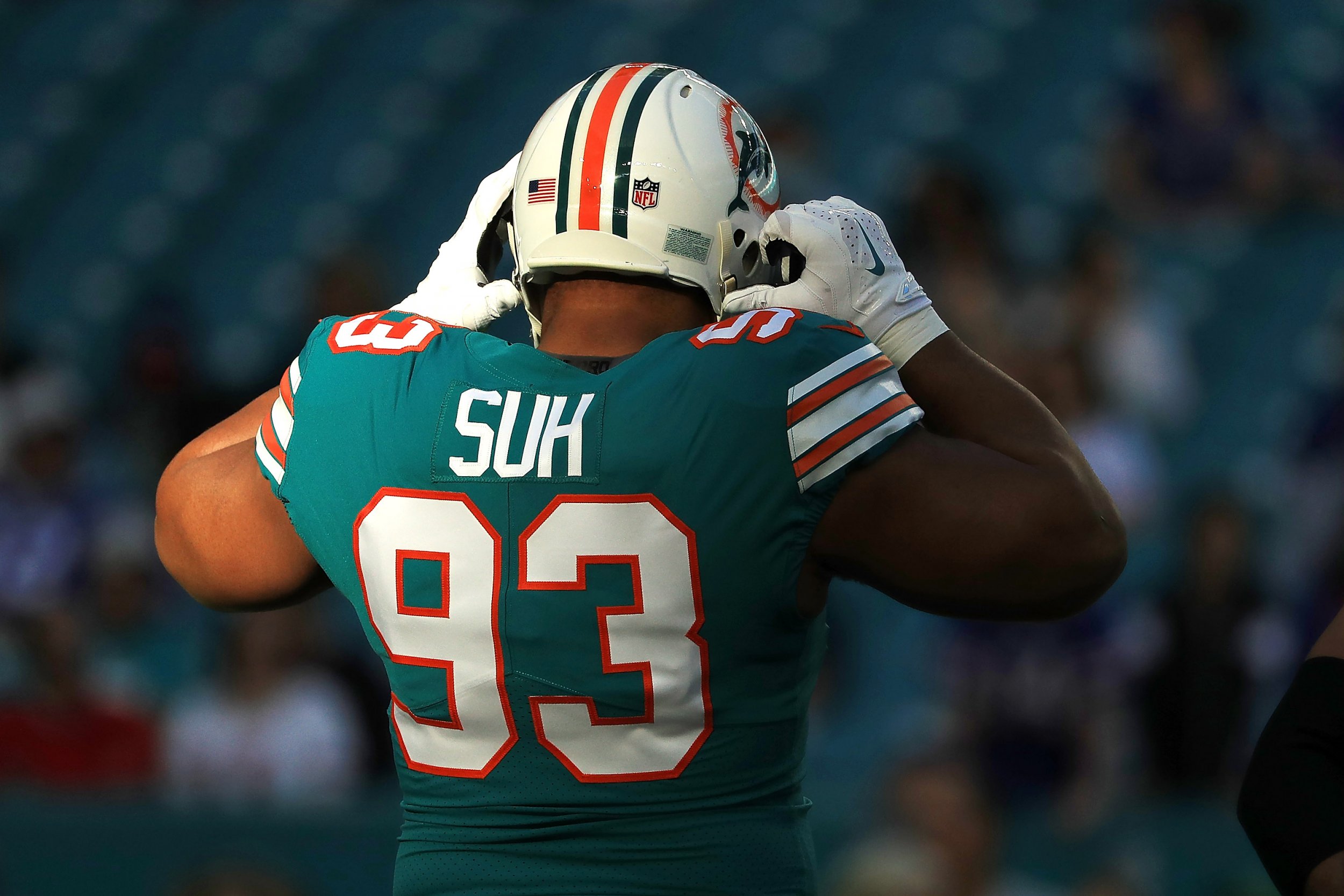 Ndamukong Suh has finally found himself a new team after signing a one-year deal with the Los Angeles Rams.
The deal, which according to ESPN's Adam Schefter is worth $14 million, means the Rams will field a formidable defense next season, with the five-time Pro Bowl selection playing alongside Aaron Donald.
Since he was cut by the Miami Dolphins earlier this month, Suh visited the New Orleans Saints and the Tennessee Titans and had an offer rescinded from the New York Jets, before signing with the Rams.
The Oregon native might be just 347 days younger than Rams' head coach Sean McVay—the youngest head coach in modern NFL history—but he is still only 31-years-old and in the prime of his career.
Suh was ranked third on NFL.com's top 101 free agents list, behind Kirk Cousins, who has joined the Minnesota Vikings on a three-year deal worth $81 million earlier this month, and New Orleans Saints quarterback Drew Brees.
The defensive tackle, who was just three years into a six-year deal worth a whopping $114 million with the Dolphins, recorded 15.5 sacks while playing in all 48 regular season games during his time in Florida.
Between 2010 and 2017, Suh compiled 51.5 sacks, second only to Geno Atkins for the most by a defensive tackle, and recorded the highest number of run stuffs by an interior defensive linesman with 55.
Over the last eight seasons, he also amassed 6,773 snaps, the most of any other defensive linesmen, and ranked seventh among all NFL players with 26 batted passes.
"We are excited to have Ndamukong as a part of the Los Angeles Rams," Rams' general manager Les Snead said in a statement. "He's been an outstanding player in this league and we are looking forward to him being a part of our defense."
Wade Phillips, the Rams defensive coordinator, took to social media to express his excitement at Suh's arrival.
In L.A., Suh is widely expected to play nose tackle in Phillips' 3-4 base sets, with Donald set to remain in the 3-technique.
The Rams will also be wary of Suh's disciplinary record. The 31-year-old, who was drafted by the Detroit Lions in 2010, has given away an NFL-high 74 penalties since he arrived in the league.
However, he has only missed two games in his eight seasons as a pro, after in 2011 he was penalized for roughing up Evan Dietrich-Smith, then playing for the Green Bay Packers.