Does Lafayette Park's Landmark Status Whitewash History?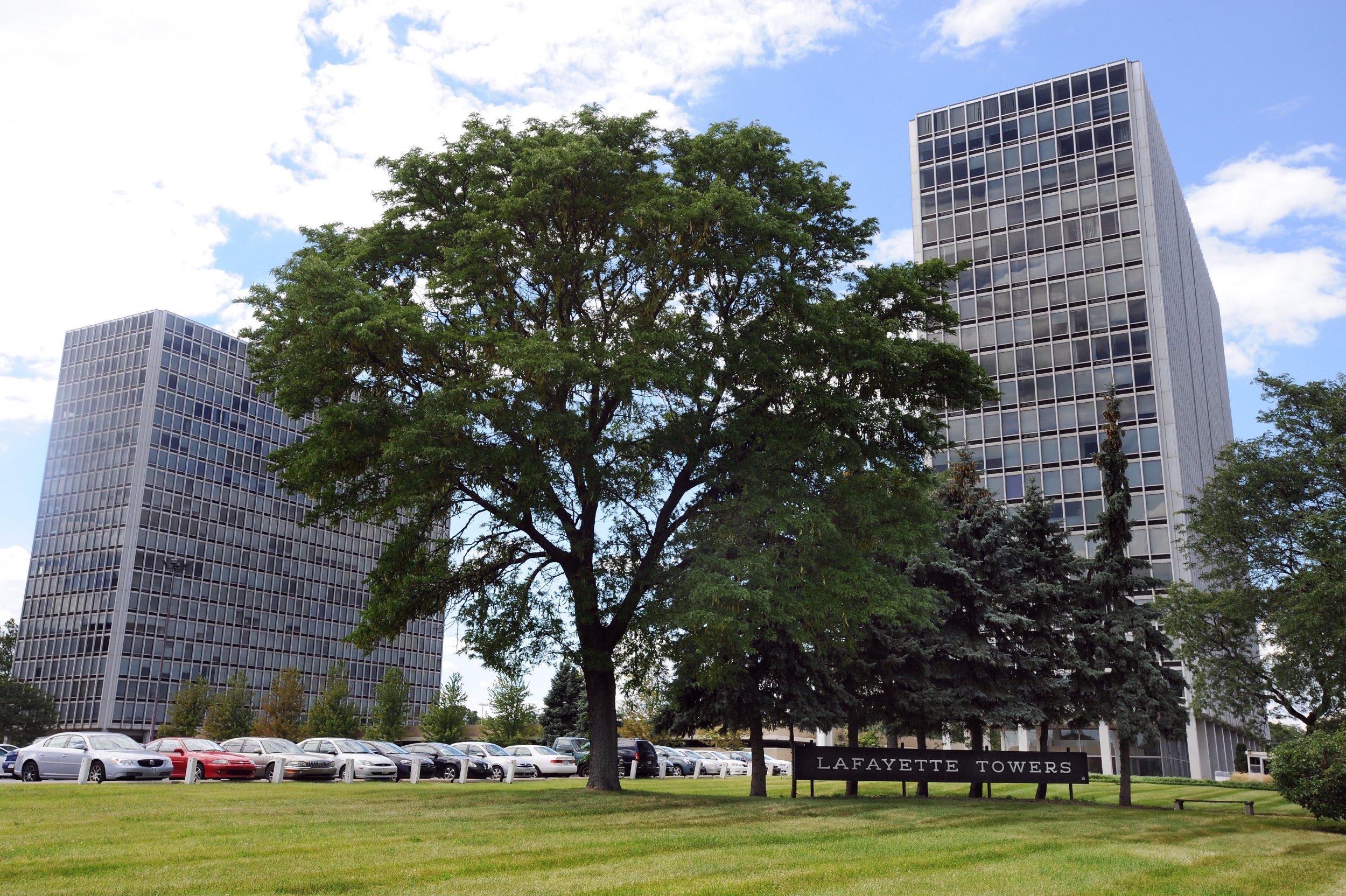 In early August, the U.S. Department of the Interior and the National Parks Service declared Detroit's Lafayette Park a National Historic Landmark. The neighborhood, designed by one of modern architecture's masters, Ludwig Mies van der Rohe, is the first urban renewal project to gain this status. While many urban renewal projects tanked—often taking the historical integrity of their cities with them—and eventually lead to the historical preservation movement, Lafayette Park succeeded so much that it's now been declared worthy of conservation.
In the years following World War II, American cities began a major transformation period spurred by the passage of the 1949 Housing Act. Title I of the act granted federal funds for land redevelopment and passed legislation allowing for slum clearance. These urban renewal programs needed to appeal to upper- and middle-class residents who had, up to that point, been leaving the city for the suburbs, thereby caused a dwindling of the city's tax base. Plus, they looked pretty to offset what the city called "urban blight."
Lafayette Park was one of the first urban renewal projects in the country. In 1956, the city of Detroit hired developer Herbert Greenwald, who brought on Mies as lead architect. What he came up with is indicative of his modern design aesthetic, with three multi-block, 22-story high-rises and 186 ground-level townhouses. The design is more than just exterior: Each room in the park was constructed to receive at least four hours of sunlight per day, thanks to large floor-to-ceiling glass windows (a signature of Mies's style, along with exposed steel and small interior spaces).
With its high- and low-rise buildings surrounding a 19-acre green space, Lafayette Park is based on a "superblock" idea, which essentially meant erasing the typical city grid of streets and creating a suburban setting within an urban environment. It was designed to have no city streets passing through its center, only walking paths, as well as amenities like a shopping center and an elementary school at its periphery. Its border with the rest of the city was meant to be porous, making the community largely self-contained.
Part of the preservation effort for Lafayette Park comes from its place in Detroit's current economic climate. The park has remained a vibrant neighborhood with full occupancy and high property values, despite the catastrophic downturn that left the rest of Detroit virtually empty. But its longevity is part of its design: The landscape, architecture, and quality of life of Lafayette Park residents were all taken into account when the neighborhood was initially planned.
Which all sounds very nice. But as with most urban areas of affluence, Lafayette Park's construction took a toll on a section of the population that would not get to reap its rewards. About 7,000 people—residents of the Black Bottom neighborhood—were displaced when the area was razed to make way for the new construction.
According to the National Park Service's website, sites that are chosen to become National Historic Landmarks represent "an outstanding aspect of American history and culture," and should "illustrate the heritage of the United States." Urban renewal was certainly a significant period of American history, but does giving a development like Lafayette Park landmark status devalue the experience of those who were displaced by the renewal process?
"In recognizing Lafayette Park as a landmark, it would be irresponsible to ignore its origins," Thomas Sugrue, a professor of social and cultural analysis and history at New York University and author of The Origins of the Urban Crisis: Race and Inequality in Postwar Detroit, tells Newsweek. "We should not whitewash the past."
Black Bottom, named for the color of the topsoil discovered when the town was founded, became a thriving African-American neighborhood after the Great Migration in the early 20th century. However, by the end of World War II, many of its buildings had become overcrowded and dilapidated and were in need of repair, which caused the city to classify it as a slum.
In the early 1960s, residents of Black Bottom were given 30 days to vacate their homes. Since cleared land was available only for private development, government-funded low-income housing could not be built at the site of Lafayette Park, and it wasn't economically feasible for private developers to include any affordable-housing units. About a third of the Black Bottom families were able to move into what little public housing was available to blacks (much of the public housing was still segregated by race), and the rest were forced to move into overly crowded neighborhoods with substandard living conditions.
While laws would eventually be put in place to make sure families had housing options available before being forced to move, the displaced residents of Black Bottom had no safety net. While the history of slum clearance is often overshadowed by Lafayette Park's architectural achievements, it was an important factor for those involved in helping the neighborhood gain landmark status.
Ruth Mills, an architectural historian and associate at Quinn Evans Architects, the firm hired by Michigan's Historic Preservation Office to put together the nomination report for Lafayette Park, agrees that any landmark must tell the whole development story.
"Yes, this is the largest collection of Mies van der Rohe architecture in the world, and it stands on its own in that respect," Mills tells Newsweek. "But just as important are other aspects of its design legacy, including the master plan and the landscape architecture. You can't talk about those without talking about the project in the context of urban renewal, and that means you have to talk about what was there before. It's all connected."
Mills says the team "embraced every aspect of Lafayette Park in approaching the project." She adds, "This is a story we wanted to tell in its entirety. You can't shy away from the controversial side of things, and we saw this as an opportunity to go beyond the surface level that is often focused on when talking about Lafayette Park."
Though it's most noted for its architecture, Lafayette Park has also been commended for never turning away potential residents based on race—a "rare exception" according to Sugrue, for one of the country's most racially segregated cities. Black families actually made up 10 percent of the occupants in 1960. But to many, this still seems insignificant compared with how many others were left without a home. Still, proponents agree on the importance of telling Lafayette Park's full story—from its contentious past to its celebrated future as a National Historic Landmark—and recognizing that controversy is as much a part of American heritage as progress.