Does Peter Weber Stay With Hannah Ann Sluss? 'Bachelor' Finale Spoilers Weigh In
The end of The Bachelor is near and, shockingly, Peter Weber only has one woman left. Hannah Ann Sluss is the final contestant on the series after Madison Prewett self-eliminated on Monday night. That could signal smooth sailing for the lasting couple, or another finale full of unexpected drama.
On Monday night, fans saw Sluss reveal she's close to her "breaking point" after giving so much to her relationship with Weber and not receiving validation. Weber admitted he was torn between two women, and never disclosed to Sluss that Prewett had left the series. Spoilers from Reality Steve detail a rocky story arch for Sluss and Weber, and reveal that Prewett isn't out of the competition just yet.
Tuesday night's finale will likely begin with Weber contemplating both relationships before heading to his final rose ceremony. Weber seemingly decides on pursuing a relationship with Sluss, spoilers claim. This is unsurprising after Weber's family praised Sluss as an "angel" and someone that "God put" in his path. After mild intimidation, the Weber clan told Weber they trust his judgment, after questioning why he still has feelings for Prewett when Sluss is the obvious choice.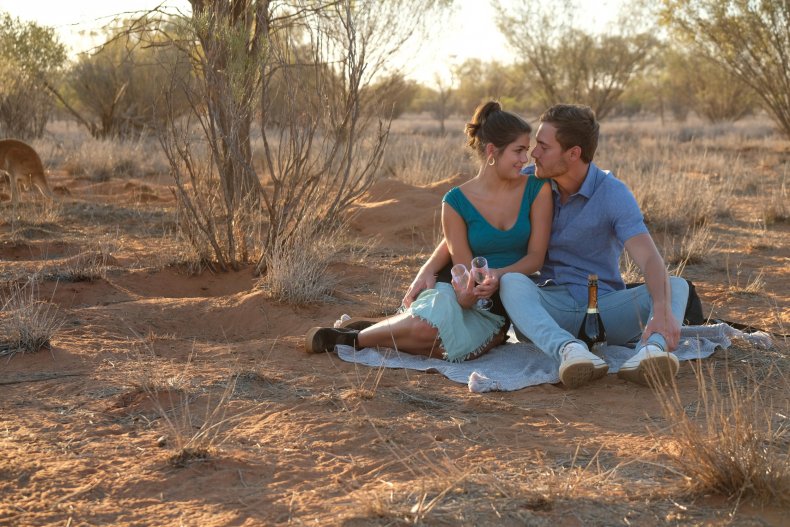 Weber will receive some scary news just before the final rose, though. Host Chris Harrison is expected to tell Weber that Sluss is considering leaving the competition, too. Ultimately, she won't though, and the pair will get engaged.
That's right. Weber and Sluss left Australia as an engaged couple. So how does Prewett come back into play?
It's unclear exactly how or when Prewett enters the picture again. A preview for Tuesday night's finale showed Prewett having an emotional conversation with Harrison in which she admits to having regrets about leaving the show.
Viewers know Prewett left after questioning how closely her own values match Weber's. He was intimate with other women after Prewett expressed her discomfort. Weber likes to party, according to his mom, and he's not too faith-based.
These differences seemingly won't stop the couple from continuing to feel love for one another. Spoilers say Weber will break his engagement with Sluss in order to chase after Prewett. It's unknown how long the pair were engaged or if Prewett and Weber are together in real-time.
This isn't the first time a Bachelor has broken an engagement to win back a runner up. Most recently, this happened on Arie Luyendyk's season. Luyendyk infamously broke Becca Kufrin's heart and chased after Lauren Burnham. The pair are now married and have their first child.