Does Putin Have Something on Trump? Obama Should Tell Us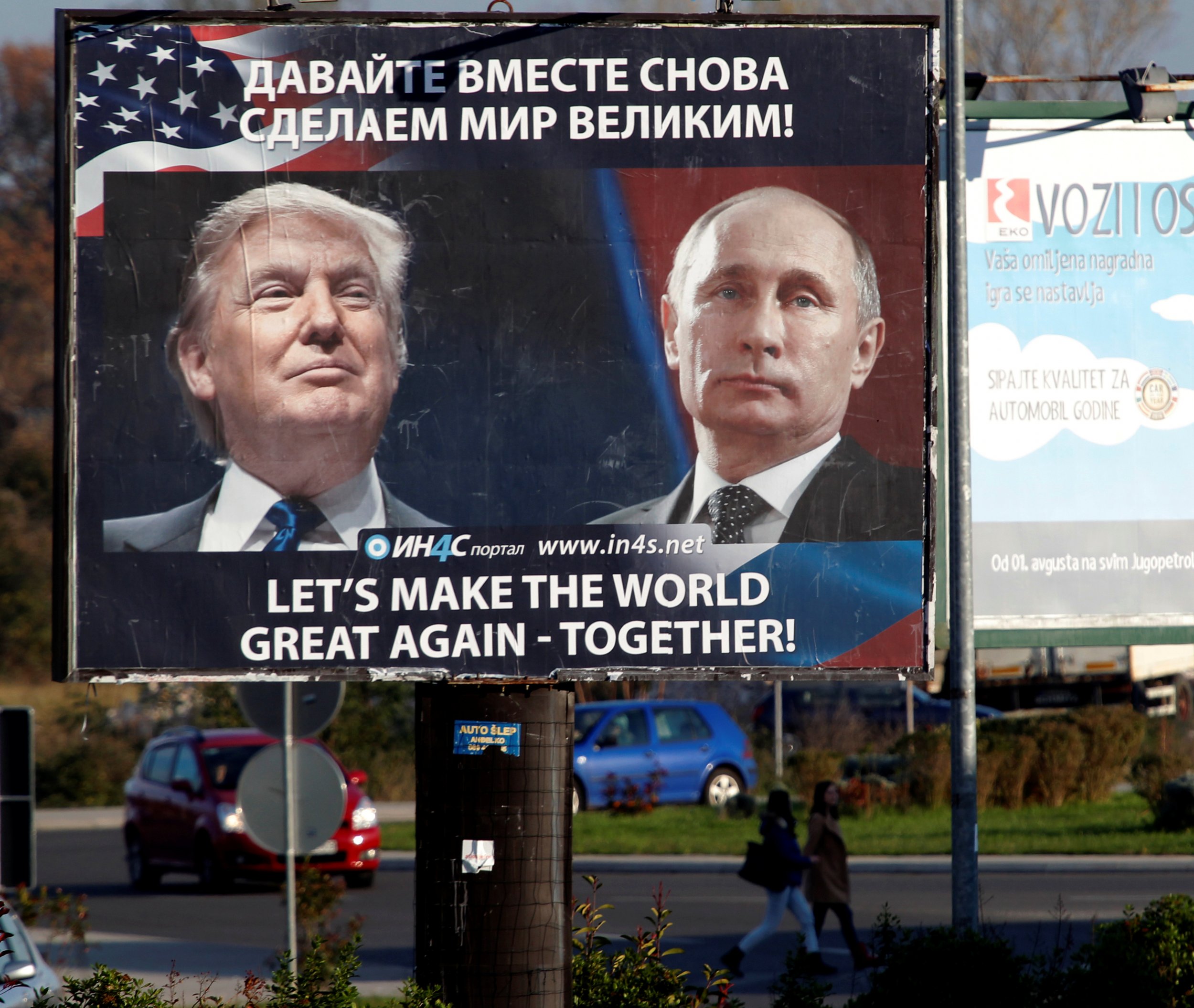 The mainstream press is correct to be cautious about the private sector opposition campaign research dossier posted on the internet by BuzzFeed.
However, journalists and the world should not dismiss it entirely of hand. There are some things in it that are plausible—the internal Kremlin debate about their intelligence operation, why Putin's chief of staff was suddenly fired and other items that ring true to those of us who have read intelligence reports on Russia.
And clearly the intelligence community wanted the president-elect to take at least the existence of this report, if not its content, seriously.
A two-page addendum regarding this report was attached to the intelligence community's report on the Russian operation against the 2016 electoral elections.
This unusual move comes in the face of Donald Trump's continued dismissal of Russian operations against the United States and our democracy, his disparagement of U.S. intelligence professionals and the unanswered questions about his business relationships with Russians.
Related: Trump, Putin and the hidden history of how Russia interfered in the U.S. presidential election
Donald Trump has been dismissing the threat posed by Russia to U.S. elections, to our democracy and even to him from the moment he entered the campaign for president. He hasn't stopped dismissing the serious Russian intelligence and information operations against the American people, even after his election and practically on the eve of his inauguration.
Coupled with these dismissals are his repeated disparaging remarks about the U.S. intelligence community, often invoking the grave now 14-year-old mistake regarding whether Iraq had weapons of mass destruction in 2003.
Trump's staff people have piled on, blaming some victims—the Democratic National Committee, the Clinton campaign computer techs and John Podesta—for poor cyberdefenses.
They claim that the Republican National Committee had better protections and/or responses. (This will likely only be proven false by the Russians, if they decide to use any hacked information from the RNC in the future.)
They minimize what Russia did, pointing out that the United States also hacks or spies, which is true, but they fail to add that our government has never operationalized and attacked a democratic state's election process.
They have resorted to claiming that since the Russian operation has had no proven effect on the actual vote tally, we should move along, leaving aside the fact that the information from the hacks did contribute to the presidential campaign debates and political environment.
The U.S. intelligence officials—no jokers—decided that the matter was serious enough to warn Trump. Whether the information is partly true, all true, partly false or all false, the dossier, compiled by a former British intelligence officer as part of opposition political research on Donald Trump, cannot simply be dismissed. Indeed, it seems unlikely that is was entirely fabricated, because the intelligence community chose to forward it to Donald Trump and we haven't heard a disavowal of it from them.
Their silence, for now, could indicate there is something to it.
Leaving aside the most salacious parts of the report on Trump, since the summer reporters have been writing about and investigating links between Trump's staff, the Kremlin and Russia's sharing of hacked American documents with WikiLeaks. They are seeking to find the truth on behalf of the rest of us.
So, I will repeat what I have written elsewhere: We need President Obama to share with the public the information the FBI has to date on this issue, and we need President-elect Trump to explain the full extent of his ties with the Kremlin and influential Russians.
We deserve to know:
Did any American citizens collude with Russia to assist in the Kremlin's efforts to interfere in U.S. elections? If so how, and were Trump associates, or Trump himself, aware?
Have Russians given or loaned Donald Trump and/or his businesses money, or provided collateral or other financial assistance to Donald Trump?
Does our intelligence community assess that the Russian government has compromising information on President-elect Trump that may have been used or could be used to try to influence him?
These questions are disturbing in and of themselves, but until we the American people have answers to them, we will be subjected to rumor, lies and obfuscation, and Russia will hold a far greater role in our domestic politics than we could ever have imagined just a few years ago.
Evelyn Farkas is a non-resident senior fellow at the Atlantic Council and served as deputy assistant secretary of defense for Russia, Ukraine, Eurasia from 2012 to 2015, and executive director, Graham-Talent WMD Commission and has served almost 20 years divided equally between the executive and legislative branches of government.