Watch: Does Rob Gronkowski Deserve Suspension for Patriots-Bills Cheapshot?
Rob Gronkowski apologized for his late elbow to the neck and head of Buffalo Bills cornerback Tre'Davious White in the fourth quarter of the Patriots' 23-3 win in upstate New York on Sunday evening.
"I don't believe in shots like that," Gronkowski said in quotes reported by ESPN. "I'm not in the business of that. It was a lot of frustration. At that moment, it happened naturally through emotions and frustration."
If the apology rang at all hollow to some observers, it wasn't because the tight end has a habit of cheap shotting. Gronkowski, the giant centerpiece of the Patriots' passing attack, has a reputation for goofiness, not nastiness. "Yeah, it was a nasty and dirty play. I've never seen him do that before," Bills running back LeSean McCoy said after the game, Yahoo Sports reported.
Out of character or not, Gronkowski's late hit—after White had intercepted Tom Brady—put the rookie in concussion protocol. It may also cost "Gronk" a suspension (he was penalized for unnecessary roughness but stayed in the game), although the Patriots are so far ahead in the AFC East at 10-2 that any time he misses before the playoffs won't be a major concern.Granted, there are byes and homefield advantage to consider but the Patriots appear at the very least to be motoring towards the AFC's second seed in a weak year for that conference.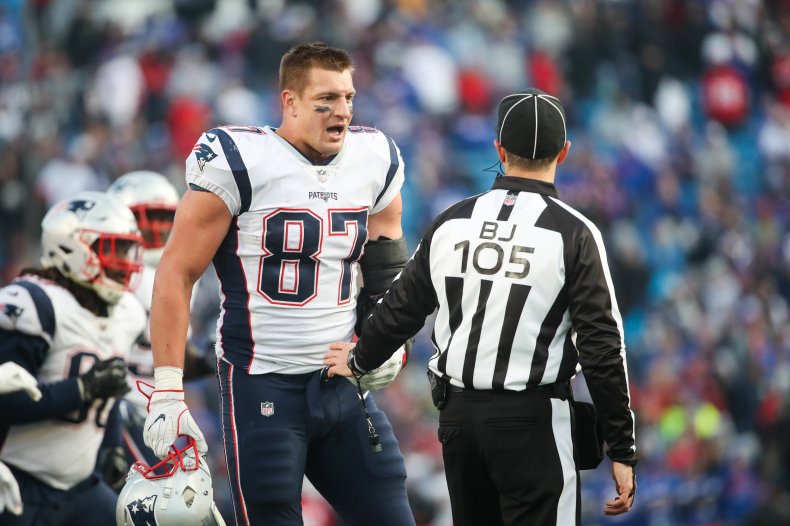 "He's [Gronkowski] a hell of a player, and a good person. Surprising," McCoy continued. "But there are more important things to talk about." Bill Belichick, Gronkowski's head coach, did a pretty stand-up job on the field postgame at condemning the hit. Belichick was heard on camera apologizing to his counterpart Sean McDermott. He called Gronkowski's action "bullshit." Given the time left in the game—four minutes and 50 seconds—and the Patriots' substantial lead, he probably had a point.
Does Gronkowski deserve a suspension? Watch the video below and decide for yourself.