Fact Check: Does Stimulus Include Free Alcohol and Marijuana for San Francisco's Homeless?
President Joe Biden signed into law a historic $1.9 trillion stimulus bill on March 11 that is aimed at helping Americans through the COVID-19 pandemic.
But the bill did not have an easy ride in the Capitol and many Republicans have criticized the stimulus, arguing it is an expensive splurge on liberal priorities unrelated to COVID.
The American Rescue Plan relief package includes funding for a national vaccination plan, as well as offering immediate and direct support to families bearing the brunt of the pandemic.
The package also helps governments maintain critical services and avoid layoffs, and provides resources to struggling communities in the wake of the crisis.
A fact sheet put out by Senator Alex Padilla (D-Calif.) estimated that California would get $1.2 billion for homeowners and $590 million to address homelessness.
The Claim
On Monday, House Minority Leader Kevin McCarthy (R-Calif.) tweeted that House Speaker Nancy Pelosi's (D-Calif.) "Bay Area Bailout included $600 million for San Francisco, part of which goes to cover the tab for free alcohol and marijuana for the homeless."
Pelosi currently represents California's 12th district, which covers most of San Francisco. She has been representing the city since 1987.
"I've said it before and I'll say it again: this bailout is too costly, corrupt, and liberal," McCarthy added in his tweet, which included a video clip of his comments on the stimulus to Fox News.
The tweet was at the time of writing re-tweeted more than 3,700 times and favorited by more than 9,700 Twitter users. McCarthy said the stimulus "rewards bad behavior," calling the "wrong bill at the wrong time."
The Facts
San Francisco will get roughly $600 million in stimulus, which, according to the mayor's office, "will help us prevent many of the drastic cuts that would otherwise be on the table."
The stimulus will temporarily close much of the city's $650 million budget deficit over the next two years, according to the San Francisco Chronicle.
Sarah Owens, deputy press director for the office of San Francisco Mayor London Breed, told Newsweek the stimulus will stave off budget cuts and "allow us to provide some immediate relief to our small businesses, our arts and culture organizations, and residents who are struggling."
She added that San Francisco's funds from the federal government will be allocated as part of the upcoming budget cycle for fiscal years 2021-22 and 2022-23.
Addressing McCarthy's comments, Owens said: "The claim that funding from the American Rescue plan will be used for alcohol and drugs for people who are experiencing homelessness is false.
"No federal funds have been, or will be, used for San Francisco's harm-reduction services in Shelter in Place hotels, including the City's managed alcohol program.
"Funding that goes to address homelessness will be allocated to the Department of Homelessness and Supportive Housing to support their efforts to expand the City's emergency safety net and move more people out of homelessness and into housing.
"This could include rapid rehousing, permanent supportive housing, services at Navigation Centers and shelters."
Last May, San Francisco provided the homeless in quarantine hotels in the city with drugs and alcohol. The city's government received some criticism after the controversial policy came to light and misinformation rapidly spread.
On May 8, conservative youth group Turning Point USA posted a meme to Facebook alleging that the policy misused tax revenue: "San Francisco is providing drugs and alcohol at taxpayer's expense to the homeless in hotels. ... thanks leftists!"
However, the San Francisco Department of Public Health (SFPH) later confirmed that the alcohol and tobacco had not been paid for by the taxpayer.
"Alcohol and tobacco have been paid for with private donations," San Francisco Department of Public Health Behavior Health Communications Specialist Jenna Lane told USA TODAY on May 13.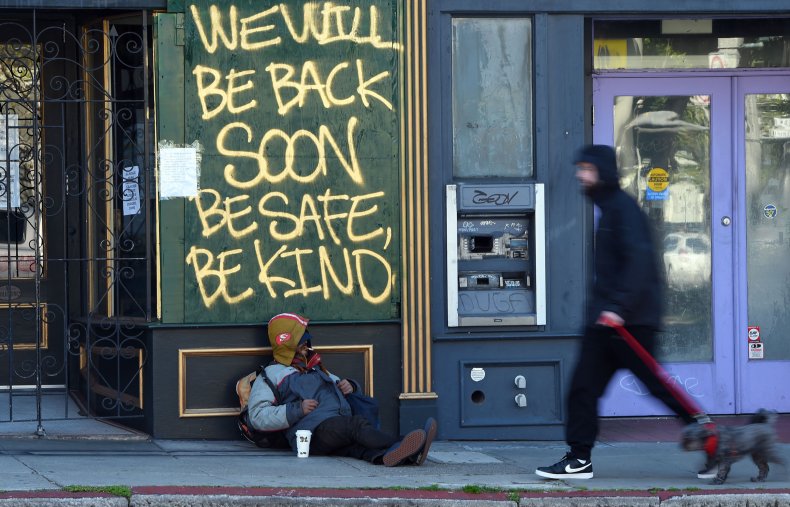 Cannabis for both medicinal and adult recreational use is legal under California law and therefore legal in San Francisco.
The SFPH said the policy was an "evidence-based harm reduction strategy" intended to stop guests from leaving quarantine to seek out substances.
Speaking to Newsweek, Drew Hammill, Pelosi's deputy chief of staff, said that no federal funds were being used to provide alcohol and marijuana to San Francisco's homeless.
"The Minority Leader, as usual, has no idea what he's talking about but is desperate to make political points that he can't substantiate with the facts," Hammill added.
McCarthy's office did not respond to a request from Newsweek to expand on his claim.
The Ruling
False.
While it is true that the city of San Francisco provided homeless residents with marijuana and alcohol last year so they didn't seek out the drugs through dangerous or illicit means, it was not funded by the taxpayer.
It was paid for by private donations and is unconnected to either the city's finances or the latest round of stimulus.