Does Trump Have a Syria Plan? U.S. Needs Russia and Iran to End the War
The U.S. and its British and French allies defied Russian warnings Friday in a trilateral attack against Syrian government facilities allegedly associated with the production of chemical weapons. However, experts said the move was unlikely to end the war unless the U.S. could establish a follow-up strategy and some common ground with Russia and Iran.
The U.S. may have already forfeited its position as regional power broker, as it struggled to counter Russian military success in Syria and pursued an isolationist, rather than diplomatic, approach to an increasingly influential Iran. Without an accompanying push for negotiations, Trump's limited Syria strikes would do little to deter Syrian President Bashar al-Assad from using chemical weapons, much less put pressure on his Russian and Iranian partners.
Related: U.S. ally Iraq joins Russia and Iran, says Trump's Syria strikes may help ISIS
"These strikes should have been used to precipitate actual negotiations," Harlan Ullman, an author and senior adviser at the Washington-based Atlantic Council, told Newsweek. "The trouble with this administration's strategy, it's the same as with Obama, is that there is no strategy."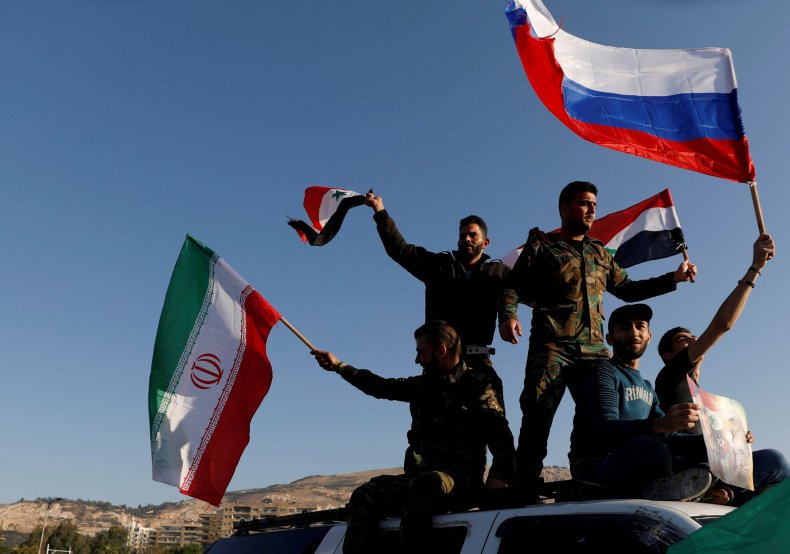 Former president Barack Obama began a covert CIA program to support Syrian rebels shortly after winding down the U.S. military's deployment in Iraq in late 2011. Insurgent gains initially pushed Assad out of some major cities but also opened the door for the Islamic State militant group (ISIS) to spread from neighboring Iraq, where an ultraconservative Sunni Muslim insurgency has raged on since the 2003 U.S. invasion. Obama opted not to respond militarily to reported chemical attacks in 2013 after failing to receive Congressional support. He formed an international coalition to instead begin bombing ISIS the following year, when it claimed half of Iraq and Syria.
By this time, Trump had criticized Obama both for considering military action and, later, for not going through with it. Trump also condemned the Obama administration's support for the Free Syrian Army and other rebel groups, some of whom were later absorbed or defeated by ISIS, which ended up with substantial arms and ammunition from the U.S, Gulf Arab states and Turkey. Russia entered the conflict in 2015 and managed to help Assad reclaim vast swaths of territory from both rebels and jihadis as the West criticized the pro-Syrian government campaign of mounting civilian casualties.
Trump inherited the conflict in early 2017, promising to work with Russia to put an end to ISIS in Syria. As an investigation into alleged collusion between the Trump campaign and the Kremlin deepened, the first of many domestic scandals to hit the White House, the U.S. and Russia alliance never formed. Trump's policy then shifted. He ordered the launch of 59 Tomahawk cruise missiles at a Syrian air base in response to an alleged sarin gas attack in April 2017, and rallied the U.K. and France to reportedly fire more than 100 missiles at three alleged chemical weapons sites one year later on Friday.
Russia and Iran, however, have cast doubt on Assad's culpability in suspected toxic gas attacks in the rebel-held areas of Idlib last year and in Douma last week. Their alliance, derided by Western leaders, has helped to restore Assad's power and wipe out large parts of ISIS heartland across Syria.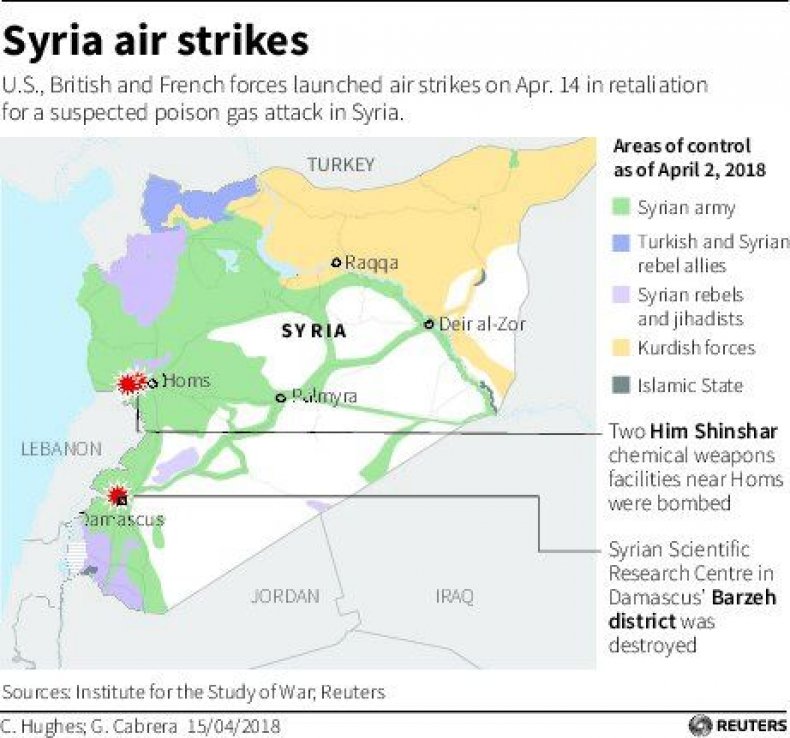 Two days after the tripartite strikes pounded three state-run scientific centers,Russian President Vladimir Putin spoke Sunday with Iranian President Hassan Rouhani to condemn the attacks. "The presidents stated that this illegitimate action has seriously damaged the prospects for a political settlement in Syria," a Kremlin statement said of Putin and Rouhani's phone call. "Vladimir Putin, in particular, emphasized that if such actions continue in violation of the U.N. Charter, this will inevitably lead to chaos in international relations."
While the strikes have attracted global fanfare but little strategic value, Ullman said that it was difficult to see an advantage for Trump. The expert said Trump "has more crises on his plate than any other president in history, simultaneously."
Constantly defending against allegations of the president's illicit dealings with porn stars, Russians and former U.S. officials may have drained the White House's capacity to work out sophisticated strategies to handle Syria and other major issues. Ullman said the U.S. must find a way to reconcile an ongoing war between Turkey and the Kurds, two Middle East allies that have distanced themselves from the U.S., and that canceling the 2015 Iranian nuclear deal rather than seeking rapprochement with Tehran would amount to "an incredible act of stupidity."
"The Iranians are much less of an enemy than we make them out to be," Ullman told Newsweek.
Trump may have limited his options with Iran by closely aligning himself with Israel and Saudi Arabia, two countries deeply opposed to Iran's wider presence in the Middle East. Unlike the U.S., Russia has maintained regular communication with all sides of the region's many conflicts. Western sanctions have placed pressure on some of Moscow's elite and hampered Rouhani's economic outlook, but they have done little to compel either country's leadership to change course.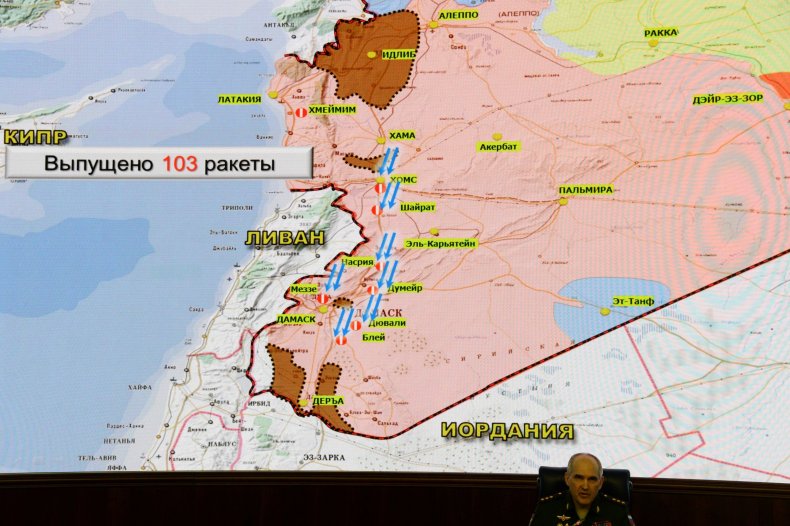 In a statement, International Rescue Committee CEO David Miliband said in the aftermath of the Trump's strikes that the attack would "become a historical footnote unless they are matched by a diplomatic offensive of sustained and serious character." Competing United Nations Security Council resolutions on Syria have so far not succeeded, with the U.S. and Russia failing to engage in constructive dialogue as warring sides in Syria have continued to spill blood.
Kamal Alam, a visiting fellow at the U.K.-based Royal United Services Institute, argued Trump does have a coherent foreign policy for Syria, but it prioritized defeating ISIS and avoiding becoming further entrenched in the Middle East, not stirring up unnecessary trouble with Russia. Such a view was shared by Defense Secretary James Mattis.
"Trump has a clear goal and that is to stay well clear of nation-building, regime change and further American entanglement. He already reluctantly sent more troops to Afghanistan against, as he put it, his better judgment. So he won't want to prolong the Syrian war if he can avoid it. So his policy is to defeat ISIS and quit. Nothing more or less," Alam told Newsweek.
"Going forward it is clear that Trump trusts General Mattis to take the lead, and Mattis is the most balanced personality left in his cabinet," Alam added. "Mattis does not want war against Russia or Iran. For Mattis, Afghanistan and Iraq are more strategic and operational as far as American deployment goes. Trump does not want to be seen as empowering extremist opposition groups."
This may be evidenced by the regular use of the deconfliction line between the U.S. and the Russian military in eastern Syria, where both pro-Syrian government fighters and the Pentagon-backed Syrian Democratic Forces are facing the remnants of ISIS. U.S.-led coalition spokesman Colonel Ryan Dillon told reporters Tuesday that the Syrian Democratic Forces campaign has not taken any significant territory since ground operations were mostly paused last month due to the departure of Kurdish fighters, who themselves have grown closer to Assad in an effort to defeat Turkey and allied Syrian rebels.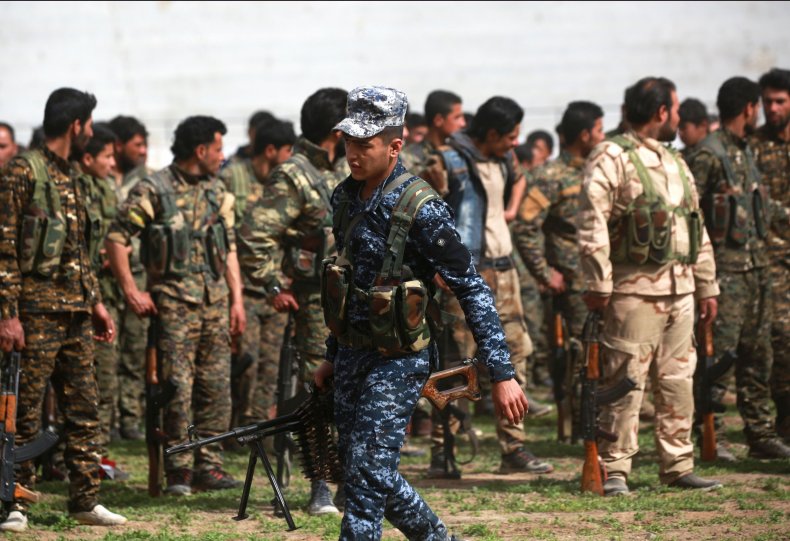 Dillon said that U.S. airstrikes have continued, however, and that the coalition has even provided Russia with intelligence to help support the parallel pro-Syrian government campaign against ISIS on the other side of the Euphrates River. He said that the previous assessment that 98 percent of ISIS territory had been recovered may have dropped to about 90 percent as the militants took advantage of the Syrian Democratic Forces halt and increasingly targeted pro-Syrian government positions in eastern Syria and south of Damascus.
"If we do see things that are—or ISIS rather on the west side of the Euphrates River, we will tell the Russians, and we certainly hope that they will act on the information that we provided," Dillon said during a video press briefing.
Trump has repeatedly expressed his belief that ISIS was nearly defeated. The day before greenlighting the strikes in government-held territories on Friday, Trump complained on Twitter about not receiving any "Thank you" for having "done a great job of ridding the region of ISIS." The week before, he said this fight against the militants was "almost completed" and he was soon ready to withdraw his forces. Many of Trump's top advisers have argued against withdrawal, which may have little effect on U.S. counterterrorism goals but would be welcomed by Assad and his allies.
Like Trump, Alam said, "Assad has a clear strategy" and one "backed not just by Russia and Iran, but increasingly more so by the two rising economic powerhouses of India and China." The Syrian leader has regained most of the country under his rule, leaving the U.S. with few choices but to either work with Russia and Iran or embark on one of the "endless" Middle Eastern conflicts Trump has railed against.
"Damascus is looking strong, and Trump is least interested," Alam added.