Does Venezuela Sponsor Terrorism? Donald Trump is Trying to Force Maduro From Power, Experts Say
The Trump administration would likely add Venezuela to a U.S. list of state sponsors of terrorism that includes North Korea, Sudan and Syria, according to a The Washington Post report citing U.S. officials and internal government e-mails. But some analysts believe this is an ambiguous claim by a group of Republican legislators who seek to weaken the already embattled Nicolás Maduro regime.
GOP Senators like Marco Rubio of Florida have cited Venezuela's ties to Lebanese Hezbollah and Colombian guerrilla groups such as the Revolutionary Armed Forces of Colombia (FARC) and the National Liberation Army. The latter allegedly operates in 12 Venezuelan states—almost half of the country's territory—engaging in activities like cattle and gas smuggling, extortion and recruitment of minors, based on investigations by InSight Crime, an organization that monitors national and citizen security in Latin America.
The Maduro regime has long been considered a hotbed of illicit trade and organized crime, stemming from a "two-decade-long systematic erosion of the country's institutions," the Washington, D.C.-based Center for Strategic and International Studies indicated. Nevertheless, some experts on Latin American affairs believe the claim that Venezuela sponsors terrorism is merely anecdotal evidence.
"There is no doubt that Venezuela has harbored guerrilla groups and dealt with them, but sponsoring terrorism to perpetrate attacks overseas is a different thing," Juan Carlos Hidalgo, a policy analyst on Latin America at the CATO Institute in Washington, D.C., told Newsweek. "Let's not forget that the FARC is no longer a guerrilla, and it's now a political party in Colombia, and two years ago Colombia asked the U.S. to remove them from the terror list once they reached a peace deal, yet they still remain on the list."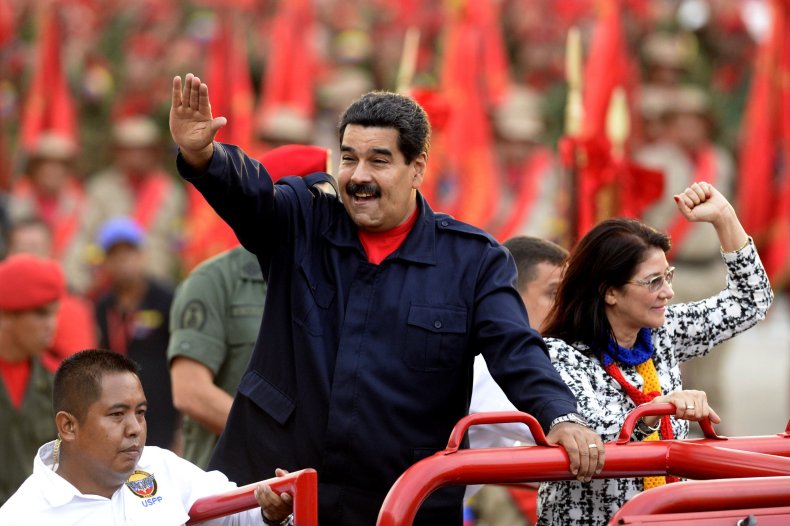 Other experts such as Michael Shifter, president of the think-tank Inter-American Dialogue in Washington, D.C., told Newsweek that "the current regime is guilty of many terrible things, including massive human rights violations, for which it should be held to account and punished. But the evidence for sponsoring terrorism is not altogether compelling."
The Trump administration is clearly escalating punitive measures against the Maduro regime.
"There are few signs that the sanctions applied so far have had much impact. It is far from clear, however, whether designating Venezuela as a state sponsor of terrorism will have a greater effect," Shifter said. "Some believe this measure represents significant and justified pressure against the regime while others fear it could play into Maduro's anti-US posture or set the groundwork for an eventual US military intervention."
The U.S. has sanctioned at least 59 Venezuelan officials since 2015, and the Trump administration has doubled down on its efforts to wield pressure over Caracas. On July 31, 2017, the Treasury Department sanctioned Maduro a day after the government had pursued National Constituent Assembly elections that granted him more power over legislative decisions. Sanctioned individuals and entities are banned from entering any dealings by U.S. citizens or within the country "that involve any property or interests in property of designated persons," according to the Treasury Department.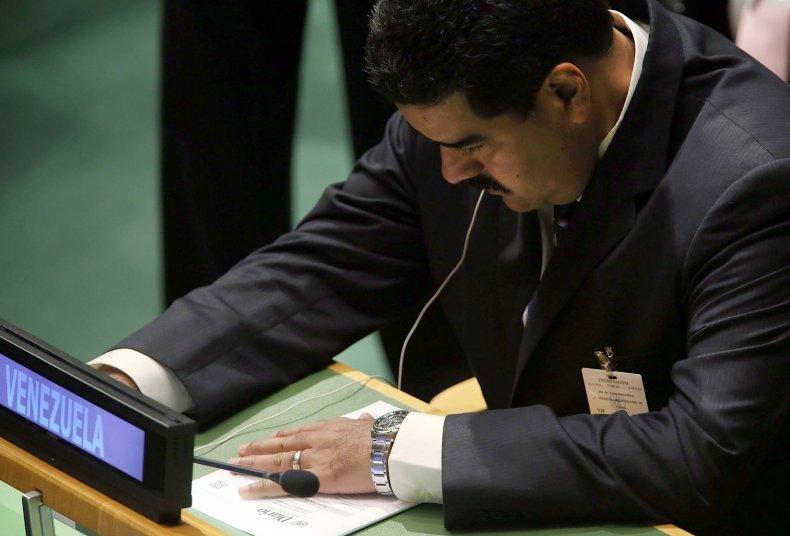 Early this month, White House national security adviser John Bolton lashed out at the Venezuelan regime after coining the term "Troika of Tyranny," a group that also includes Cuba and Nicaragua. In his speech prior to the midterm elections, Bolton pledged a new approach to confront the "cruelty and oppression" of the Castro and Maduro regimes.
"The United States looks forward to watching each corner of the triangle fall. . . . The Troika will crumble," he said, The Washington Post reported.
But Eric Farnsworth, vice-president of the Council of the Americas and Americas Society in Washington, D.C, said that adding Venezuela to the list seeks to isolate the country from the international community and its financial institutions, but it's too soon to determine whether the U.S. would proceed. He told Newsweek that it's important "to look at intelligence documents first to determine whether Caracas meets the conditions to join the list."
Meanwhile, Geoff Ramsey, assistant director of Venezuela for the Washington Office on Latin America, told Newsweek that hawkish legislators are exerting pressure on Venezuela because they fear that Maduro's possession early next year will signify an absolute power grab, something lawmakers in Washington are trying to avoid at all costs. However, this could have dire consequences.
"The designation of Venezuela as a state sponsor of terrorism and an imminent escalation of U.S. sanctions on the country could worsen Venezuelans' livelihood," Ramsey said. He noted that "designating a label of 'sponsorship' may feel good politically wise, but it's a shortsighted strategy."
More than 3 million Venezuelans have sought refuge in neighboring South American countries, with more than 1 million living in Colombia and almost 500,000 in Peru, according to the United Nations. The lack of medicine and food, rampant hyperinflation and skyrocketing crime have pushed Venezuela to the brink of socioeconomic collapse.